When it comes to visual experiences, every person responds differently and appreciates different content styles. Currently, animated text videos are famous among individuals. More and more marketers use typography videos to tell their brand stories. Do you think you've figured out the best method to successfully make a typography video through a text to video app?
When you go all around the internet, you will discover a plethora of text to video apps for making animated text videos on both Android and iOS devices. They each have their own set of characteristics, advantages, and disadvantages, as well as a market price. The following are eight text to video apps (that have shown to be helpful) that will allow you to quickly make typography videos on your iPhone, Android device, or PC.
1. VivaVideo
VivaVideo is among the most widely used text to video app available on the market today and accessible to users of all devices. In the same way that picture editing applications have their internal networks, VivaVideo offers its network to publish your movies and view the videos that others have uploaded. Add text to video, there are various fonts and styles to choose from. If you find it troublesome to edit the text multiple times, VivaVideo can help you solve this problem very well. It allows users to edit text effects in batches so that add text to video quickly and easily.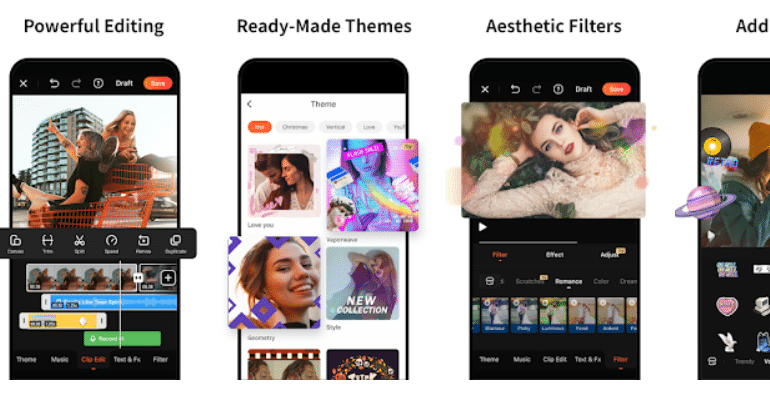 2. Text on Video
Text on Video is a simple text to video app. Use it for your future projects when making typography videos. With 600+ text fonts to choose from, you even upload your own fonts. Text on Video provides text animations, Text bending, moving text, transparent text background. add basic transition animations and more text effects. With its simple design, the app is ideal for even the most inexperienced users.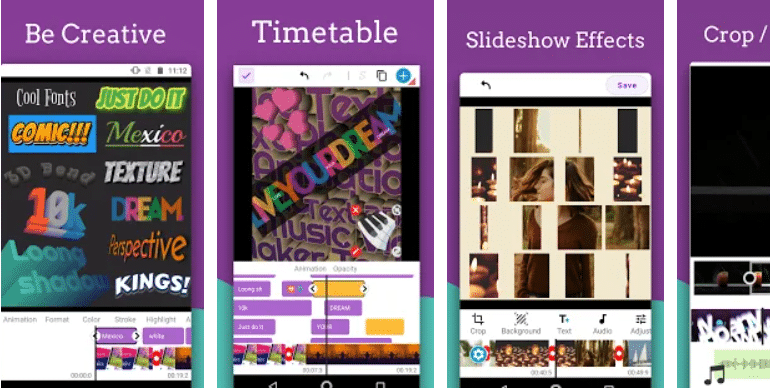 3. Adobe Premiere Rush
Adobe Premiere Rush is indeed a text to video app to create and share internet films. It is simple to use, and it provides you with a great deal of control over your projects thanks to its motion graphics designs, audio capabilities, and the option to draw from your Creative Cloud libraries and Adobe Stock libraries.
Adobe Premiere Rush provides text templates and allows users to change the color, size, and font of the selected text according to their needs. Capture, cut, alter clip sequencing, color-correct, record speech, and apply color filters or text overlays to the text videos. It enables the users to edit your videos in real-time. With its straightforward interface, Adobe Premiere Rush provides the fundamental tools for producing professional-looking videos in a hurry. One-click audio mixing, which automatically changes the level of music in the background during voice-overs and project synchronization across all platforms, is among the features available.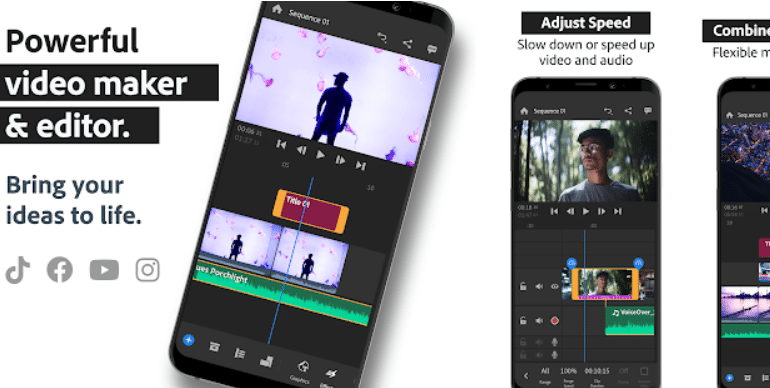 4. iMovie
iMovie is a simple-to-use text to video app that was created for the iPhone and iPad. iMovie can make different style trailers by choosing from 8 distinct themes: credit rolls with studio logos and combining pictures and videos with them. iMovie provides choose to add text to video and the video quality will not decrease after adding text. You can choose the theme and the appearance of the text from 14 templates and also adjust any title by changing the font, color, size, position, etc. With this video editing app, you may edit videos in 4K quality and then play them back on an Apple device or project them onto a screen. Transfer movies across your iPad, iPhone, and iPod touch easily using iCloud Drive or Airdrop. Videos may also be uploaded to video-sharing websites or shared on social networking sites like Facebook.

5. Add Text to Video, Write on Videos
One of the most widely used text to video app on Google Play to make animated text videos. As soon as you first glance at the UI, it seems that it does not provide anything significant, but creating excellent typography videos in reality is straightforward and easy. You'll have plenty of options for creative video editing with this text video maker app. The collection of typefaces included in this app is varied enough to express your creativity while also adding a personal touch.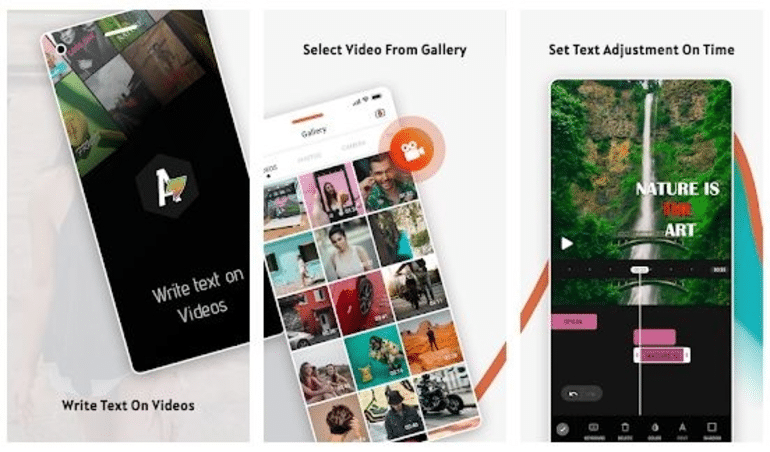 6. Over.Video: Add Text to Videos
Over.Video is a free and outstanding text to video app. It provides some interesting choices for the movement and positioning of the text. Over.Video helps to add various sentences or phrases and blend them utilizing the impact of several timelines, just like you did in prior apps. The variety of fonts available is not very impressive, but it will most likely be sufficient for those not looking for anything remarkable.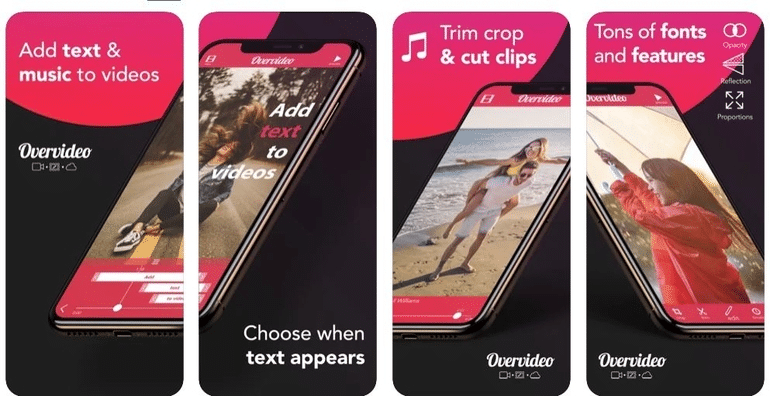 7. Vont – Text on Videos
Vont, a top text to video app that you could download from the google play store. It helps in making awesome typography videos in a simple and easy way. It contains over 400 fonts, all of which are accessible for use. Add captions to videos, and change the size, color, gradient, stroke, shadow, and backgrounds of your text in just a few taps. This will enable the users to personalize videos according to their preferences and needs.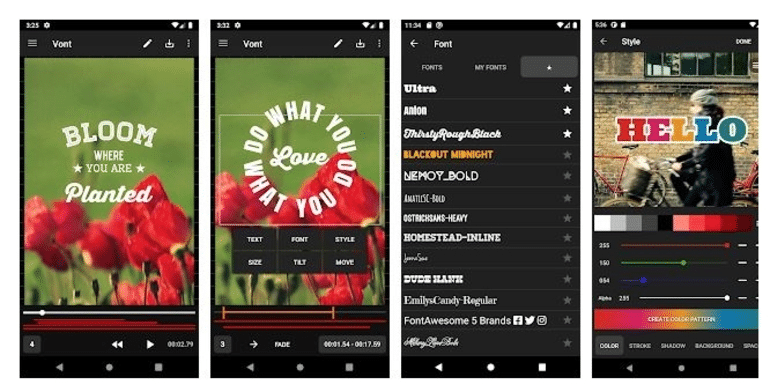 8. Mango Animate Text Video Maker
Mango Animate Text Video Maker is a perfect choice to convert any article to video. Users can create a stunning typography video in minutes. Just upload the article to Mango Animate TM and it will automatically convert text to video.
Let's have a look at some of the best features of Mango Animate Text Video Maker :
• Free access to hundreds of animated text video templates.
• Variety of exceptional motion typography animation.
• Unlimited access to high-quality and royalty-free icons library.
• Convert audio narrations or blog entries into text animations.
• Share on any social media platform for free.
Download Mango Animate Text Video Software on your computer now and start converting article to video.
[v_downbox title="Convert Text to Video Now"]Download Now[/v_downbox]
Conclusion
Finding the text to video app is not difficult if you are aware of all the elements that must be considered before making a purchase decision. Most of these text to video apps are available in a free trial edition so that you can evaluate them before purchasing. Your decision will be decided by the bundle of characteristics you may need, regardless of whether you're a novice or a seasoned expert. We hope that this post has been of use in your search for the finest app for you.