Graphic characters or cartoon characters have always been a source of inspiration and attraction for most young people. Nowadays, graphic characters are applied in all kinds of industries to grab the audience's attention and expand brand influence.
Here are some graphic character download websites that are popular online. Have a quick look at these websites and find your desired characters.
1. Mango Animate Character Animation Maker
Mango Animate Character Animation Maker is a place for download graphic characters. The character maker featured with a library of ready to use graphic characters that cover almost all industries. You can create your unique character by customizing the character's facial features, outfits, and other beautiful decorative items. The most powerful feature of this character maker is that you can add bones to bring your characters to life. Once you complete your masterpiece, you can download your graphic characters in various formats (MP4, MOV, PNG, or GIF).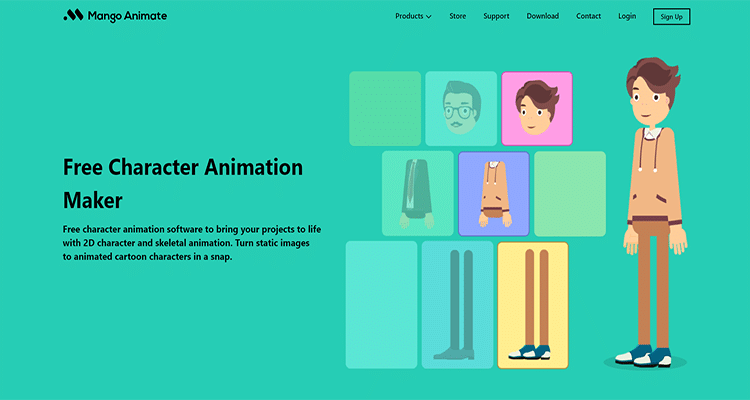 2. VectorCharacters
VectorCharacter is the place to look for if you need cute, funny, and vivid graphic characters. The straightforward site categorization and structure makes it very easy to find what you came for. The graphic character download website has a great variety of graphic characters in a wide range of styles, such as creatures, monsters, fairies, robots, and more.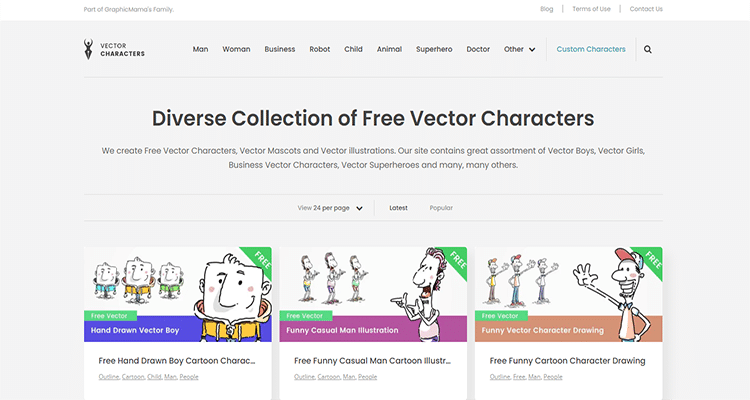 3. VectorToons
With VectorToons, you can download your graphic character in all kinds of file formats(PNG, PDF, PSD, JPG, SVG, EPS) which work with any application. Once you purchase, you can use the graphic characters forever. VectorToons guarantee to their users that download the cartoon character without watermarks, scales to any size without loss, and change colors easily.
4. Adobe Character Animator
Adobe Character Animator is a tool for creating cartoon characters. The website can turn any art into cartoon characters with webcam powered by Adobe Sensei. The characteristic of this graphic character website is that the character can be a cartoon vision of yourself.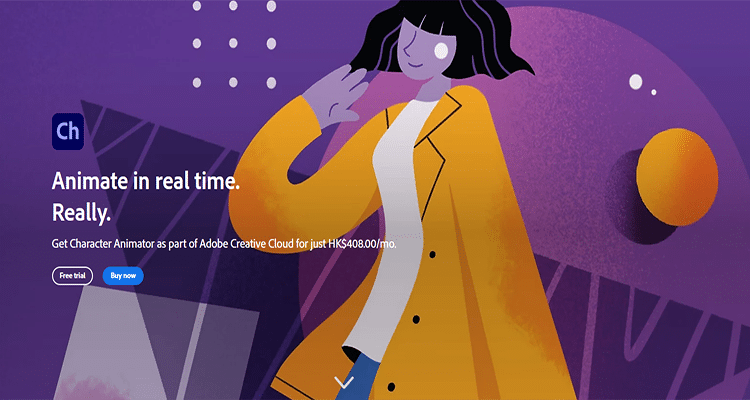 5. Cute Cartoon Character Generator
With Cute Cartoon Character Generator, you can build the funny graphic character you like. You are in full control of the character by customizing the facial expressions, gender, hairstyle, clothes, and more. You are allowed to export the graphic characters after finishing the creation.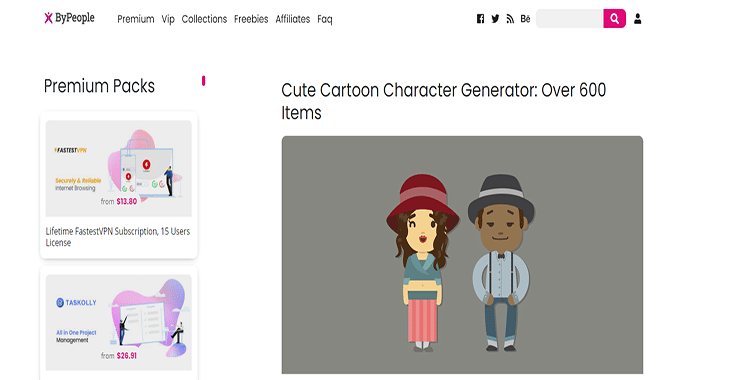 6. Blush
Blush was created during the Corona crisis. Blush can design your characters simple and fun. First of all, you need to choose a style and then customize the character with your favorite hairstyle, facial expressions, and more. Finally, you can download a PNG or SVG of your graphic characters.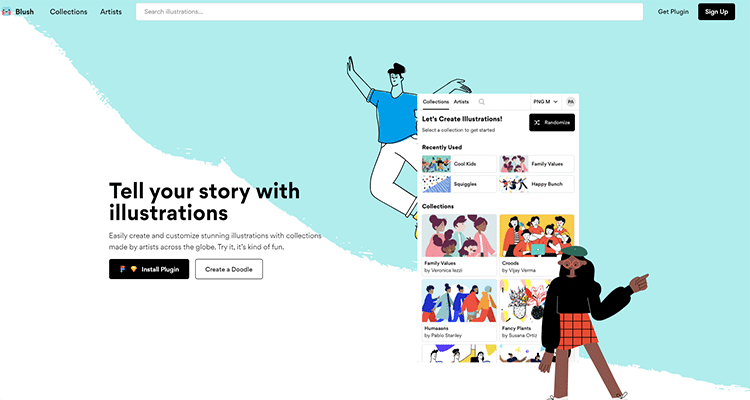 7. Humaaans
Humaaans is a brand new website that offers tons of modern and beautiful cartoon characters. You can find lots of characters, elements for customizing the characters, and elements you can use to create a unique scene in the collection. Have no idea for creating graphic characters? You can start from a template.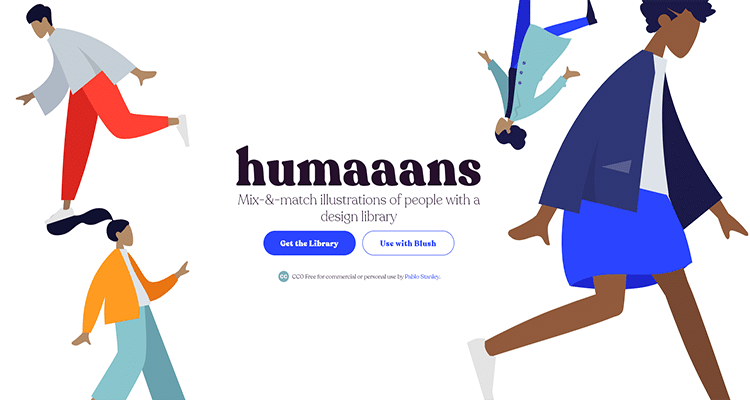 8. Ouch
Ouch is another site for download graphic characters. It offers cartoon characters and vector elements in a wide variety of categories, such as business, food, education, holidays, and more. You can download your favorite characters by subscription or paying for a single one.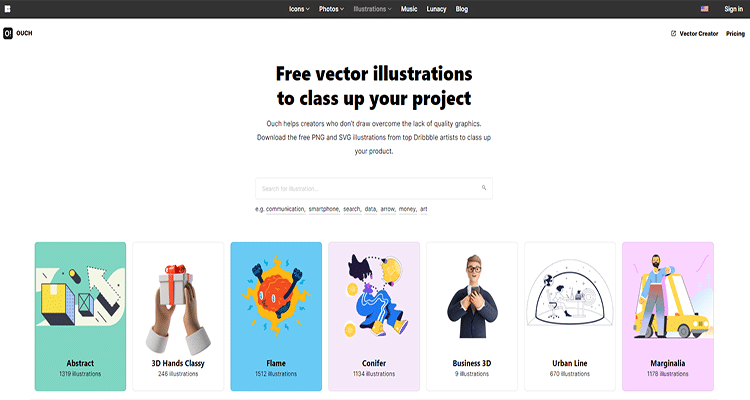 9. Vector Creator
Vector Creator is featured with 20 styles, 9000+ elements, which make your character creating endless creativity. Moreover, you can upload your vectors for designing characters. After finishing creation, you can export your graphic characters to PNG or SVG.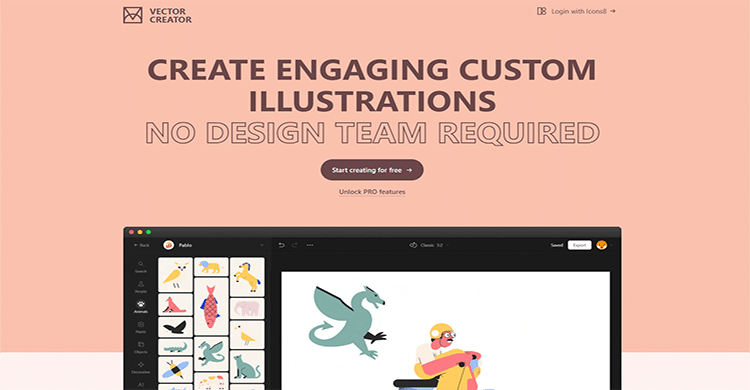 10. Portrait Illustration Maker
Portrait Illustration Maker is a free cartoon character download website. Creating cartoon characters characters with Portrait Illustration Maker is easy and free. You can personalize the characters by changing their face, the size of eyes, clothes, background colors, and much more. Most importantly, all characters on this site are available for free download.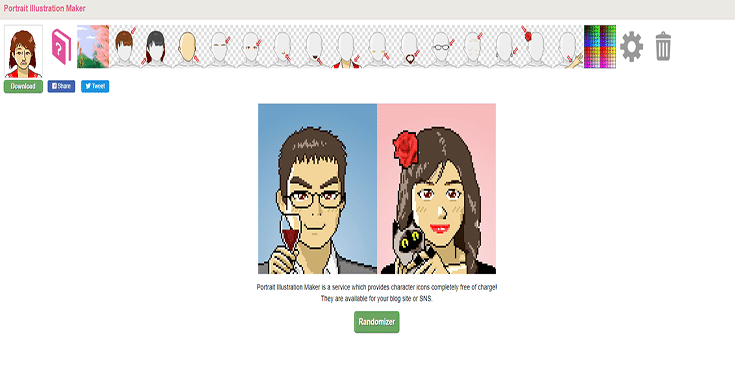 Conclusion
So these are the 10 cool graphic characters download website . Hope you enjoy creating graphic characters or find out your favorite characters with the help of this blog.