Animation software is a class of computer software program that allows you to create 2D (2-dimensional) and 3D (3-dimensional) animation videos. Although the market has been inclining to 3D animation more and more, due to the increasing demand for 3D cartoon film consumption, 2D animation still gains a main place in animation industry.
Why animations are so popular? Here's the reason. Animation is prevalent in almost everything we do, including sending GIFs and creating presentations and creating video, games and feature films. The coin of these processes is animation programs without doubt.
With the help of animation programs, you can create various stunning animations. You can either create animations by yourself with the best animation program. Or you can also hire someone to do this for you.
If you have figured out what kind of animations you want to make, and set out to download and use a tool yourself, this article ranks and reviews 8 2D and 3D animation programs for you to have a try.
Let's get start!
2D animation programs
1. Animate CC
Animate CC is considered to be a classic 2D animation program on the market even after being around for such a long time. It is easy and convenient to use. Most animators find it very flexible and powerful during the process of making. If you need to create vector graphics and animations, Animate CC is the right tool for you. Animate CC provides support for video and audio embedding, making animation process no longer complex and difficult.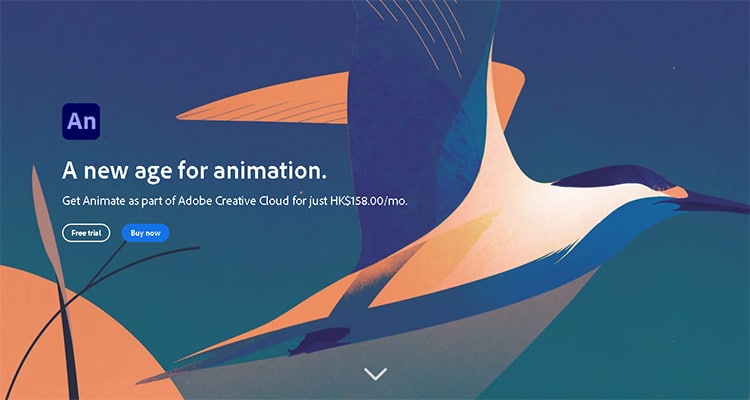 2. Moho
Moho is an ideal tool when it comes to 2D animation programs. All the features of it are spot on creating 2D animations. What makes it different from other 2D animation programs is its ability to create quality animations, the amazing speed and a number of built-in free plug-ins. The Pin Bones feature enables you to add one-point bones to alter, move and reshape assets in ways of fun. It also features powerful vector drawing tools for you to create your own characters and objects. However, the drawing tools are quite difficult to learn and master. Moho is the perfect tool for beginners and those seeking to make simple yet stunning animations.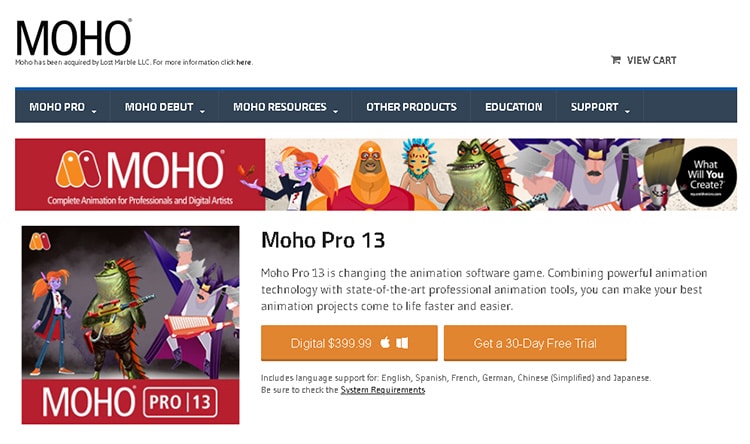 3. Toon Boom
When it comes to usage, Toon Boom is considered to be the most widely used 2D animation programs in the professional industry. If you are seeking for a software to help you make professional-looking animations, Toon Boom is a perfect tool worth your trying. Toon Boom allows 2D animation studios and animators to express their dreams and tell their stories in their creative voice, bringing ideas from concept to screen amazingly and creatively. It is a all-in-one animation tool. It provides powerful drawing tools, enables you to start from the very beginning of drawing.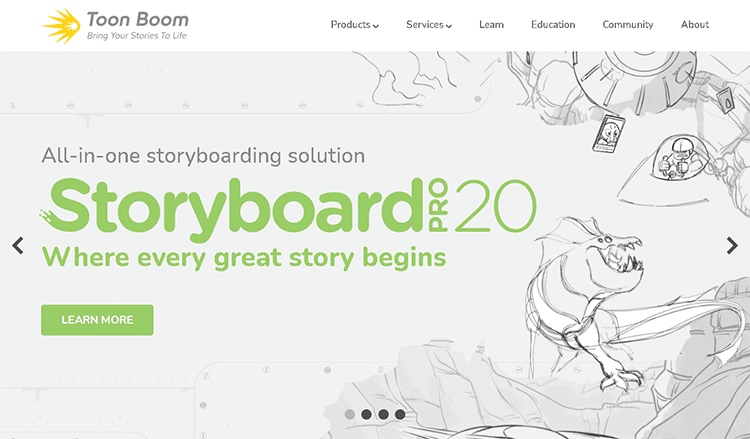 4. Mango Animate Animation Maker
Mango Animate Animation Maker is the easiest yet powerful 2D animation programs in the animation industry. It is a free drag-and-drop 2D animation program which can be downloaded and installed in Windows. It allows you to create all kinds of 2D animations and text-based animation videos. The built-in large library of royalty free media resources makes the production process easier yet with high quality. One good thing is that it features the fantastic image editor and audio editor, which make the whole animation process convenient and time-saving. With this amazing 2D animation program, even you are a beginner and have no animation experience, yet you can still create your own unique animation videos. No professional technology is required.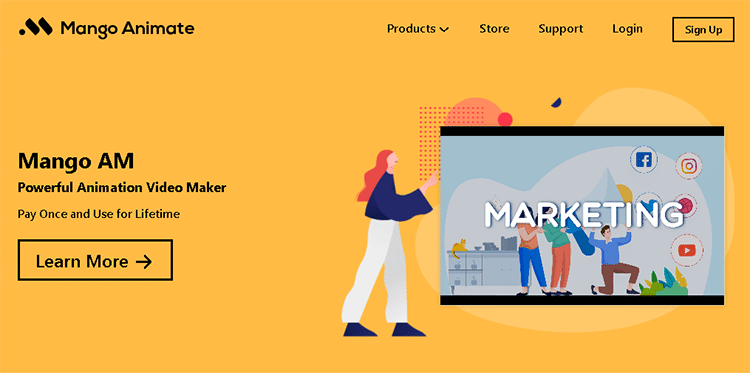 3D animation programs
5. Maya
Maya is a professional commercial 3D animation program majors in creating 3D animated movies, games television programs and computer 3D effects used in live entertainment. It is always up to date and fully featured, satisfying animators' diverse demands in time. It is the perfect 3D animation program for those who are desired to become professional animators. Maya is the software of choice for many animators because it allows for an extensive array of shading and lighting effects. It is widely used by film makers and effect makers. However, there is a lot trouble to master this 3D animation program if you are a learner.

6. LightWave
LightWave is a 3D animation program used for creating movies and special effects, rendering 3D images, both animated and static. It comes with many powerful features and requires plenty of learning before you master how to use it. LightWave provides dynamics physics systems supporting hard and soft body motion, deformation, constraint, motorization, environments, and particles. The quality of the animations is also of good standard and the speed with which you can create animations is fantastic.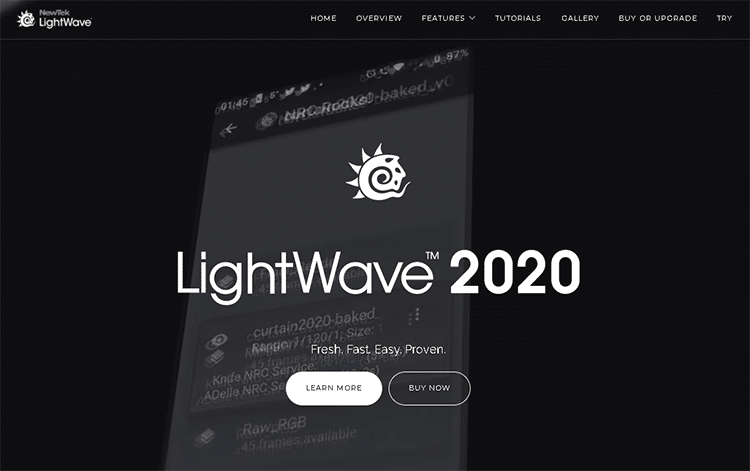 7. 3D Studio Max
3D Studio Max is another wonderful 3D animation program aims for making 3D animators, games and images. It offers a rich and flexible toolset o create premium designs with full control. The wide range of powerful tools help you to create better 3D content in less time. It has multiple powerful modeling capabilities and flexible plugin architectural renderings, such as the character studio, which helps you to animate virtual characters by using a character rig or "Biped" skeleton.

8. Blender
Blender is a free and open-source 3D animation program. It features everything of 3D pipeline, including modeling, rigging, animation, simulation, rendering, compositing and motion tracking, video editing and 2D animation pipeline. If you aim to create simple cartoons as well as other small 3D animation projects, then Blender is the best choice for you.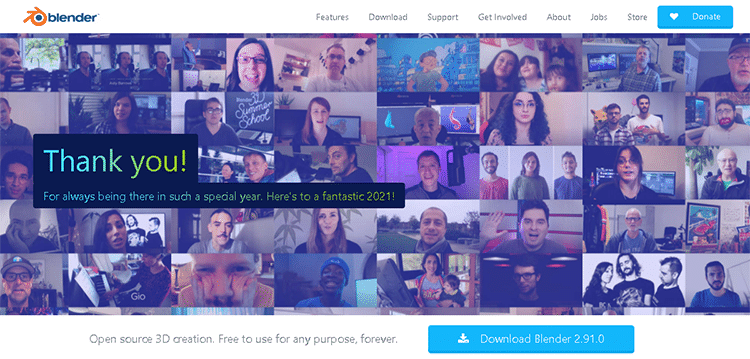 Conclusion
The market is full of different types of animation programs. You need to figure out the exact nature and objective of your work when choosing the right animation tool. That is, you need to decide what you aim to achieve with your animation at the very beginning.