What's your initial impression of the cartoons? Is it parents who blame their children for spending too much time and effort in making a cartoon? Or did it take too much time and effort to make Disney characters in the early days?
But with the development of technology, cartoon production has also changed a lot. From only a niche hobby to a huge field, cartoon making get a reputation in various fields. So why are cartoons so popular? First of all, cartoon video is easy to grab the audience's attention given its vivid video footage and infinite creativity, which make it a turnkey solution in marketing. Secondly, considering most free cartoon making software is accessible and easy to get the start, it is a viable choice to making cartoon video for professional cartoon workers, freshmen, and enterprises who work on tighter budgets.
If you are wondering how to make a cartoon, then you can look for a suitable cartoon making software. Nowadays, there are lots of cartoon making software available on the web, and each has its characteristics. So let's get to the list of cartoon making software instead of having me drone on!
1. Mango Animate Animation Maker
The Mango Animate Animation Maker libraries contain thousands of free assets, including professional-quality templates, animation effects, animation widgets, images, SVGs, symbols, shapes, and charts, all royalty-free for you to include in your creations! Due to its user-friendly interface, it's super easy for beginners to use and users are easy to get lost for hours cartoon making.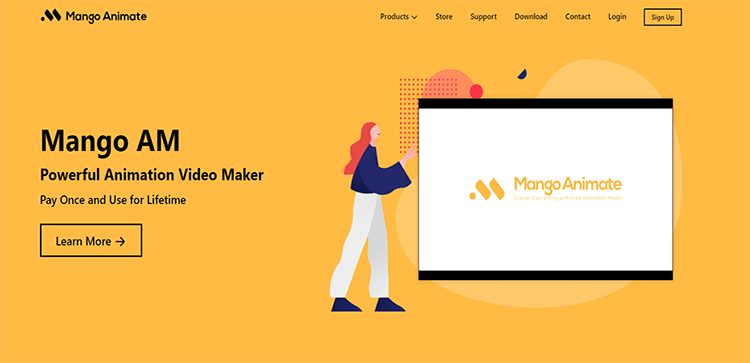 2. Animaker
Animaker is a free cartoon making software used by thousands of designers. There are hundreds of characters available in Animaker and each character has 20 expressions. You don't have to design every single animated scene by yourself in Animaker thus this cartoon making software is armed with tons of professionally made templates, and you just need to pick up your favorite one and then custom it according to your purpose.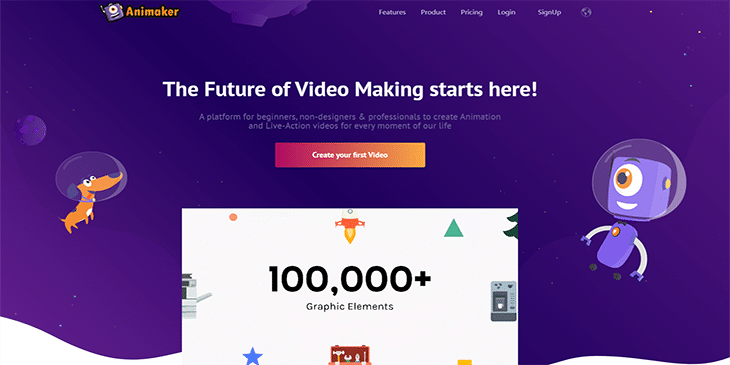 3. Moovly
Mooly is a powerful, cloud-based cartoon making software that works within your browser. That means you don't need to install and update the application. To create your cartoon with Moovly, you can use the built-in template or create a fabulous cartoon scene with illustration, photo, provided by the cartoon creating software. With Moovly, any visual object you use in your cartoon can be animated, such as adding animation effects like bounce, move, fly…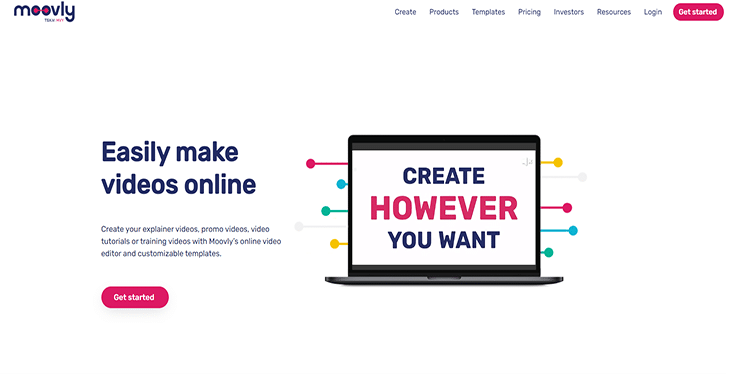 4. Renderforest
This cartoon creator software is popular with freshmen for its beautifully designed interface that doesn't take too long to get used to. In Renderforest, each template is customizable, which enable you to control the cartoon making process. You can also change the colors of the backgrounds or add text overlays.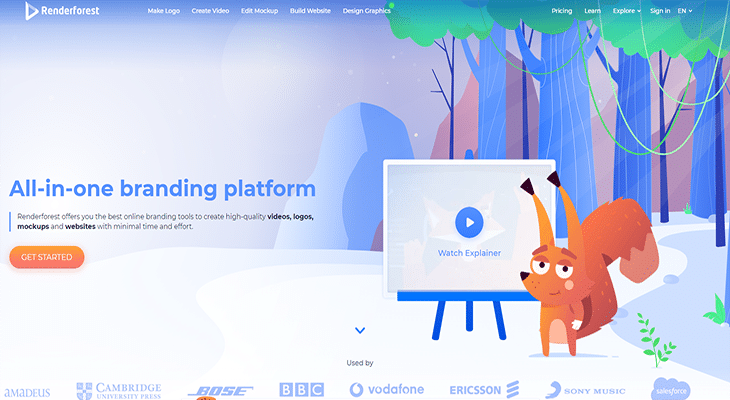 5. Explee
All of your ideas can be turned into a professional-looking cartoon with the cartoon making software. Explee equips with 6000 images to attract the audience's attention. They are all classified by keyword and that makes user's research easier. Moreover, you can apply your favorite transition between multiple slides so that your cartoon video will be natural.
6. Vyond
With Vyond, making your characters speak directly to your audience is in a flash. You can record audio directly from a computer's microphone, or create with text-to-speech. Vyond is complete with many pre-made templates designed for any business, job role, or scenario. These well-designed scenes will make the cartoon creation process faster, easier, and more creative.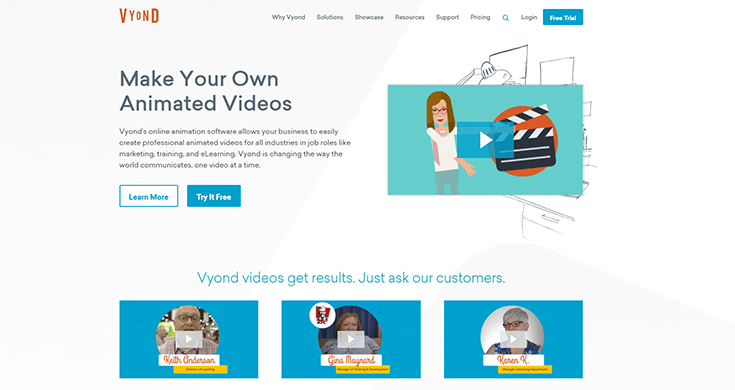 7. Powtoon
No matter if you are just making your first steps in animating, or search for an alternative to the software you are using right now, Powtoon is your best option. Telling your story through hundreds of animated characters, templates, voiceovers has never been easy with Powtoon.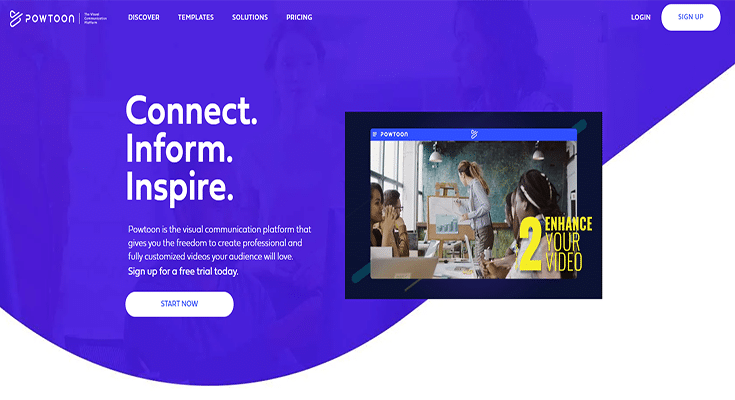 8. Flipaclip
Want to animate your dreams and bring them to life? FlipaClip can be the tool to help you realize your dreams. With it, you can easily draw your cartoon with frame by frame animation. Once you have created your video, it's time to show it to your audience. You can save your cartoon video as MP4 or GIF files, and then post it to YouTube, Facebook, and other media platforms.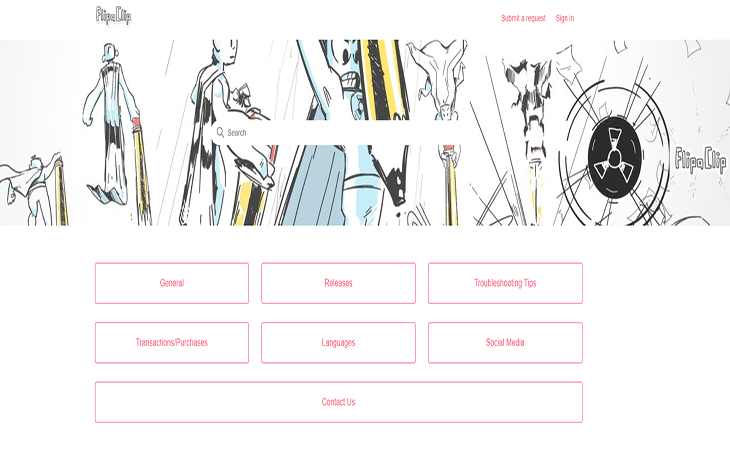 9. PicsArt Animator
PicsArt Animator is a simple to use and powerful cartoon making software. It can run on both Android or ios devices. It is possible to make cartoons, GIF videos without any advanced skill with advanced drawing and sketching tools in PicsArt Animator.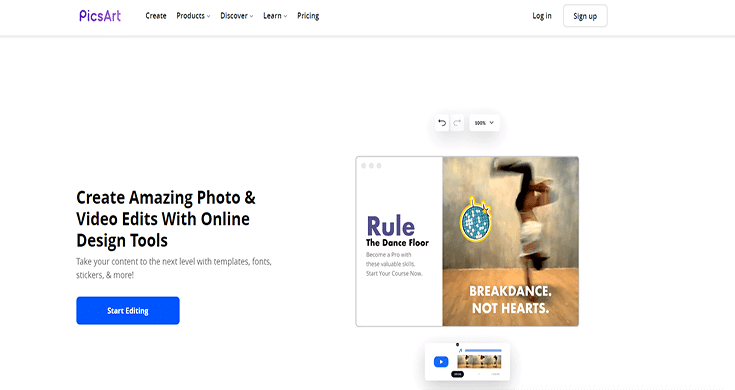 10. Biteable
Biteable is also a free cartoon making software. It provides a vary large of templates to meet cartoon production needs. Its templates are quick and easy to customize with no experience required. In addition to providing fun cartoon templates, you can create Facebook covers or dynamic graphics for social media channels.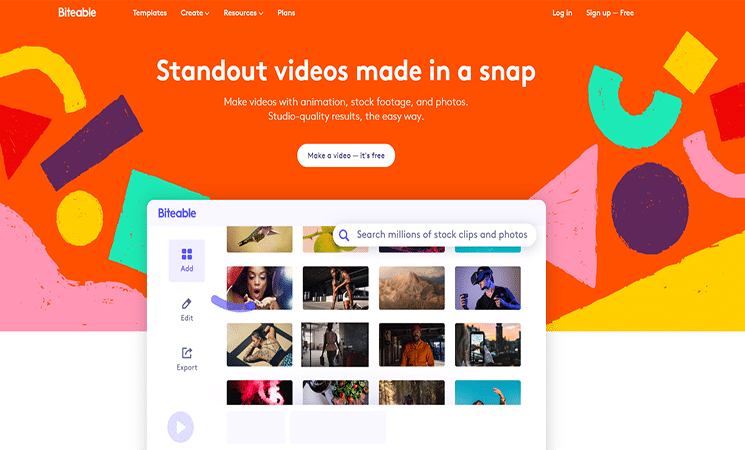 Wrap it up!
So these are the 10 cool cartoon making software for making an attractive cartoon video. When you are selecting one, you should take your purpose of cartoon making and cartoon making proficiency into consideration. Hopefully, this blog helps you with narrowing down your selection and find that cartoon making software that works for you.