Whiteboard animation videos are the best way to capture your visitor's attention and provide information about something. To capture stunning doodle videos, some artistic skills are required. However, having the right whiteboard animation software can help you. You don't need to spend much time and effort learning any skills to create engaging doodle videos.
Here are some of the top whiteboard video creator options to consider. All of the best whiteboard animation software are meant to make your task easier and efficient.
The Best Whiteboard Animation Software Options You Must Know
Mango Animate Whiteboard Animation Maker is a top-notch whiteboard animation tool. Draw in creatively with Mango Animate Whiteboard Animation Maker and engage more customers with your business in a unique way.
This best whiteboard animation software has an infinite canvas in which you manage your animation video content more amazingly. Add media elements, scene transitions and multiple animation effects gives creative freedom to users. It provides the use of dynamic speaking roles, voice narrations and captions as well for enhanced audio effects. Mango Animate Whiteboard Animation Maker comes up with a live video editing feature to make changes in your whiteboard videos in real-time. It will be able to add life to your work.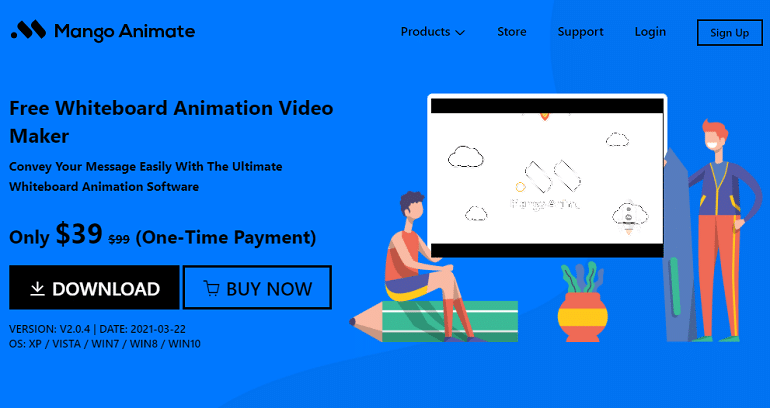 Make Stunning Doodle Videos with Mango Animate Whiteboard Animation Maker
Download Now
Biteable is the super easy to use and best whiteboard animation software options anyone can ever have. Whether you need perfect doodle videos for your business, social media, website, or a training seminar, Biteable has got you covered in any case. It has made the process of creating engaging whiteboard videos completely easier.
A massive range of whiteboard animation video templates is available to choose your preferred video style. Pick a template you like and adjust it according to your needs. The drag and drop interface of Biteable has made the video making process a child's play. Share and publish animated explainer videos in the way you want them. With all the available interesting features easily get creative with your work.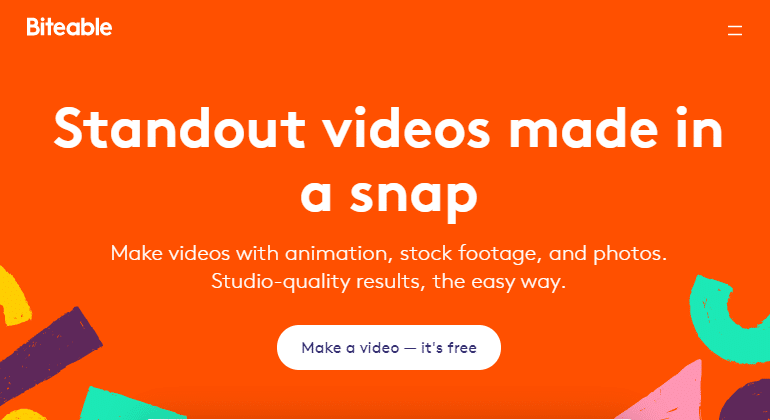 Doodle is the go-to and best whiteboard animation software for beginners who have no technical skills. No hard and fast skills are required to use this whiteboard animation tool. The simple and easy user interface makes it easier for users to work on their whiteboard animation videos. It offers intuitive tools you use for professional and engaging whiteboard animation videos within no time. Add personalized effects in the animations that you are creating.
Doodly enables you to work on and publish attractive doodle videos without putting much effort into the production process because it has all the templates and features you need for doodle videos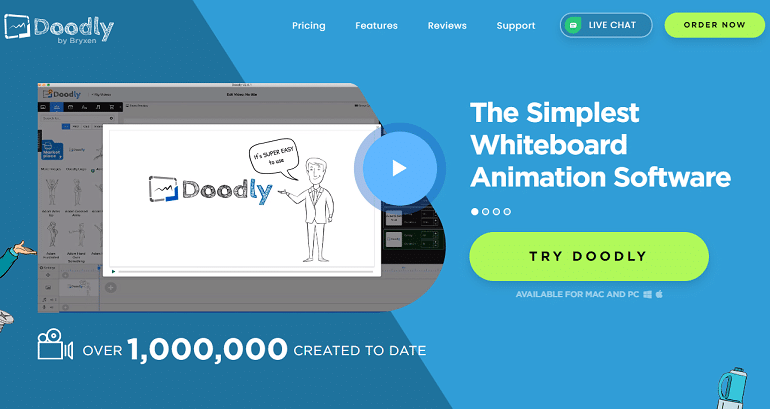 Animiz is a free doodle video maker which comes up with a simple layout and straightforward functionality. This best whiteboard animation software offers users a lot of amazing and inspiring features that you utilize and create attractive doodle videos with convenience.
Animiz is more useful for people who are having exposure to video making and editing already. It allows you easier to collect your content quickly without going through various files. Download and install Animiz on your mac or windows desktops and easily use it on any platform.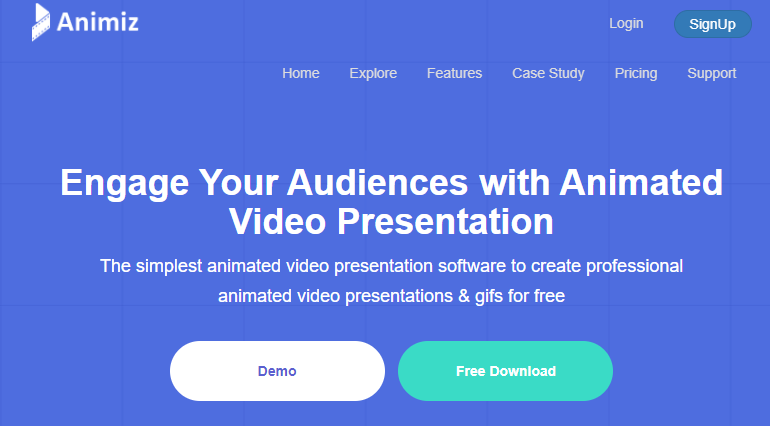 Are you looking for a dynamic yet best whiteboard animation software? Vyond is the top option to consider in this regard. It will help you in creating quality whiteboard animation videos within few minutes.
Vyond creates the best whiteboard videos due to its wide range of audios, templates, and other elements. It makes creating and editing content fun. Vyond enables you to make compelling videos that can be used for better marketing results. The user interface is simple which makes it easier to work on whiteboard videos for digital marketing purposes.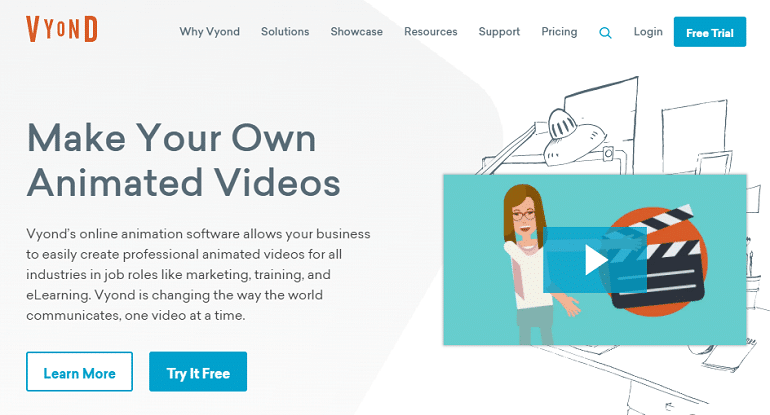 Renderforest is a free doodle video maker that can create stunning and unique whiteboard videos. Telling your story will become a lot better with this best whiteboard animation software. Renderforest is cloud-based, users don't need to have any high-end machine to run this software.
Choose a perfect video style from hundreds of available whiteboard animation video templates. All animation video templates available are unique and ideal for various uses. Online video editing features allow you to perfect videos in real-time. If you notice any errors in the animated video edit it quickly anytime. Get help from about 400 pre-created scenes quickly so that you don't have to waste time on creating a scene.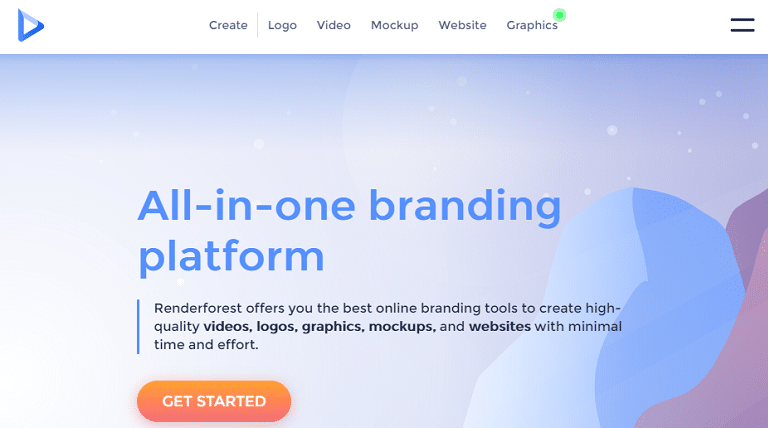 Just drag and drop your required characters and other elements with VideoScribe and create your animated video quickly. With its free plan, you will be able to access 5,000 images to add to your videos and make them compelling.
The best whiteboard animation software allows you to import your own assets for a unique doodle video. If you have already created some animations easily attach them with your new animated video without the need of creating them again. Exporting WMV and MOV animation video files has become possible. A one-stop-shop for all your needs. You will not have to install various tools for different needs. Record your own voiceovers simply. By selecting a few options quickly record your voiceover and get the video finalized.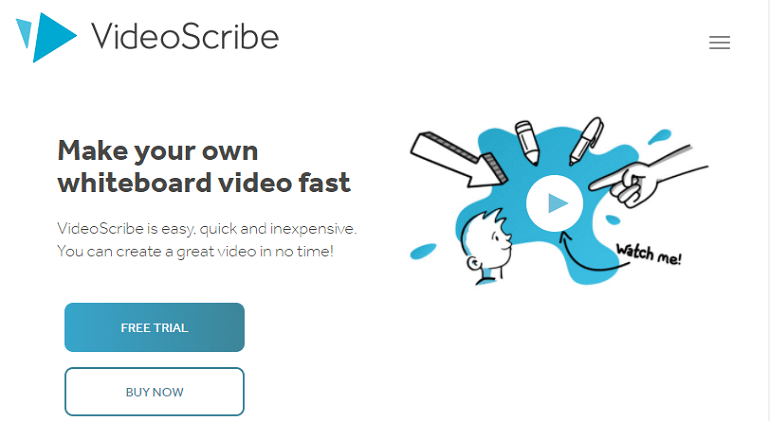 Toonly is a desktop application that is super affordable and usable. Create awesome whiteboard animation videos with a simpler interface and add as many elements as you need and make animated videos inspiring and engaging.
The application compatible with different devices due to it is easy to access. It is perfect for creating videos for social media platforms, landing pages videos, ads. Create unique and attractive animated explainer videos for digital marketing purposes.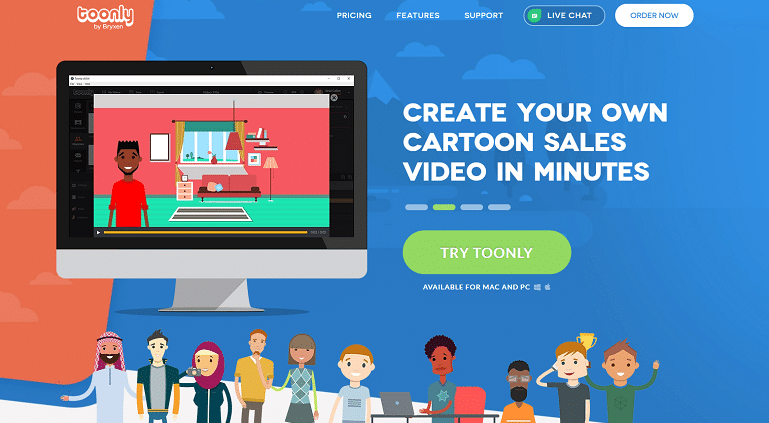 Moovly is a web-based animated explainer video software that is meant for animation videos and presentations within a minute. It comes up with an easy-to-use interface along with an extensive collection of video elements. Creating your amazing animated explainer videos has become possible with Moovly and provides excellent value to the popular media formats. A huge number of formats are easily accessible for editing purposes. The extensive range of whiteboard animation video templates has made creating a video a piece of cake.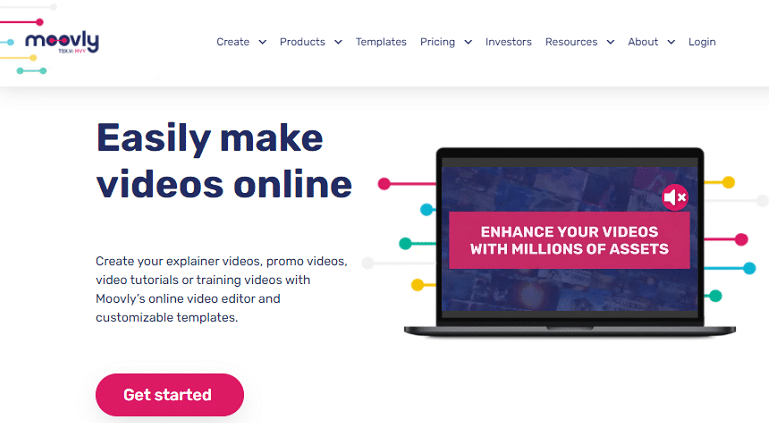 This whiteboard animation tool has won the heart of its users. The pro version enables users to access the sketch components for videos. It also allows importing GIFs and images into your video project. Create unlimited doodle videos with Explaindio. You will no have to be an expert in the video creation and editing process. It has all features and tools available for everyone.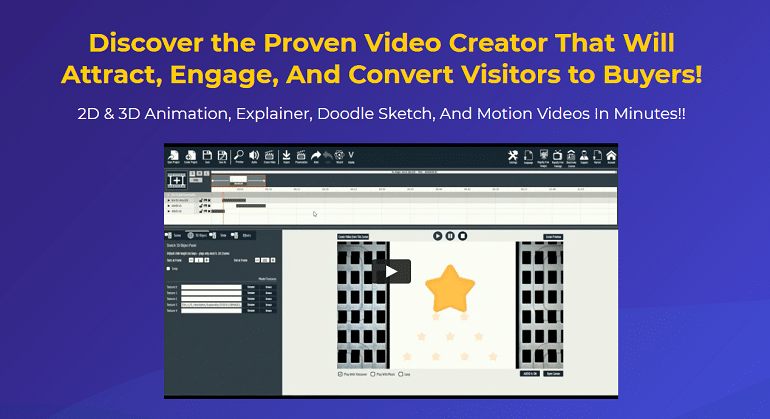 Final Thoughts:
Having the best whiteboard animation software can save a lot of time to create your stunning doodle videos. You just have to drag and drop your required elements, choose your animation template and effects, and that's it. You are all set to create and publish whiteboard animation videos easily. To make the most out of your animated videos, choose any of the above-mentioned whiteboard animation software that is perfect as per your requirements.
Make Stunning Doodle Videos with Mango Animate Whiteboard Animation Maker
Download Now