Whatever you are, and whatever you do, most of us need to process information. That must be a good choice through infographics to express your content clearly.
Thorpe, S., Fize, D. & Marlot, C. said in 1996, It only takes about 1/4 second for the human brain to process and attach meaning to a symbol. By comparison, it takes us an average of 6 seconds to read 20-25 words. In 2000, Hyerle said that 90 percent of the information that comes to the brain is visual. All fact indicates a nice infographic is worth a thousand words. The excellent infographics offer a more effective and engaging way to convey complex data and information.
Here are the 10 useful infographic movie makers allowing us to create our exclusive brilliant infographic.
Sure, try the infographic movie is a good choice. But if you have an idea to make an animated infographic. You can think about the most practical and easy infographic movie maker — Mango Animate Animation Maker. The powerful Mango Animate Animation Maker helps those who do not have animation skills turn data information contents into vivid 2D animation. The rich library animation templates inside the infographic video maker bring the boring data information more interesting.
Features:
Create your particular stunning animated infographics with just a few simple clicks through a library of templates.
Add the animation media elements you needed through a user-friendly drag and drop interface.
Through the adorable 2D roles, type captions or subtitles to emphasize the key infographic information.
With a variety of excellent animation and scene transition effects to catch the attention of the viewers.
Operating system:
Paid options:
Mango Animate Whiteboard Animation Maker helps you bring static infographics to life in seconds. The usage is a little bit the same as the Mango Animate Animation Maker. But the highlight on this animated infographic maker is equipped with a lot of different types of hand sizes, and gestures. As a user-friendly infographic movie maker provides simple ways to build up your high-quality infographic doodle movies.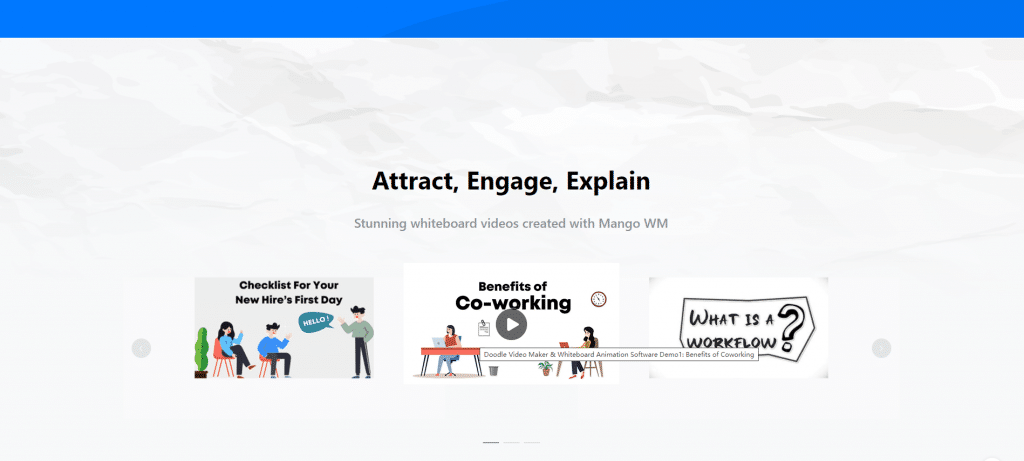 Features:
Choose your most interested hand drawing design and add the glamor personalized touch to your doodle video.
A wealth of fantastic transition, enter, and exit effects bring energy into your infographic whiteboard videos.
Loads of pre-designed templates and tools available for business, education, or personal projects to make expert-level infographic doodle movies.
Operating system:
Paid options:
3. Adobe Spark
Create striking infographic videos in seconds with Adobe Spark. Adobe Spark infographic movie maker is here to help you build up your special infographic movies easily. Navigate Spark infographic movie maker templates to get your inspiration. Organize it in the timeline, with ease to realize the perfect final effect so that turns your imagination into reality.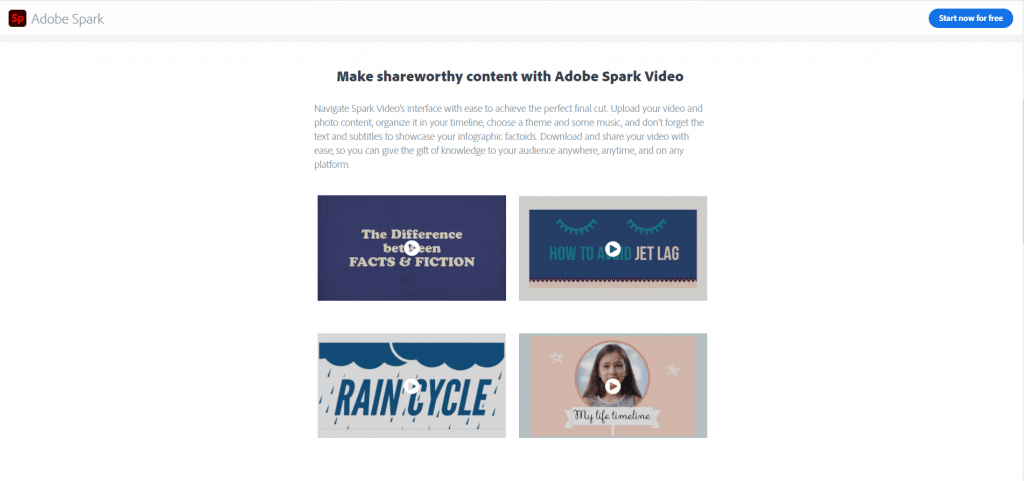 Features:
A library of professional themes and templates which is customizable.
Choose from a large number of images on the web or pick from your personal favorite.
A variety of free professionally designed fonts and fit for use in every situation.
Operating system:
iOS / OS X / Windows / Android
Paid options:
Starter plan: free
Individual: for your first 14 days $0 per month
Team: $19.99 per month
4. Powtoon
Powtoon is focusing on creating animated presentations and explainer videos. No knowledge of coding or infographic design is needed. Communicating visually with short infographic videos and infographic animation, no matter what kind of work you do. Powtoon Infographic movie maker shows you a lot of amazing and well-designed style templates.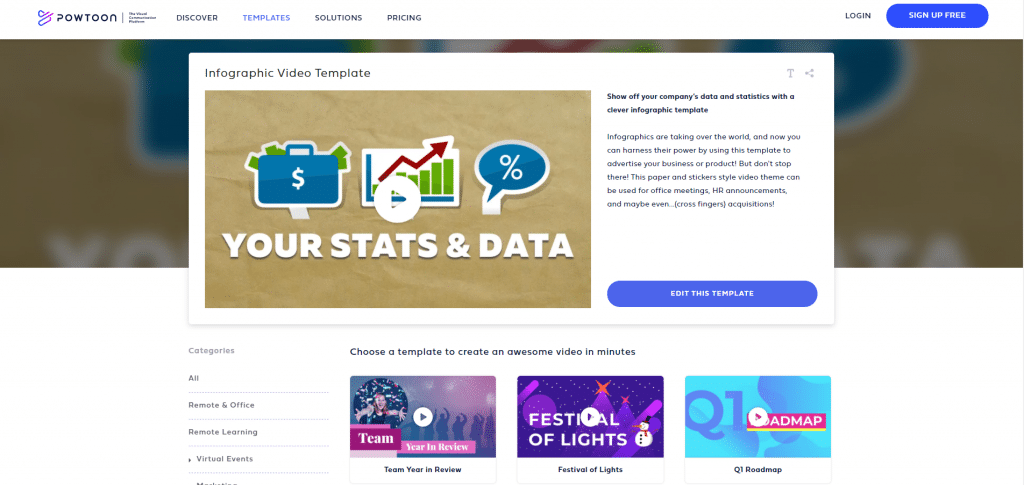 Features:
Customizing the professionally-designed templates and infographics you have chosen is very simple.
Tell your stories through a variety of animated characters, video backgrounds, soundtracks clearly.
Transform common data or information management into visual experiences, especially useful for large organizations.
Operating system:
Paid options:
Personal Use: free
Occasional Use (pro): $19 per month
Professionals & Entrepreneurs (pro+): $59 per month
Power Users (agency): $99 per month
5. Renderforest
Renderforest is a minimalist infographic movie maker, provides you the great online branding utensils to create outstanding infographic videos and other projects with minimal time and skill.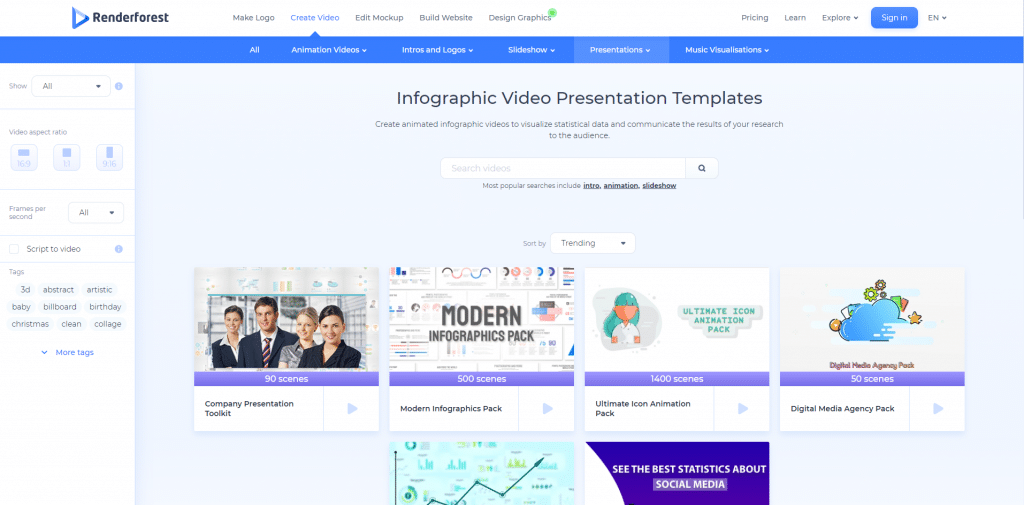 Features:
Hundreds of infographic movie templates in various categories, easily customizable.
Try to use the 3D infographic templates makes your infographic video transform the simplify complex information.
Download your file in different forms and sizes.
Operating system:
Paid options:
Free: $0 free forever
Lite: $6.99 per month
Amateur: $9.99 per month
Pro: $19.99 per month
Agency: $49.99 per month
6. Biteable
Make infographic movies with animation, stock footage, and photos. Biteable comes with several amazing templates you can edit as you like. It's simple to add and remove the elements from the infographic movie's templates timeline.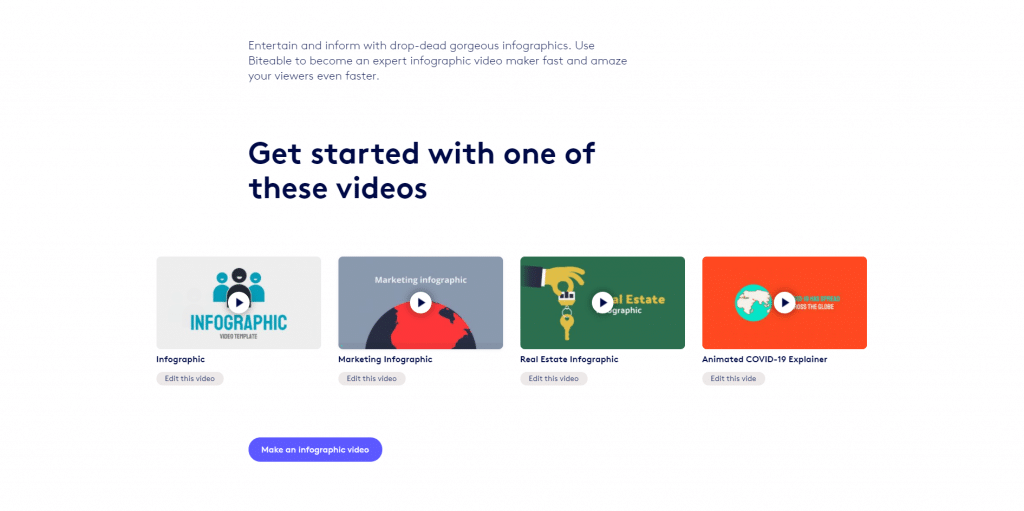 Features:
No design infographic movie experience is required, rapid, and convenient to customize.
Plenty of styles, colors, and themes to choose from, you'll find one to fit your infographic messages.
Fit for all kinds of industries.
Operating system:
Paid options:
Getting started (free): $0 per month, totally free, forever
Individual creators (Plus): $19 per month
Professionals (ultimate): $49 per month
7. Moovly
Create your infographic movies with Moovly's online video editor and customizable templates. The beneficial infographic movie maker gives a variety of templates as an example, realizes your inspiration on infographic videos.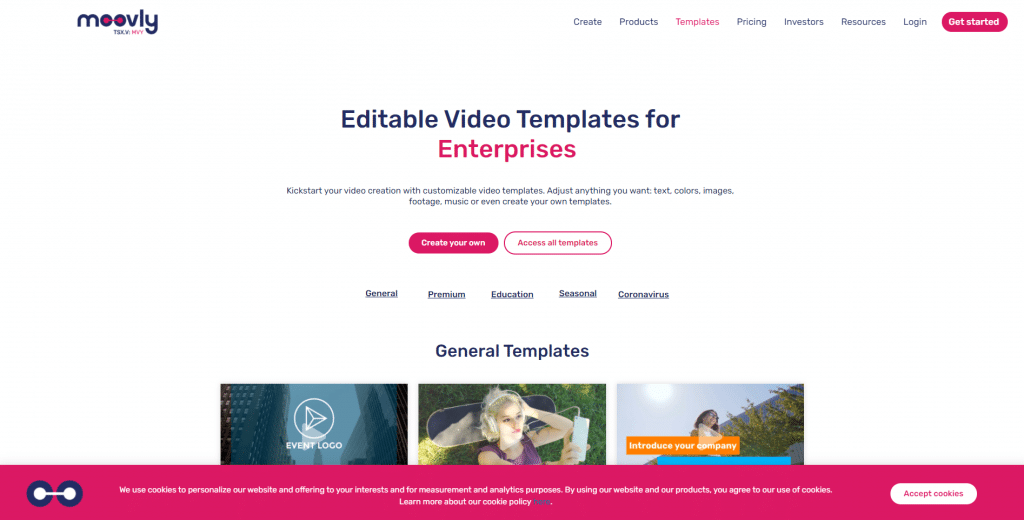 Features:
Drag and drop images, elements, and sounds it's simple to work.
Some green screen images are easy to teach about layering, green screen, and transparency.
The stocks about audios, videos, and images to select from as well.
Operating system:
Paid options:
Get to know Moovly (free): $0 per month
For budding creators (pro): $24.92 per month
For maximum creative freedom (max): $49.92 per month
For teams and collaboration (enterprise): custom pricing
8. Envato Elements
The Envato infographic movie maker has an unlimited creative subscription, millions of creative assets, and at one low cost. Included tutorials to helps you make your own infographic movie in minutes. You can also upload and add the information you needed in the infographic movies through the Envato Elements infographic movie maker.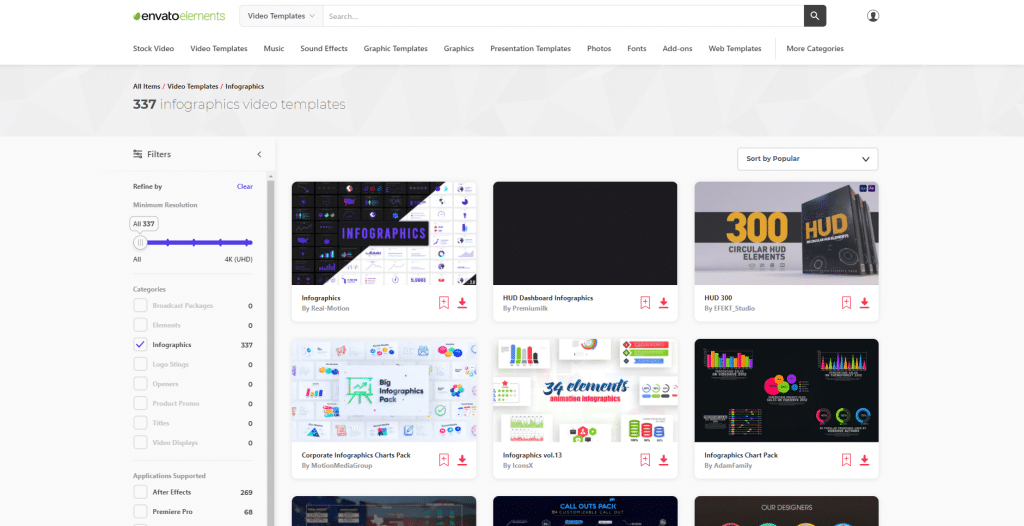 Features:
The thousands of templates let you keep informed of the theme updates and new trends in all sorts of industries.
A library of element resources to bring your imagination into the real world.
Different categories and the elements inside are all modern minimalists styles, fit for the new-age trend.
Operating system:
Paid options:
Individual plan: from $16.50 per month
For Students: from $11.50 per month
Teams (save as you add members): from $11.50 per member
9. Vyond
Vyond is a cloud-based, animated video creation platform. This online infographic movie maker lets your commerce likely create professional animated infographics for all industries in job roles like marketing, training, and eLearning.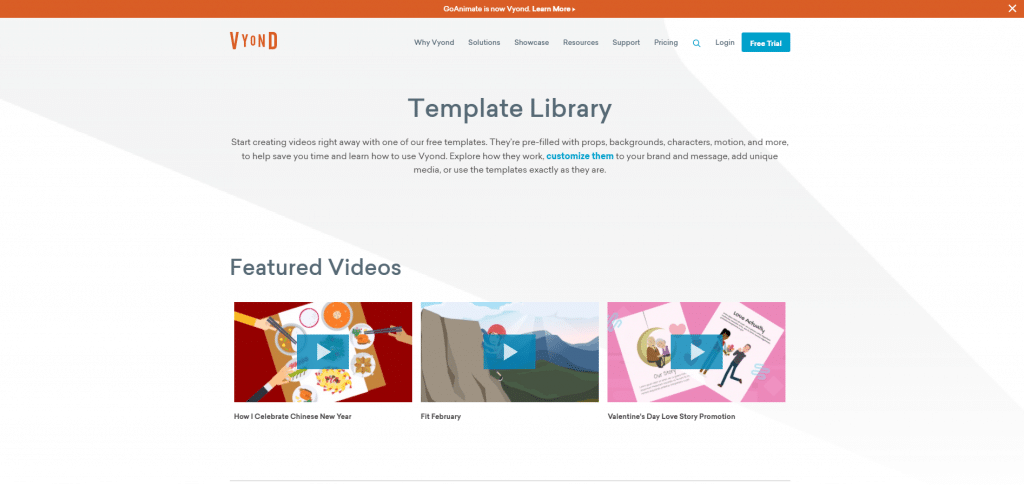 Features:
Offers a vast of professional design elements and resources, to helps you save time in finding the materials you needed.
Makes your own infographic movies easily with a large number of templates.
Provides many useful tools, scenes, characters to set up the special animated infographics by yourself.
Operating system:
Paid options:
Essential (single-user plan): $299 per year
Premium (single user plan): $649 per year
Professional (per user): $999 per year
Enterprise: custom pricing
10. Lumen5
Lumen5 features an infographic movie maker that simplifies the projects of producing infographic videos. When you without design experience can try to rely on this system to do complex infographic movies. Lumen5 combines powerful A.I. with an easy drag-and-drop interface that allows you to build up skillful infographic videos effectively.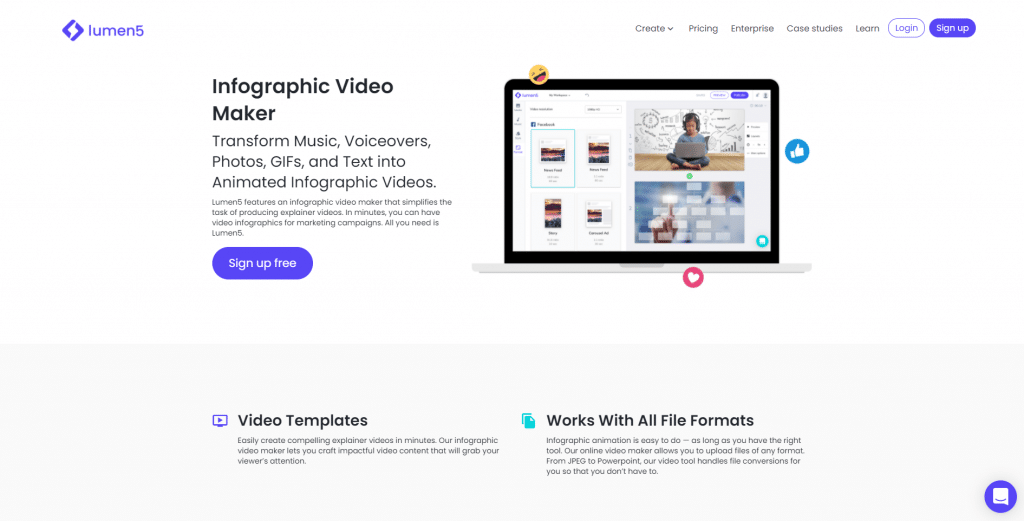 Features:
Turn music, voiceovers, images, GIFs, and text into animated infographic movies.
Turn your articles and blog posts into infographic videos content, transform the text into video in a flash.
Make your own infographic videos easily with the support of A.I.
Operating system:
Paid options:
For casual video enthusiasts (community): $0 free forever
For individual content creators (creator): $11 per month
For professional video storytellers (premium): $59 per month
For brands focused on reach and growth (business): $149 per month
For large-scale video teams (enterprise): custom pricing
Now it's over to you

I hope these 10 practical infographic movie makers will help you create your own wonderful infographic videos. Have a try now! Break a leg!
Make Your Own Infographic Movie with Mango Animate
Download Now