The modern consumer looks for product information first before making a purchase. They seek relevant, catchy, and engaging information related to what they want. A study discovered that six out of ten people prefer to watch videos online than television. Even Google recognizes the importance of video content.
Right now, whiteboard animations are in high demand. Enterprises and marketers strive to design animations using whiteboard presentation software to appeal to masses who will eventually convert to loyal customers. Through video content, it's easy to vividly tell their brand stories, promote their products or services, and drive traffic to their online businesses. There's more to whiteboard animations, as you'll find out here.
Why Should You Consider Whiteboard Animations?
The adoption of computers, smartphones, tablets, and other electronic devices has seen an increase in the consumption of internet information. A lot of people browse the internet looking to satisfy their needs. It's not surprising to see web users leaning towards whiteboard videos. This is due to the enormous benefits they bring to the table, as seen below.
1. They're On-the-spot Charmers
Whiteboard presentations use hand-drawn images to build environments and characters. Making drawn images come to life before the eyes of the viewer creates an eagerness to keep watching them in anticipation of what is coming next. This also presents more fun and entertainment to the people watching.
2. They're a mix of Art and E-Commerce
Creating explainer videos not only stirs up people's imagination, but also appeals to their logic and emotions. The stunning artwork will stick in their memories and help them grasp the message more clearly.
3. It's the best way to relay multiple ideas
When you have a whole load of information to pass to audiences, whiteboard animations will efficiently do it on your behalf. It's easy to let ideas unfold visually through whiteboard presentations as the narrator tells the story. In that way, you'll practically include all the different ideas you have in a single video without losing viewers' attention and interest.
4. They're Ideal for Complex and Boring Subjects
Do you have an intricate subject that needs to be simplified to help people understand? Or is the subject too technical and boring? The solution is simple – whiteboard animations.
People's interests can wane quickly when presented with long and boring explanations. The longer it takes, the harder it is to understand or focus. But if you use whiteboard presentation software to design an explainer video, your point will get across quickly. Add some fun and humor, and you'll have everyone's full attention. Doodle videos are colorful, visually detailed, and fast-moving. So they will stimulate the viewer from start to finish.
These are only a handful of what to expect from whiteboard animations. And now that you feel like taking the plunge into whiteboard presentation making, let us understand the topmost whiteboard presentation software to use for all your projects.
1. Mango Animate Whiteboard Animation Maker
Mango Animate Whiteboard Animation Maker is the best overall whiteboard presentation software – a user-friendly product for all types of users who want to deliver professional doodle videos for business, education, entertainment, and more. It comes with all the resources needed to turn lifeless images and text into vibrant and dynamic presentations in minutes.
Make Your Own Whiteboard Video with Mango Animate Whiteboard Animation Maker
Download Now
With the most advanced features at your disposal, you only pick a template and hand type, add lively animation effects and media elements, and customize your creation on the multi-track timeline. The result is a stunning animation that draws the attention of every viewer. When you add and edit the desired effects, you'll have an eye-catching piece to publish to your favorite channels.
Key Features of Mango Animate Whiteboard Animation Maker include;
Easy to navigate
Pre-made templates
Lively animation effects
Free media library
Different hand types
Caption and audio features
Multi-timeline editing
2D characters
Multi-output options

2. VideoScribe
VideoScribe is an innovative whiteboard presentation software with massive tools and options to quickly transform any text and images into vibrant doodle videos. It has a drag-and-drop feature that simplifies the process. And you are sure to come up with highly engaging video content just by putting images, text, and voiceovers in sync.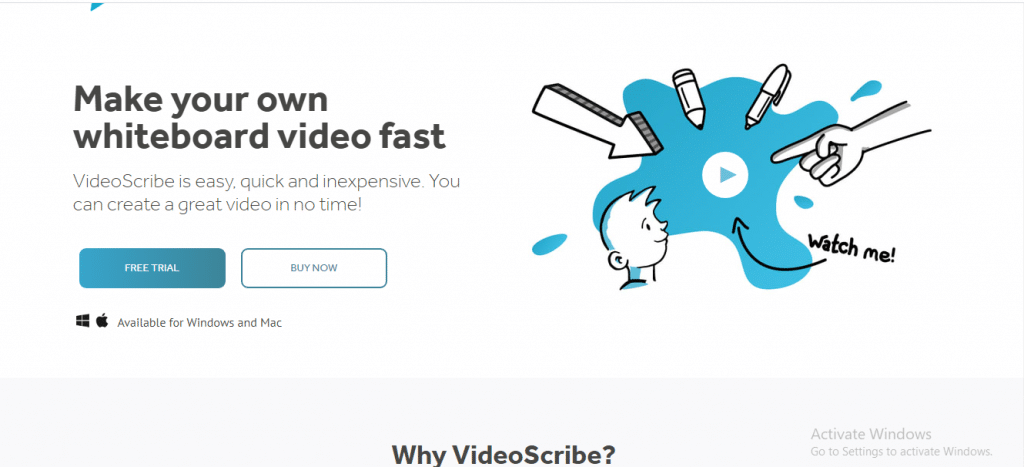 VideoScribe doodle presentation software provides a downloadable app that converts imported images into SVG files. Its repository also has thousands of images and plenty of music files. But you are also free to add your own for personalized outcomes. Once ready, you'll simply download and share your videos directly on Vimeo, YouTube, and Sho.Co.
Features of VideoScribe;
Pre-designed templates 
Animations and stickers
Voiceover to add to text and background music
Export videos as image sequences
Free 7-day trial
Allows unlimited pages on your storyboard
Plenty of customization options
3. Mango Animate Animation Maker
Mango Animate Animation Maker offers thousands of free assets, including SVGs, symbols, SWFs animation widgets, shapes, charts, animation effects, and other media objects. This next-generation and user-oriented doodle presentation software gives you vast resources to design animations in a snap.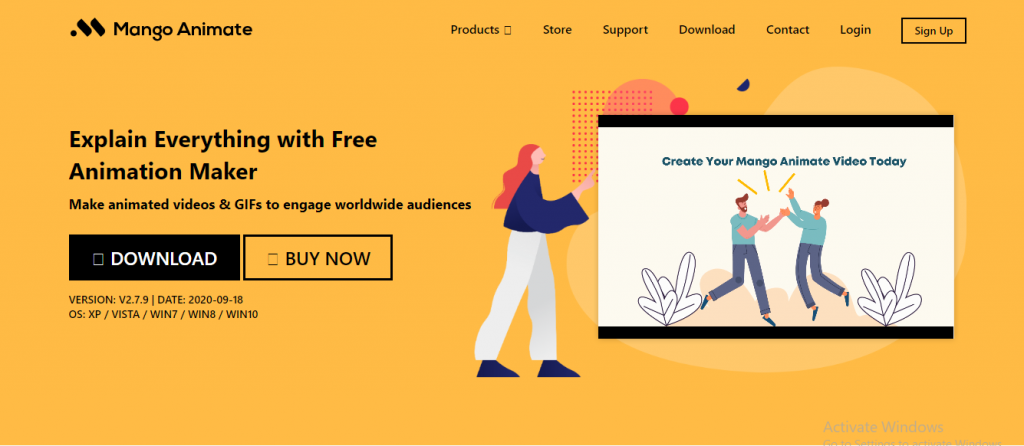 Besides media assets, the whiteboard animation maker also comes with subtitle and recording features to help you emphasize your points and add emotional touches to your animations. It's easy to make characters speak by assigning them dynamic roles. Use the multi-track timeline to customize everything from the background, animation effects, camera, and more.
Notable features include;
Pre-built templates
40 types of characters
An infinite canvas for managing content
Lively camera settings
Three different animation effects
Stunning scene transitions
4. Renderforest
Renderforest is one of the most preferred whiteboard presentation software to deliver ready-to-use videos and logos. Use Renderforest to tell your story through whiteboard animations. Its catalog is full of animated objects and toolkits to utilize when you have diverse ideas and concepts to share with your viewers.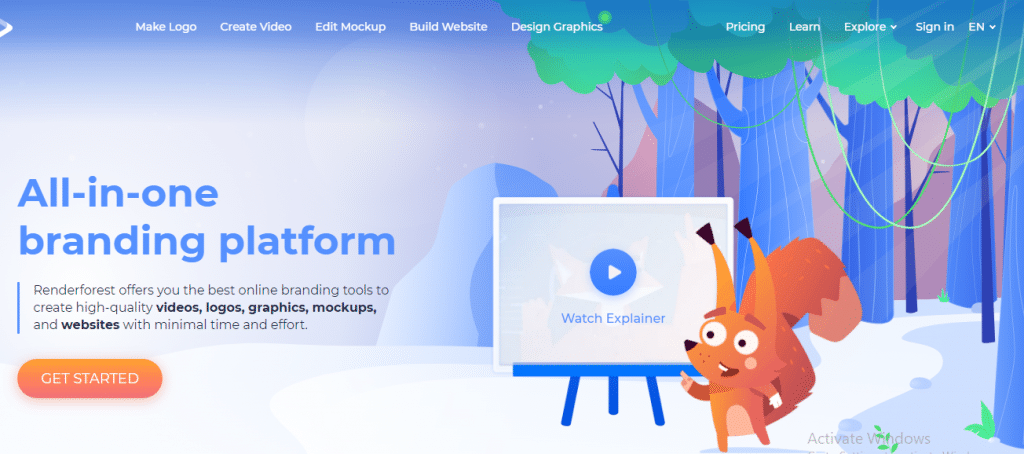 This doodle presentation software has 50,000 unique scenes, plenty of text images, custom logos, and color palettes for personalizing your masterpieces. And their audio tracks have the charm to spice up your creations into delectable pieces that viewers love. Whether you want intro or logo videos or explainer animations, Renderforest will give you the tools to craft them.
Features;
Animated scenarios
3D animations
Stock gallery of commercial videos
Royalty-free music clips and video shots
Free previews
Lively animations
5. Vyond
Vyond is an excellent whiteboard presentation software developed for industrial fields such as eLearning, marketing, HR, and training. With this doodle presentation software, you'll create incredible visual communication that enhances audience understanding.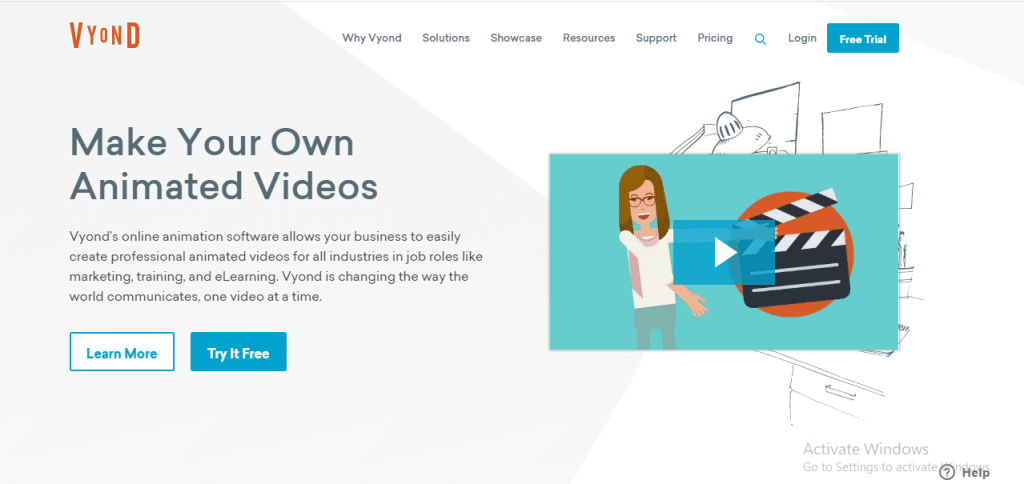 Vyond boosts powerful storyboards and the customization and repurposing of content. It lets you import MP4 files to your LMS to give learners immersive experiences as they train. To make your videos sizzle, use their dialogue, realistic movements, and lip-sync features.
Features include;
Pre-made templates
Vast resources 
Lip sync
Thousands of characters, colors, and movements
Sound effects
Enables uploading of fonts, videos, sound files, and logos
Offers quick edits
Easy customization
6. Animaker
Animaker is every user's whiteboard presentation software. Whether a beginner, non-designer, or professional, this software is for everyone. With just a few clicks, you'll successfully produce captivating whiteboard animations that entice viewers. The drag and drop tool comes in handy whenever you want to build powerful characters for storyboards.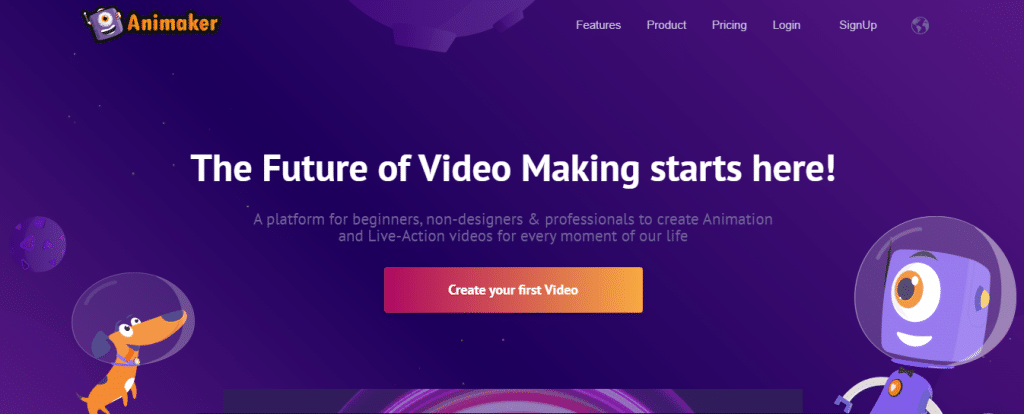 Animaker offers four new video styles, including notepad/whiteboard animations, blackboard videos, glassboards, and stitchboards.
Key Features;
Pre-designed templates
Facial expressions
Gradient backgrounds
Lip-sync
4K video quality
Instant resizing
Live video editing
Voiceovers
Facial features, expressions, and accessory slots
7. PowToon
Powtoon is an innovative whiteboard presentation software if you are up for highly customized and professional animations. It has an extensive video template gallery to use in different genres, including business, education, sales, training, and HR.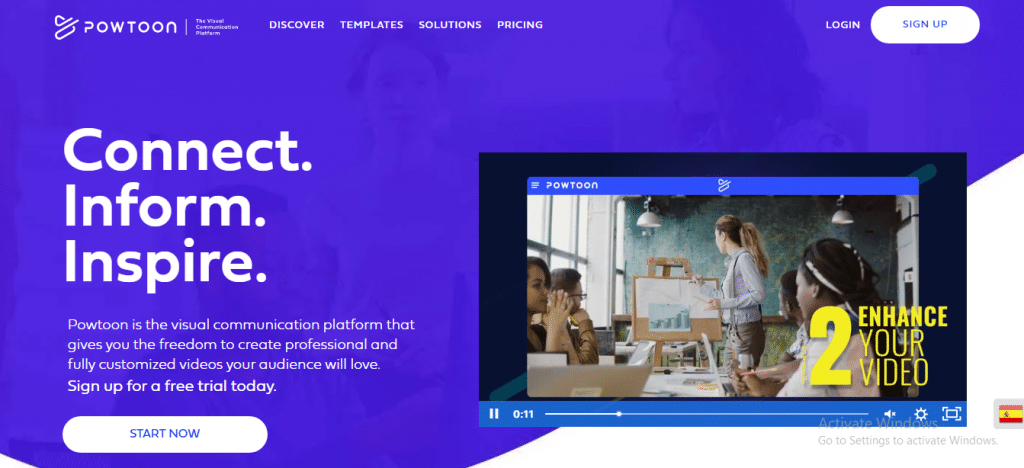 Powtoon integrates with Adobe Photoshop CC to turn your PSDs into stunning and interactive doodle presentations instantly. It also permits you to export Artboards and edit images on Photoshop.
Its key features include;
Custom images
Royalty-free music
HD videos
Powerful voiceover
Powtoon labs for learning materials
Team collaboration
CMS integration
8. Doodly
Doodly whiteboard presentation software empowers users to generate informative and entertaining blackboard, whiteboard, and glassboard animations using the drag and drop function. It is very resourceful when designing videos for special occasions, sales, and social media marketing.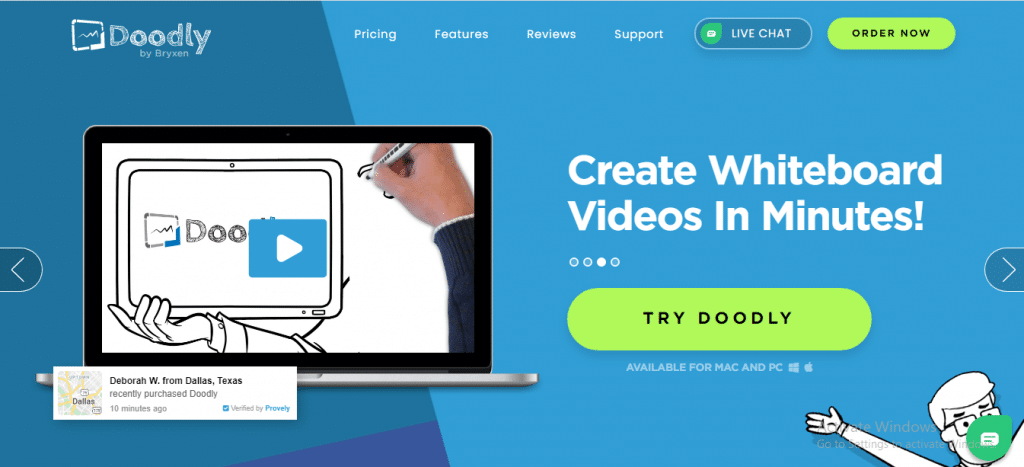 This doodle presentation software utilizes smart draw technology for point and click draw paths. You're able to comfortably draw any image and upload it. The hand types are available in different colors, sizes, and ethnicities to give you varied content options.
Notable features of Doodly include;
Custom drawn doodle images
Background scenes and characters
Custom voiceover
Export videos in multiple resolutions
Royalty-free audio tracks
30-day money-back guarantee
Multiple poses
9. Adobe Animate CC
Adobe Animate CC whiteboard presentation software has everything you need to deliver interactive animations for games, websites, and TV shows. Its animation techniques are highly innovative, and nothing can stop you from impressing people with compelling whiteboard animations.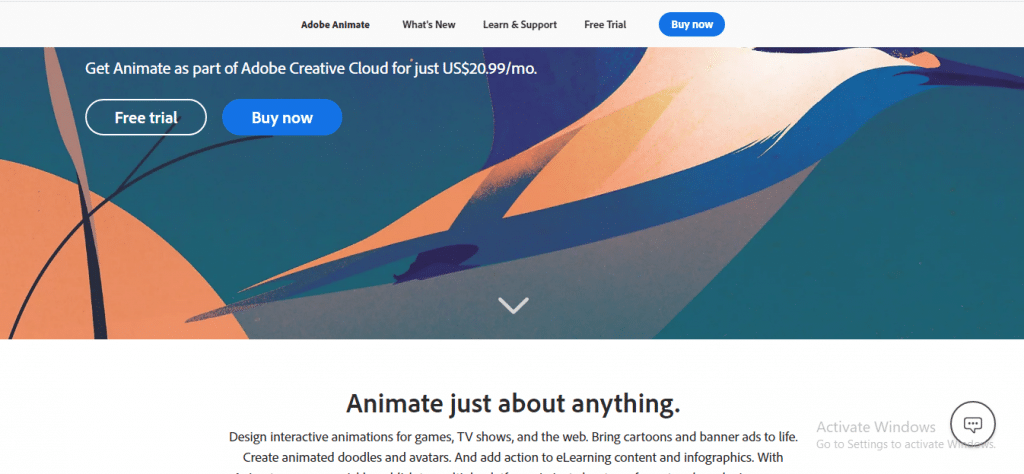 With this whiteboard animation maker, you can convert any banner ads and animated characters into eye-catching and dynamic video creations. It gives you varied publishing options for your projects, including HTML5 Canvas, Adobe AIR, Flash, SVG, and WebGL.
The best part about this next-generation tool is that you get to share your videos as augmented reality (AR) experiences. Use Adobe Fresco live brushes for more lively characters that talk, walk, and blink.
Key Features;
Pre-developed assets from a panel
Layer parenting  
Auto keyframe that helps you switch to video scene creation easily
Motion templates
Realistic camera movements
Auto-correction
Masking
Distort and warp
Automatic stabilization
Screen recorder
10. Explaindio
Explaindio is another outstanding whiteboard presentation software to consider when you need unique animations that will give you an edge over your competition. If you're up for whiteboard videos, full-motion dynamics, doodle perfections, explainer presentations, and more, then this is the tool to turn to. It also never disappoints when thinking about rendering 3D and 2D animations and doodle sketches.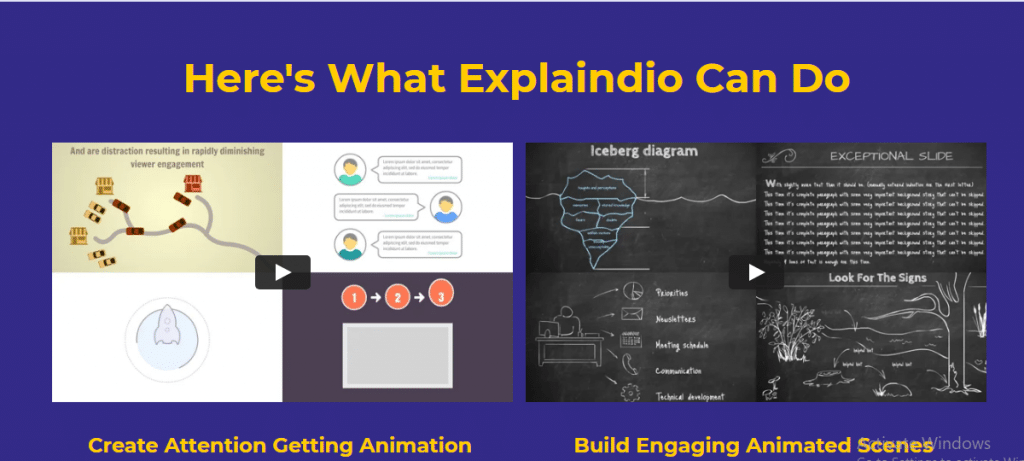 Explaindio doodle presentation software is a platform where you'll produce multiple projects and export them with ease.
It features;
180+ Pre-made text animations
300 Font options
Multiple animations
200+ animated scenes
Built-in transitions
Multiple publishing formats
3D models and customizations
Pixabay integration
Animated characters
Conclusion
These are the best whiteboard presentation software for both beginners and pros. They offer plenty of customizations along with pre-generated features to modify your videos and make them stand out. They also provide diverse media assets and voiceover support to boost engagement. So go ahead and take your pick.