Video scribing is equal to whiteboard animation or illustration. Telling a story through drawings and illustration with animation. With a multi-sensory experience, using audio, animation, and third-party interaction all in one package. Engages the viewers and provides further information and fortifies vital points.
According to the research by Dr. Richard Wiseman confirmed this "whiteboard video has a 15% more recall than an ordinary video." Video Scribing is easy to remember and has a greater rate of conversion. Use it on presentations, product launches, articles, blogs, guidelines, etc. Making whiteboard animations online helps to strike and catch the audience's eyes. Moreover, whiteboard animation online is more flexible and mobile-friendly.
Making whiteboard animation online doesn't have to be a challenge. Here're the top 20 video scribing makers for you. Let's break it down.
Mango Animate is a free animated video maker to create explainer videos, promo videos, training videos, whiteboard videos, and character videos. Convey your information easily with Mango Animate Whiteboard Animation Maker(Mango Animate WM). No code and design experience is needed. Mango Animate WM is best suited for beginners who are looking for an easy tool to make professional whiteboard animation online. Its drag and drop feature offers immense ease of use while making your exclusive video scribing online.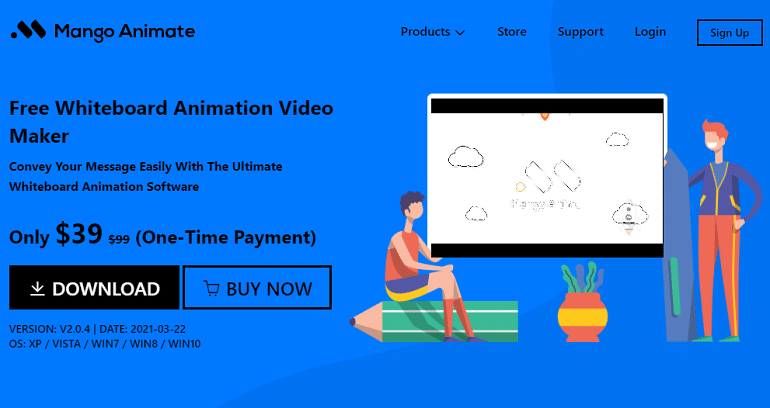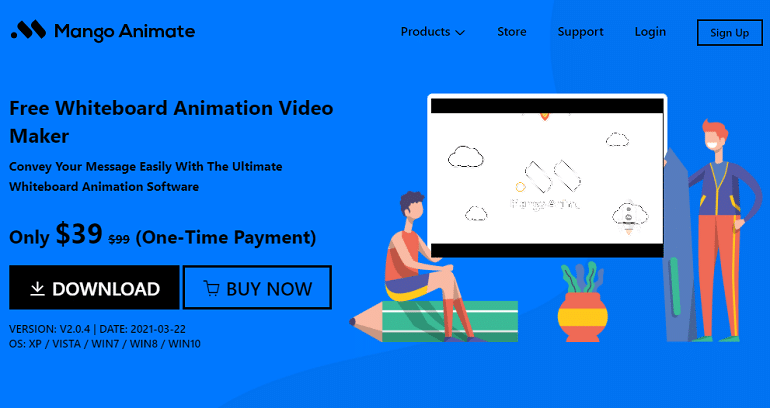 Key Features:
Pre-designed Templates: A library of customizable templates can make your whiteboard animation online more easily. You will save huge hours thanks to the professional pre-made templates.
Amazing Animation Effects: Tons of transition effects, enter effects, and exit effects breathe energy into your video scribing.
Pre-built Free Media Library: A large number of characters, SVG images, icons directly from the editor. Customize your elements with a user-friendly interface.
Wide Selection of Distinct Hand Types: Offers tens of different male or female hands, with various sizes and gestures. Add your favorite hand drawing design in the video to make the content process.
All-powerful Voiceover: Mango Animate WM offers to record your own custom voiceover audio directly. You simply need to add and edit your voice to make all kinds of audio for your whiteboard animation online videos.
2. VideoScribe
VideoScribe lets you produce stunning whiteboard animation online easily and quickly. Making your whiteboard animation online, something like the explainer videos, promo videos, education videos with drag and drop ways. To make a video, you only need to choose the pre-made template, add your elements, texts, and that's it.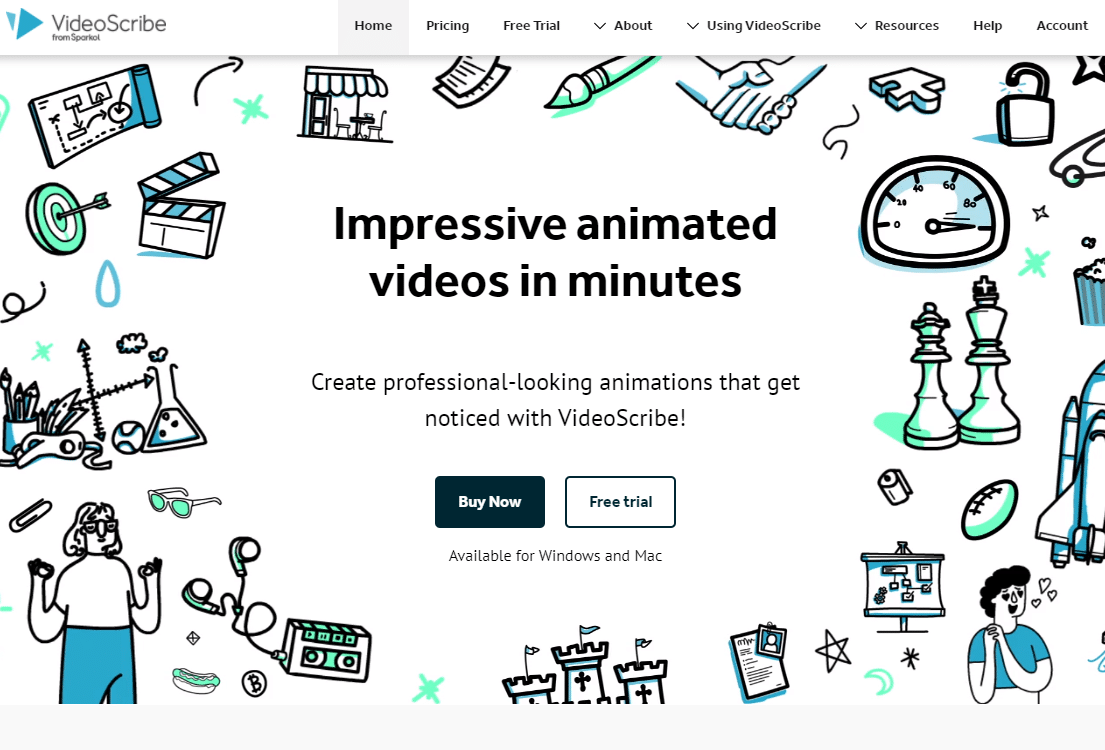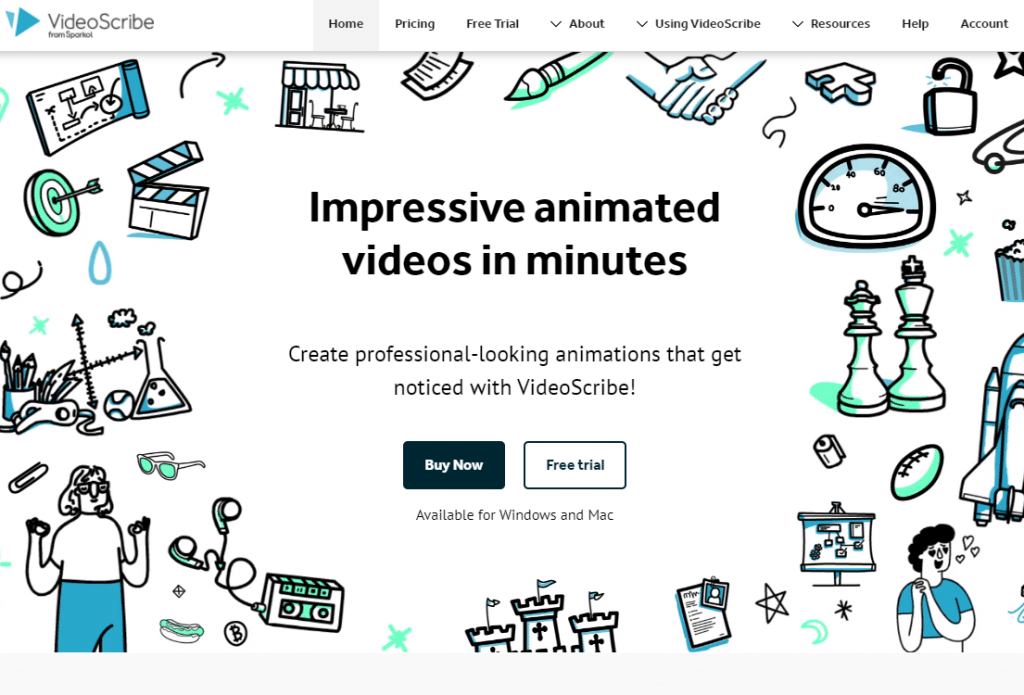 Key Features:
Easy to Use: VideoScribe supplies you with an easy user interface to find the tools easily. All the functions are drag and drop, so there is no need to train it.
Pre-built Templates: VideoScribe supplies templates based on different categories, including business, education, tutorial, or animation. These templates can bring out whiteboard animation online in seconds.
A Vast Library of Elements: Simply import images, and it automatically converts them into SVG files. It offers thousands of images to choose from, or add images that you needed by yourself.
Massive Library of Copyright-free Background Music: VideoScribe supports mixing it with background music and text. Also, put in a voiceover directly to the video.
3. PowToon
Powtoon whiteboard animation is a web-based visual communication animation platform that lets users create professional video scribing by manipulating pre-created templates, imported images, provided music, and user-created voice-overs. Communicating visually with short videos and animation allows achieving more, no matter what do you do.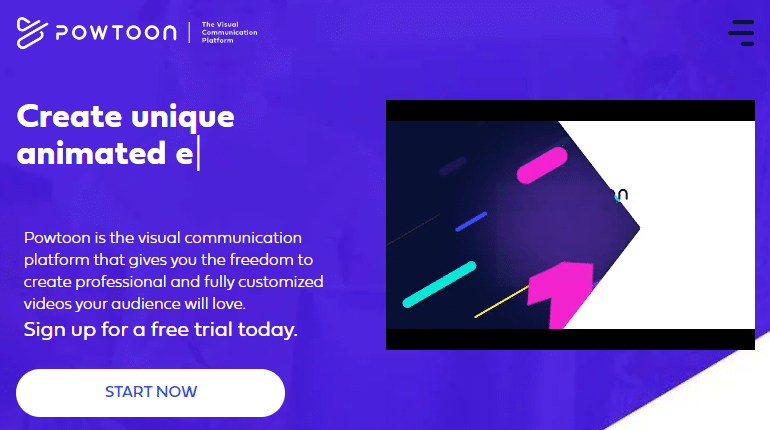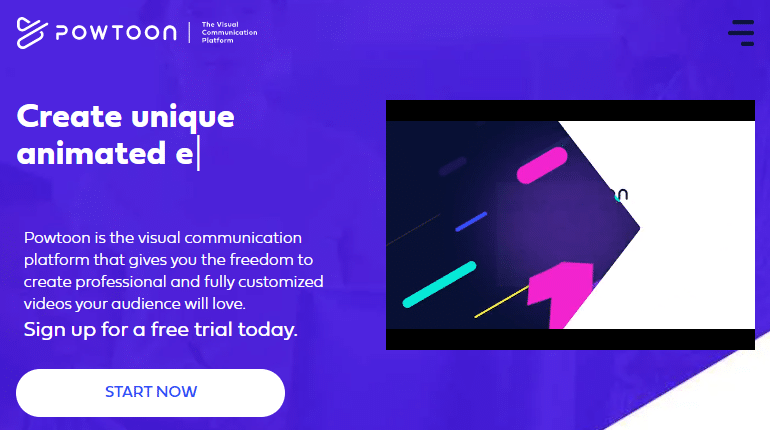 Key Features:
User friendly: The layout of PowToon is simple, interactive, and offers all the basic functions that you will need to put elements for the video. Beginners can also use it easily and quickly.
Free Royalty-free Music: Free soundtracks help you save time to find the BGM you needed. What's more, rich the video content of your creation with royalty-free music, HD videos, and voiceover.
CMS Integration: PowToon lets you publish, embed, and store your creatives or videos with your CMS (Content Management System).
4. Animaker
If you love animation software open source projects, making whiteboard animation online with Animaker online platform is the right choice. It is suitable for beginners. No design experience and code is needed. Try Animaker to enjoy creating whiteboard animation online in just a few clicks and live-action videos in mins.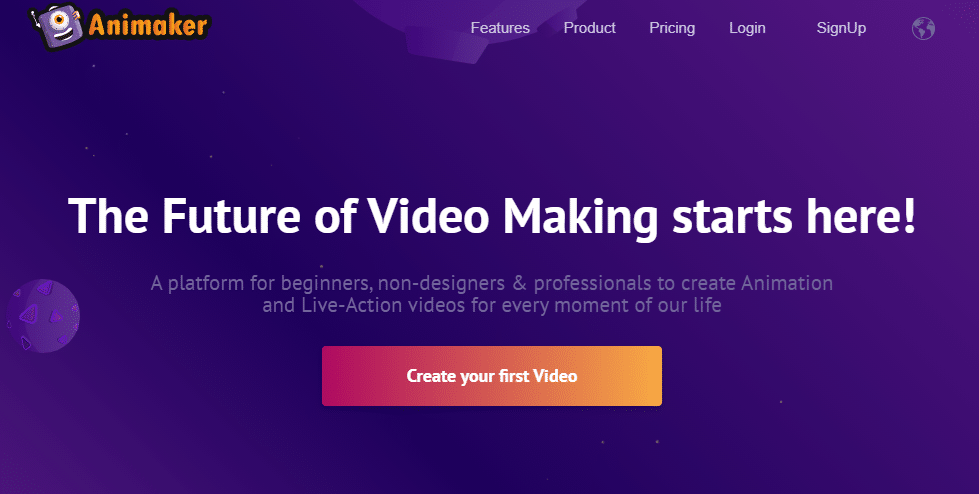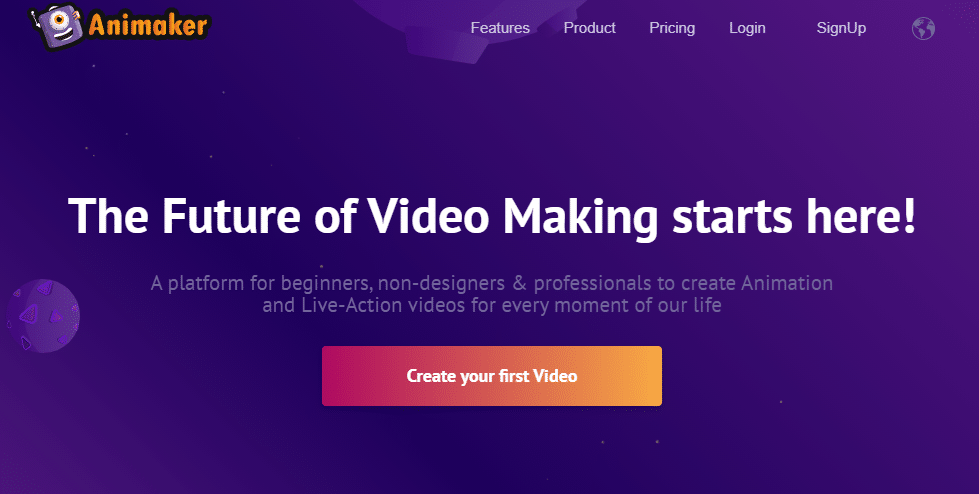 Key Features:
Powerful Character Builder: Some millennial characters ensure that marketing videos look more eye-catching and professional. Also, It has more than 50 human-like voiceovers in 25 different languages. Some of its most interesting video-making features include extensive facial expressions for videos, auto lip-sync.
A Large Number of Objects: Find anything you want in this software easily and save your time.
Thousands of Templates: Animaker has a wide range of infographics to use. Drag and drop to select and organize the media files to make a whiteboard animation online.
5. Doodly
Doodly has intuitive tools that help you build up a professional whiteboard animation online in minutes. You'll be able to create your own video with little to no design or technical skills. If you want to bring out videos about sales videos (VSLs), social media videos, or something else which is a great platform quickly create whiteboard animation online.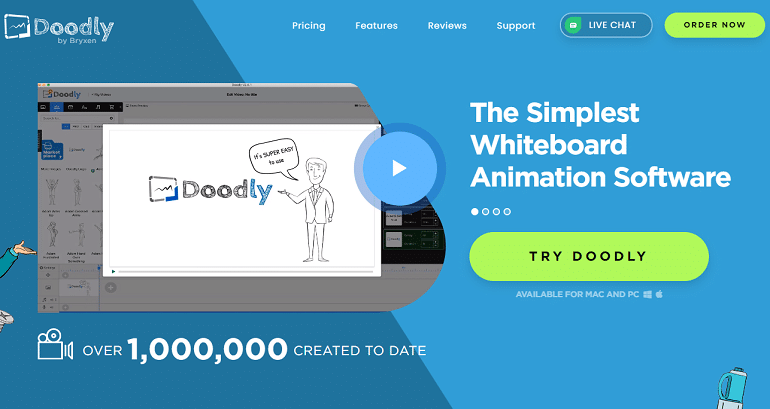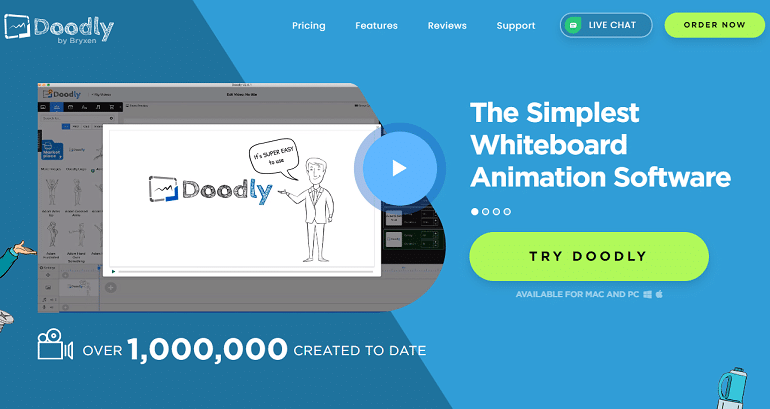 Key Features:
Blackboard, Glassboard, Green Screen Animations: Just choose a doodle image. Doodly offers simplicity to its users. Drag and drop the image on the canvas, and the platform will draw it for you.
Create Point-and-Click Custom Draw Paths: Add your own graphics, create point-and-click custom draw paths, provides you to draw all images you upload by yourself.
Large Range of Male and Female Hand Types: Choose from a library of hand types, including both male and female options with various sizes and colors. It also supplies 20 background scenes and 200 characters.
6. Animatron
Animatron is an easy-to-use and powerful whiteboard animation online maker. Easily create video scribing for your social media, emails, website, and blog with affordable pricing Animatron. Enrich your whiteboard animation online content with 200M of stock videos, images, audios.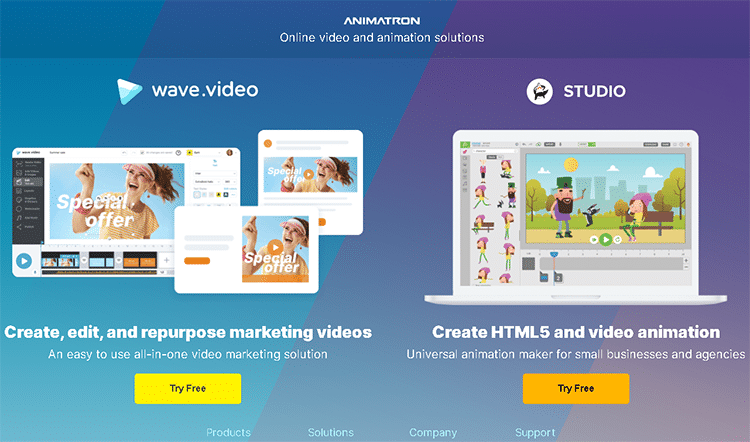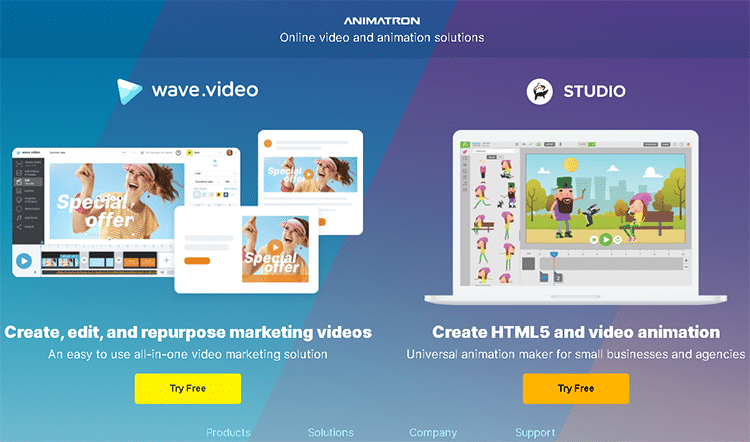 Key Features:
Free Templates: Start from scratch or choose the template you like to customize. No design experience needed, create whiteboard animation online without professional help
Convenient to Use: The software layout is simpler, with closed captions you can have a try. Also, bulk uploads the elements you needed.
7. Renderforest
Renderforest is completely browser-based, no need to download and install anything. This platform is cloud-based which means you don't need a powerful machine to execute it. It offers a big catalog of animated projects and toolkits to build videos for multiple ideas and topics.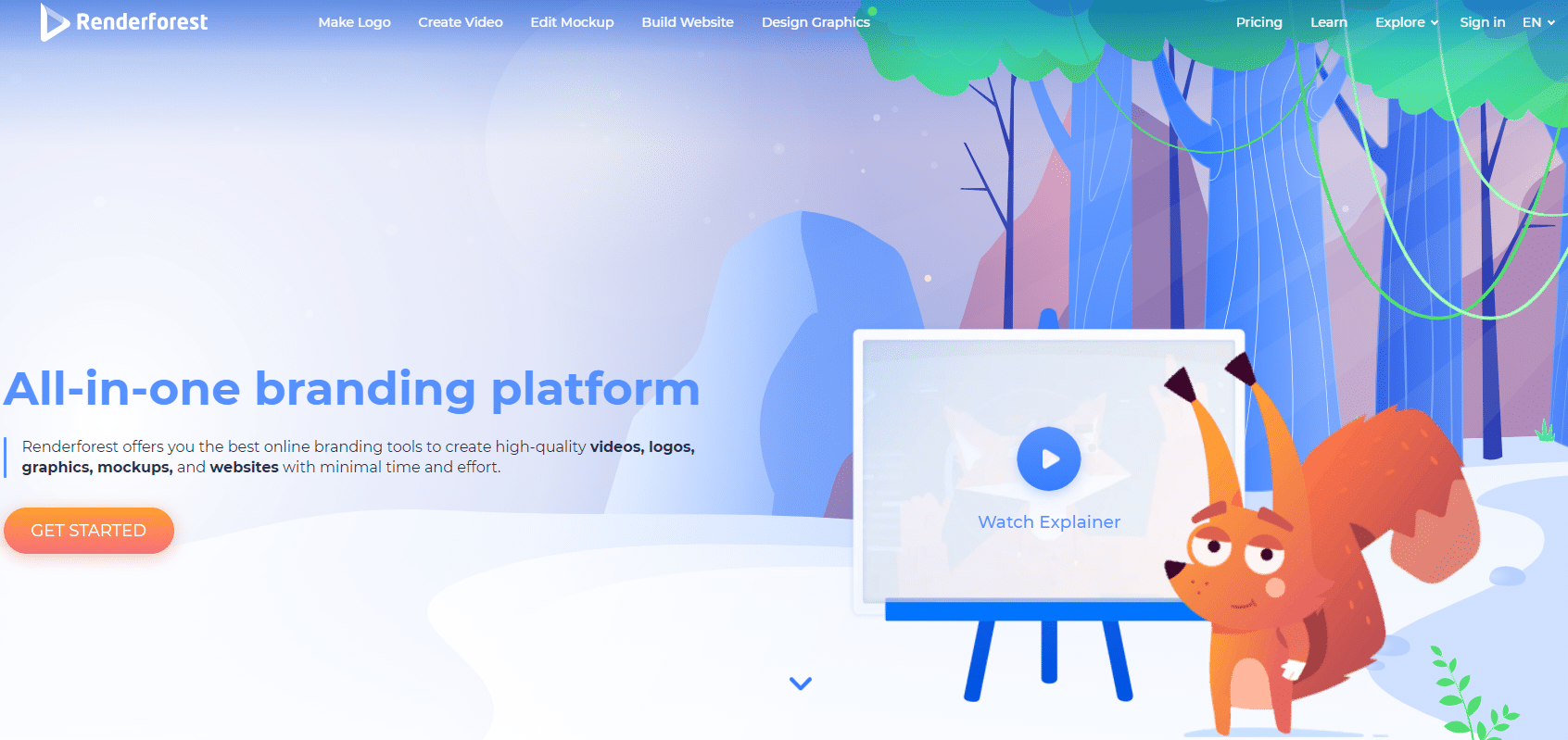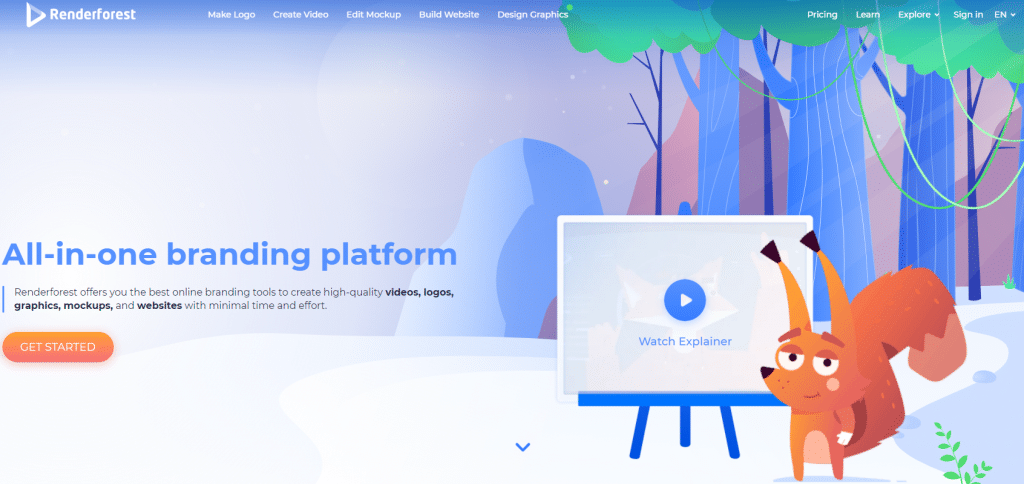 Key Features:
Professional Animation Design Templates: Make stunning whiteboard animation online with ready-to-use templates. Choose your design, customize it, and download your file in different formats and sizes.
Pre-created Animated Scenes: You get access to a large number of exclusive ​scenes to kickstart your video editing easily.
Make a Website As Well: Scan the website categories, select your template and start to customize it. You may also produce your website from scratch by adding components.
8. Vyond
Vyond, originally GoAnimate, is online animation software. Plenty of templates, audios, and other media objects that you can use for free once you with Vyond. Vyond makes doodle animated videos for industry fields like marketing, training, eLearning, and HR.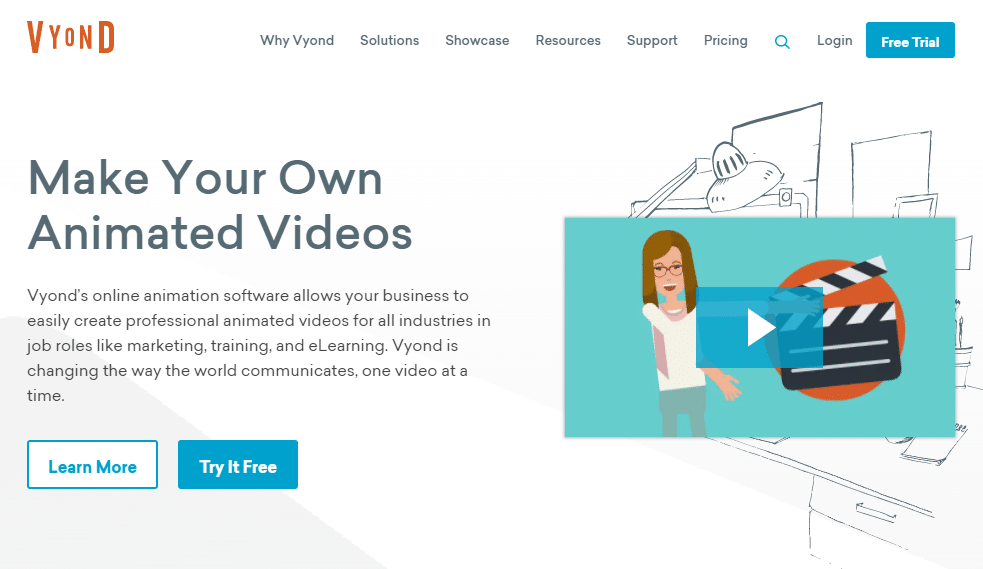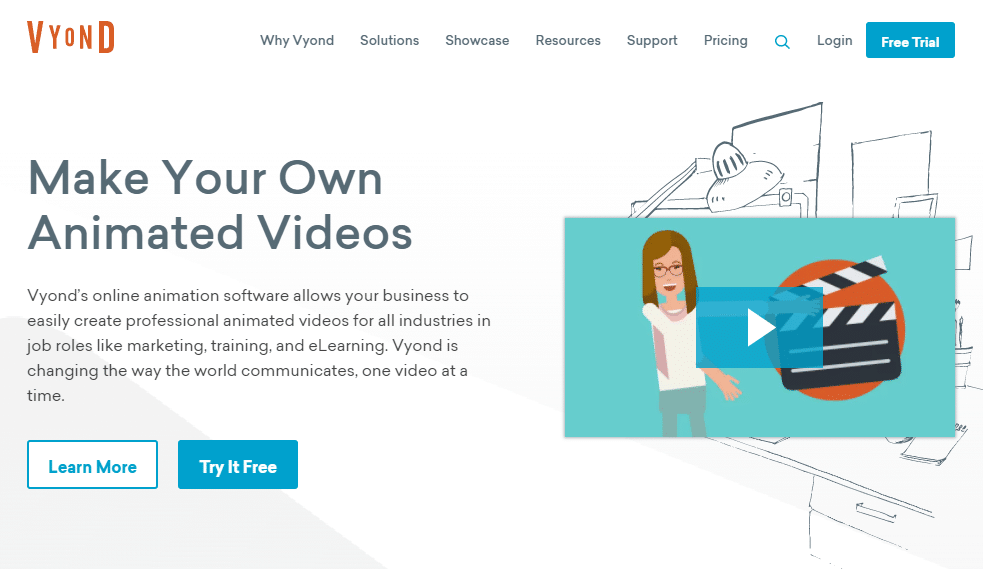 Key Features:
Lip-Sync: The automatic character lipsync feature of Vyond helps you to turn characters into cartoons that speak and act like human beings. Customize the characters, models, and other objects as per your need.
A Full Library of Customizable Templates: Build up your own whiteboard animation online from scratch by using their design wizard. Huge variety of templates
9. Moovly
Moovly is a company that provides a cloud-based platform, enables users to generate multimedia content. Create your video scribing with Moovly's online editor and customizable templates. It is easy to use and has a large collection of resources to help you raise your idea.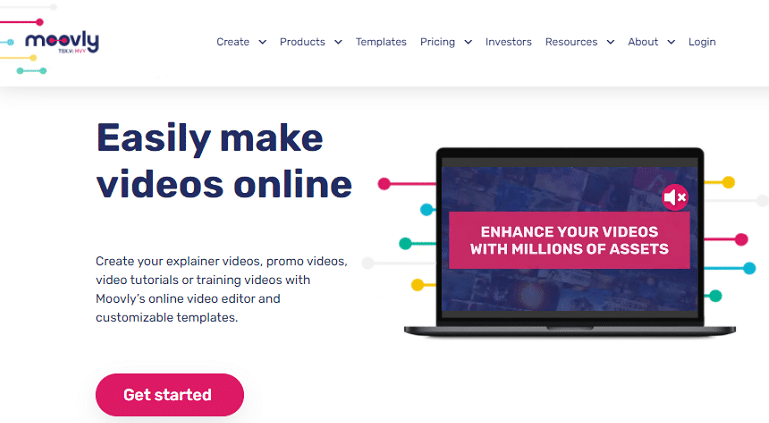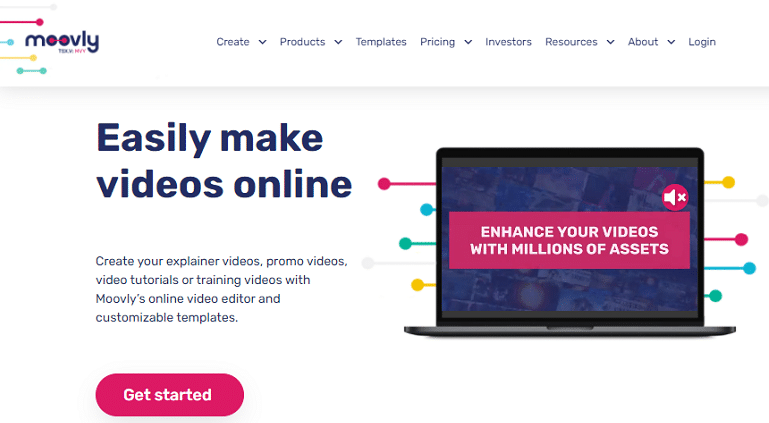 Key Features:
Multiple Languages: English, Czech, Dutch, Italian, Russian, Spanish, etc.
Professionally Made Video Templates: With its video templates, creating an excellent video is a piece of cake, or start from a blank canvas and build your video the way you like it.
The Extensive Collection of Visual Elements and Audio Elements: Millions of royalty-free illustrations, images, footage, audios to establish the video scribing you need in any style you like.
10. Easy Sketch Pro
Easy Sketch Pro is a doodle creation software with no monthly recurring fees. This tool has utensils of full HD videos, a built-in music library, playtime control, and trimming effects. Simply upload a video, the software will create a video scribing of the opening scene automatically.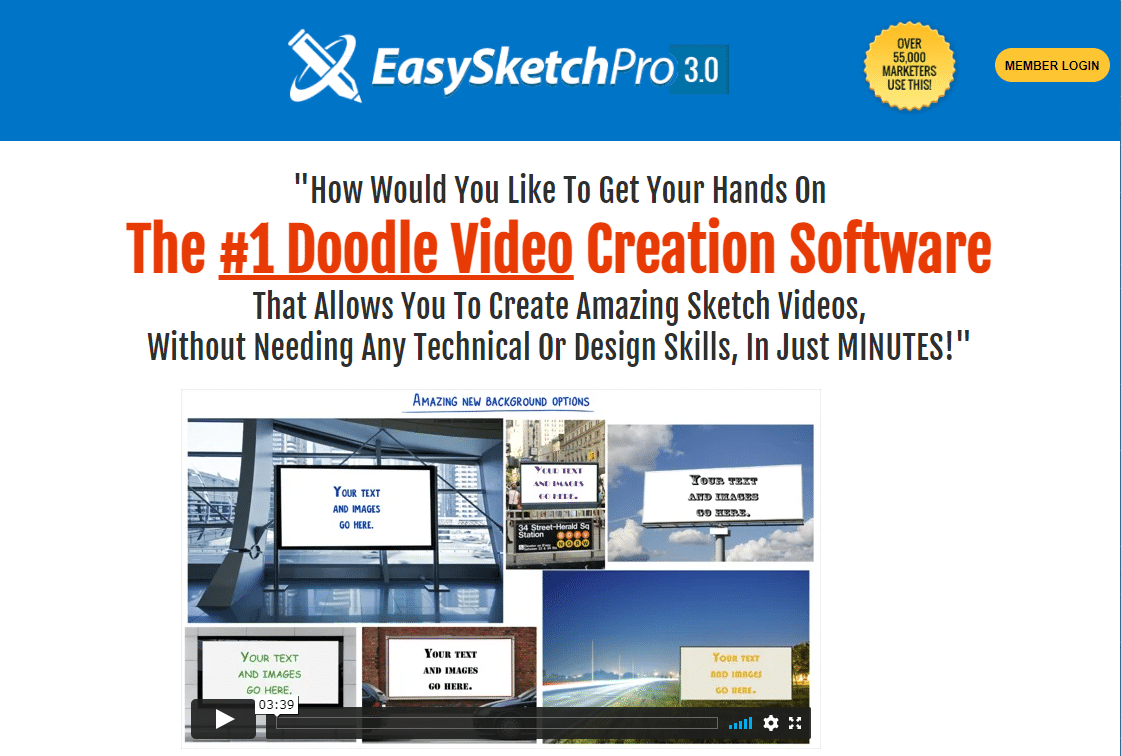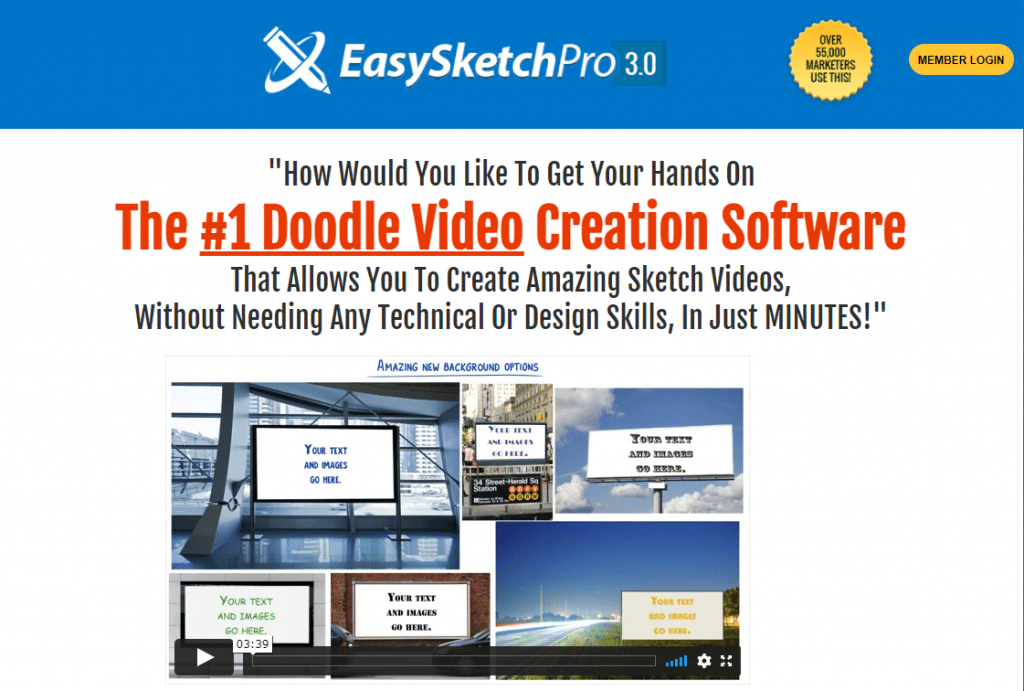 Key Features:
Creation Interface User-Friendly: Easy, drag and drop video elements and contents. You get access to its video analytic tool to improve your video as you go.
Professional Canvas Types: Start with blank will lost your time, Easy Sketch Pro provides professional canvas types to create live video scribing.
Royalty-free Images: Easy to incorporate contents into animations, including adding voice-overs, text, graphics, and other projects. Hundreds of images are supplied by Easy Sketch Pro to help you make videos easily.
11. Biteable
Biteable uses powerful features to create videos for training, social media, business, or personal use. Plenty of templates available in this software that will make your creating process even easier. Choose from templates and audios to get started and add your customized texts, elements as per your need in the process of animating your video.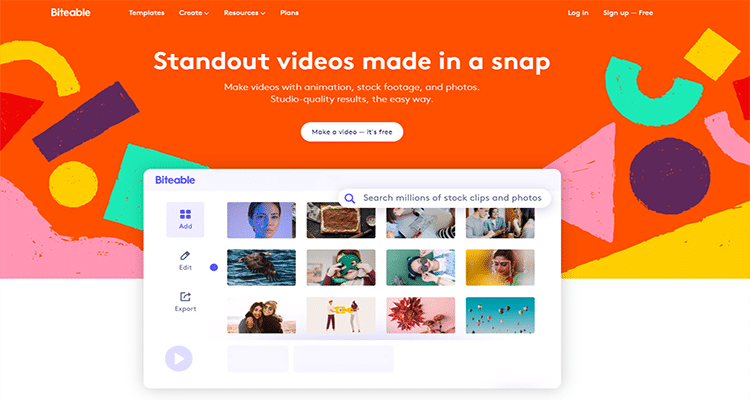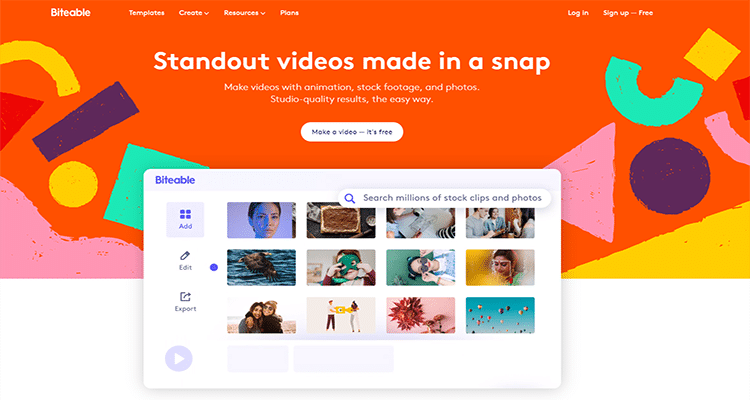 Key Features:
Plenty of Different Video Style Templates: Strat from these templates and use them directly or customize them as you like. No design experience is required.
Animations to Suit Each Style: You just need to express any concept you want. Personalize colors can match your ideal.
Share to Everywhere: Share the videos on social media, upload them to YouTube, or export them to the local computer.
12. TruScribe
TruScribe always innovating and offers its customers dedicated plans. If you want to build whiteboard videos, digital graphic recording, and infographics, try to create whiteboard animation online with TruScribe. It uses the Scribology method, which is a traditional method of creating whiteboard animation online.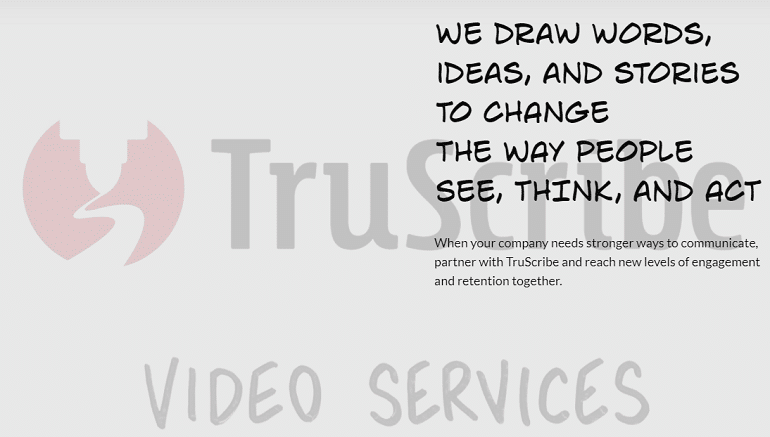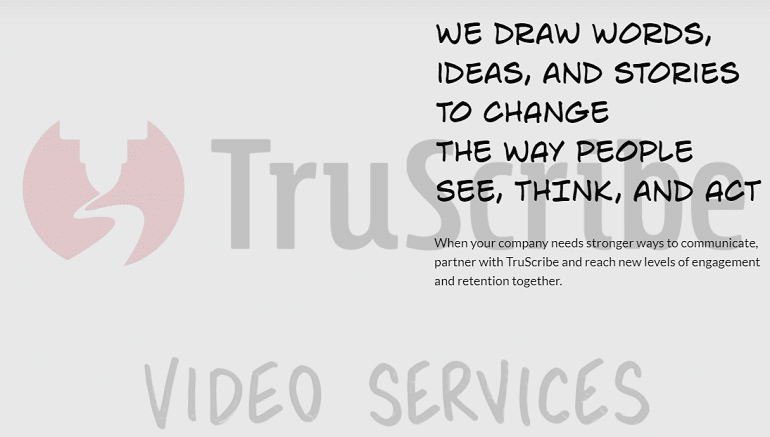 Key Features:
Uses Scribology (The concept is based on neuroscience and behavioral psychology): Through the neuroscience theory in its software for attracting attention, boosting retention, and enhancing the understanding in audiences.
Attractive Design Templates: Special theme templates are available for different industries. You get an option of using the hand-drawn custom video method with this software.
13. Explaindio
Explaindio is more versatile than most other platforms and is an all-in-one 2D/3D animated video and whiteboard animation maker. It also makes full-motion videos, explainer videos, doodle, and more. Access the sketch components by purchasing this software. This platform is ideal for all-around internet marketers.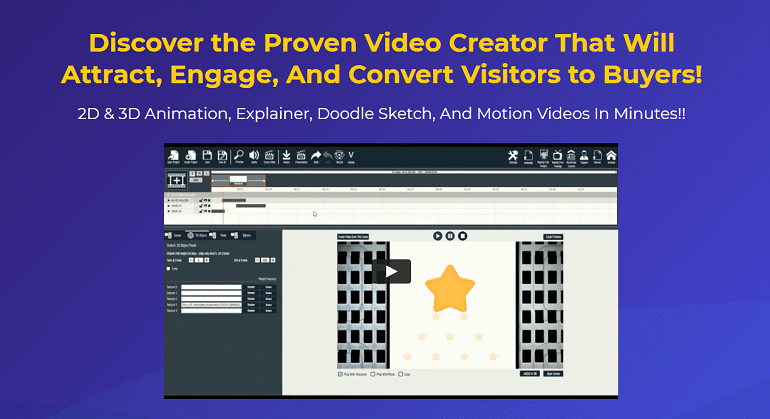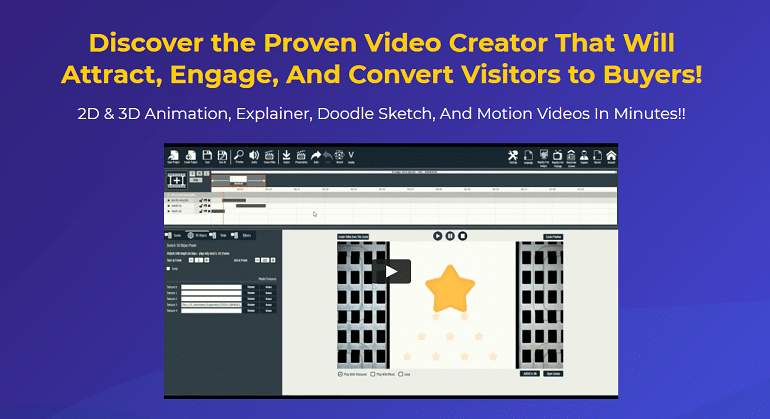 Key Features:
Easy-to-Use: This software with a drag-and-drop video creator helps you to build up your own video in seconds. There's no need to have experience in using this software.
Built-In Transitions and Keyframe Animations: The paid members will gain access to nearly 200 text animations and animated scenes.
Pre-Made Videos: Over 140 pre-made videos, 800 doodle animations, and images. Make richer animations with over 100 full HD background videos.
14. Filmora
Filmora provides a user-friendly interface and professional tools like color correction and an audio mixer. Color correction and an audio mixer will improve your video to a new level. Filmora supports both 2D & 3D animation, and you may also insert keyframes to ensure a smooth flow of a video.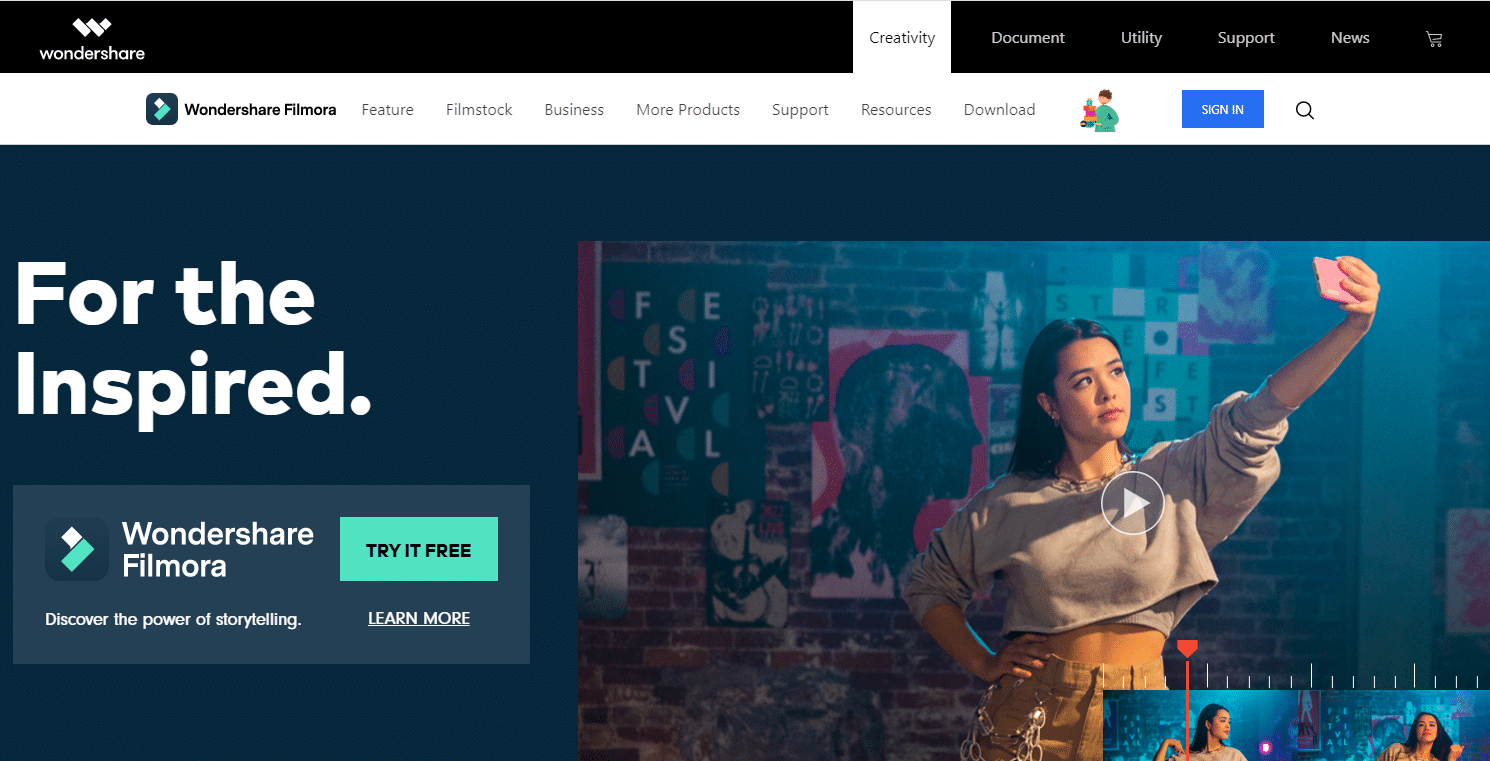 Key Features:
Create Animation More Easier: Customize animations by yourself or use motion templates. You may also add realistic zoom or camera movements.
Professional Tools: This software can achieve perfect color settings for any photograph or video file.
Powerful Audio Functions: Remove the background noise in the video and exchange it with your high-quality audio file. Leverage Audio Compression, Noise Reduction, and Audio Transitions to RUN the audio efficiently.
Without paying a penny, creating whiteboard videos in the simplest ways through Animiz. Animiz is the simplest animated presentation platform to build up professional animated video presentations & gifs for free, give your videos a new level.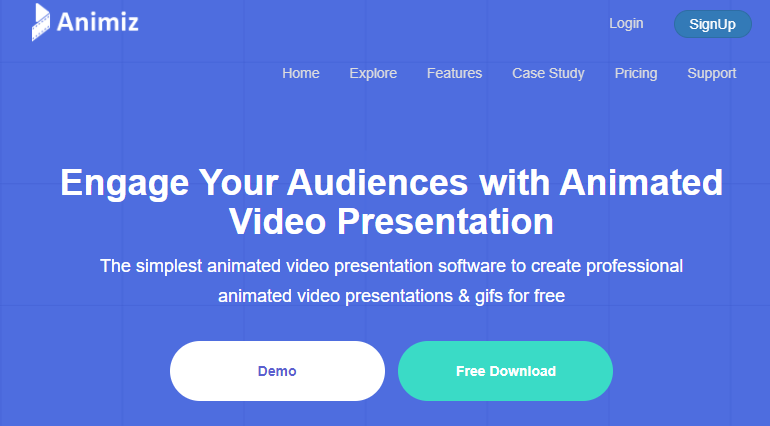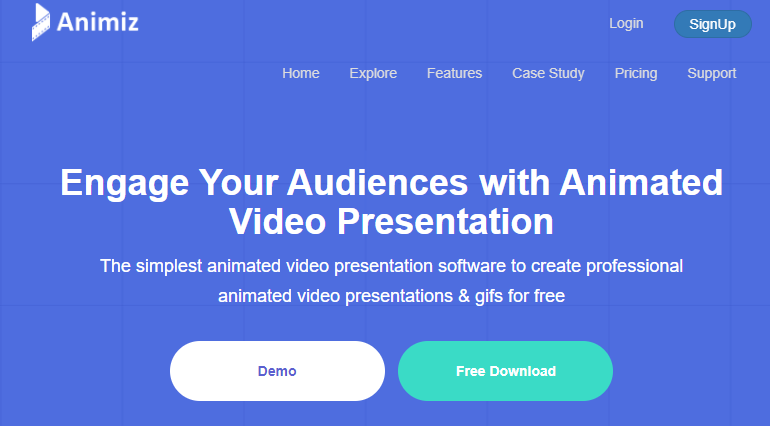 Key Features:
Multiple Free Assets: A large selection of roles, images, sounds, SWFs, charts, callouts, symbols, flashes, etc. offered to create fabulous video scenes. There are also no limitations on the length of recordings that can be framed with Animiz.
No Code and Design Experience is Needed: Easy-to-use. Make your own animated, engaging, and captivating video by dragging and dropping.
Flexible Output Options: Three options to publish your video and your offline project can be published in 6 different formats.
Lively Animation Effects: Hundreds of fascinating built-in entrance, emphasis, exit animation effects are at your disposal.
16. My Simple Show
My Simple Show doodle video maker empowers anyone to build up professional videos. Perfect for educational, personal, and professional videos.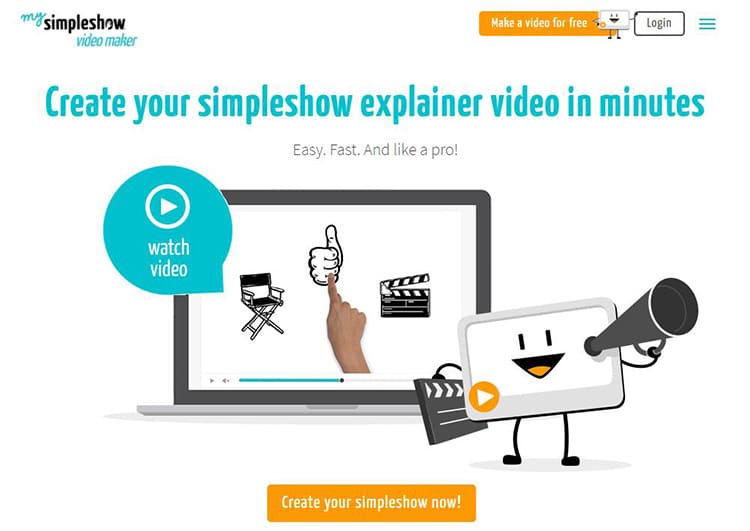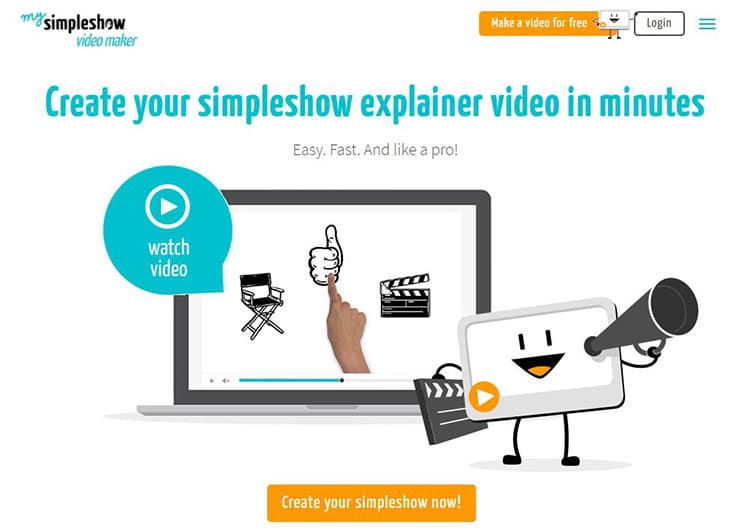 Key Features:
Suggest the Storyline Templates: Storylines give structure to your content and write creative plots.
Thousands of Illustrations and Images: Sometimes you want to upload your own logo, a specific image, or add text. My Simple Show has all of that covered.
A Great Voiceover: Upload your own recording. Use the highly sophisticated text-to-speech tool that provides a fabulous voiceover in seconds.
17. Adobe Animate CC
The most popular animation software. Adobe Animate CC is user-friendly, with a system of layers and a relatively easy-to-understand timeline that comes with a limited number of tools for the creation of graphics. Best suitable for interactive animation videos for TV shows, games, and the web.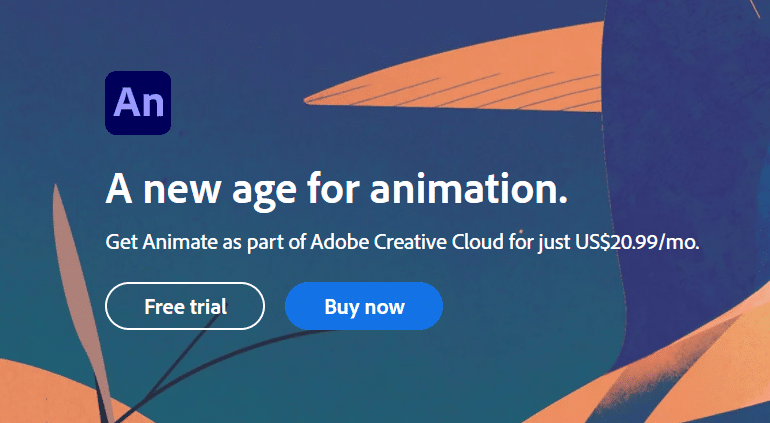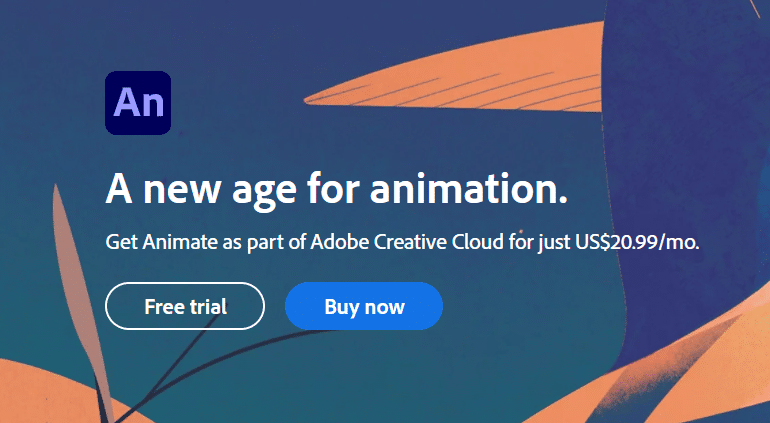 Key Features:
Asset Panel: This panel offers pre-made assets to help you work faster. Select from a variety of roles, backgrounds, audio rigs, and motion assets. This would help in creating videos at a faster pace.
Add Keyframes Automatically: It provides you to switch a video scene creation easily.
Quick Sharing and Publishing: Click to share compositions to social media in your favorite outputs. Support for Twitter, YouTube, video, and animated GIFs.
18. Camtasia
Camtasia can create video tutorials and presentations directly via screencast. Audio or other multimedia recordings may be recorded at the same time. Camtasia not only supports popular media formats but also provides a better layout, even for beginners.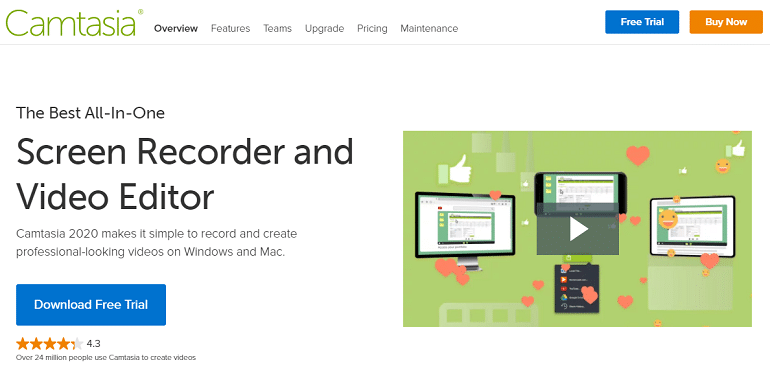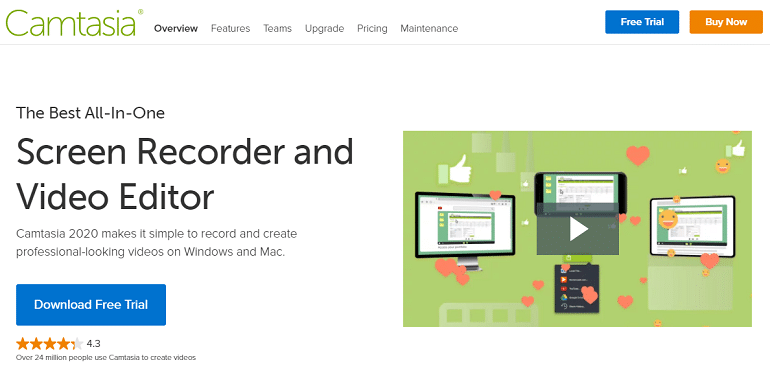 Key Features:
Powerful Effects: Drag and drop text, transitions, effects, and more in the pre-made video editor.
Multiple Timelines: Helps to create videos while having separate graphics, text, or audio tracks.
Share Everywhere: Upload your video to YouTube, Vimeo, Screencast, or your online video course.
19. TTS Sketch Maker
TTS Sketch Maker helps create whiteboard videos online with text-to-speech human-sounding voices in minutes. This software will allow beginners to build whiteboard videos easily.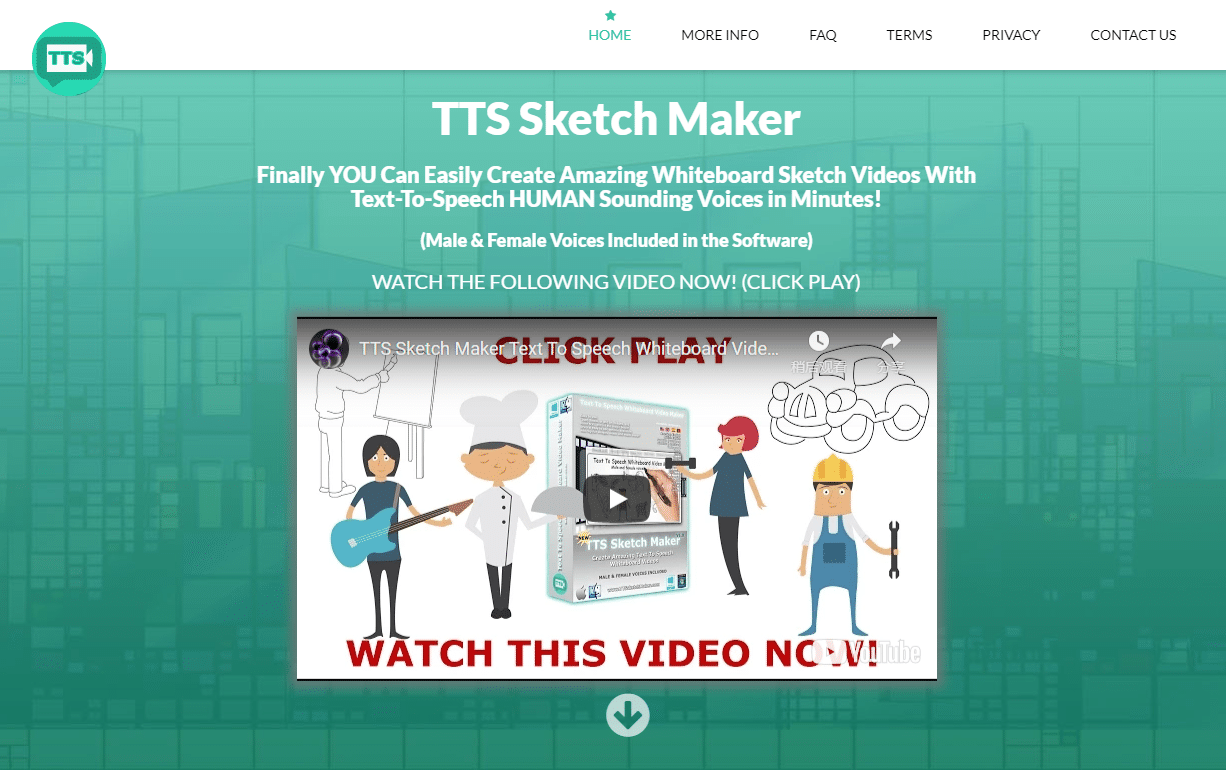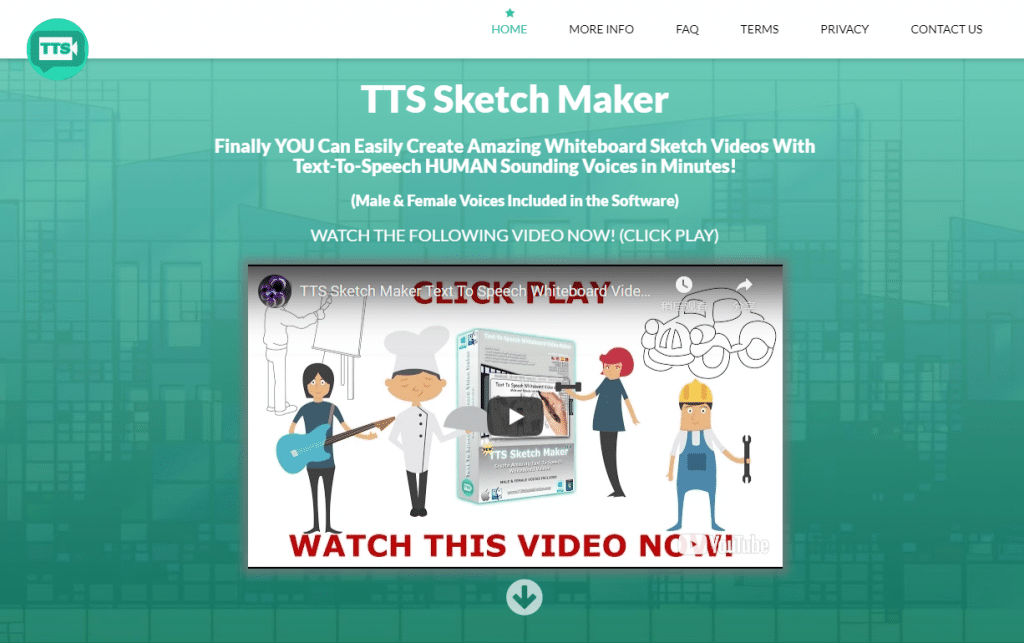 Key Features:
Several Accents and Languages: TTS Sketch Maker included 25 voices to help you create videos and save your time and money to create voices.
Easy to Use: Intuitive graphic user interface and easy navigation without the 'Help' over and over again.
Lots of Resources: Offer you some fitting images and videos due to which create an elegant video.
20. Fiverr
If you don't want to create the video by yourself or you have no idea how to establish it. Try Fiverr, which offers a platform for freelancers to provide services to customers worldwide. Use it to hire a professional to meet your expectations and give you the whiteboard animation online in the shortest possible time.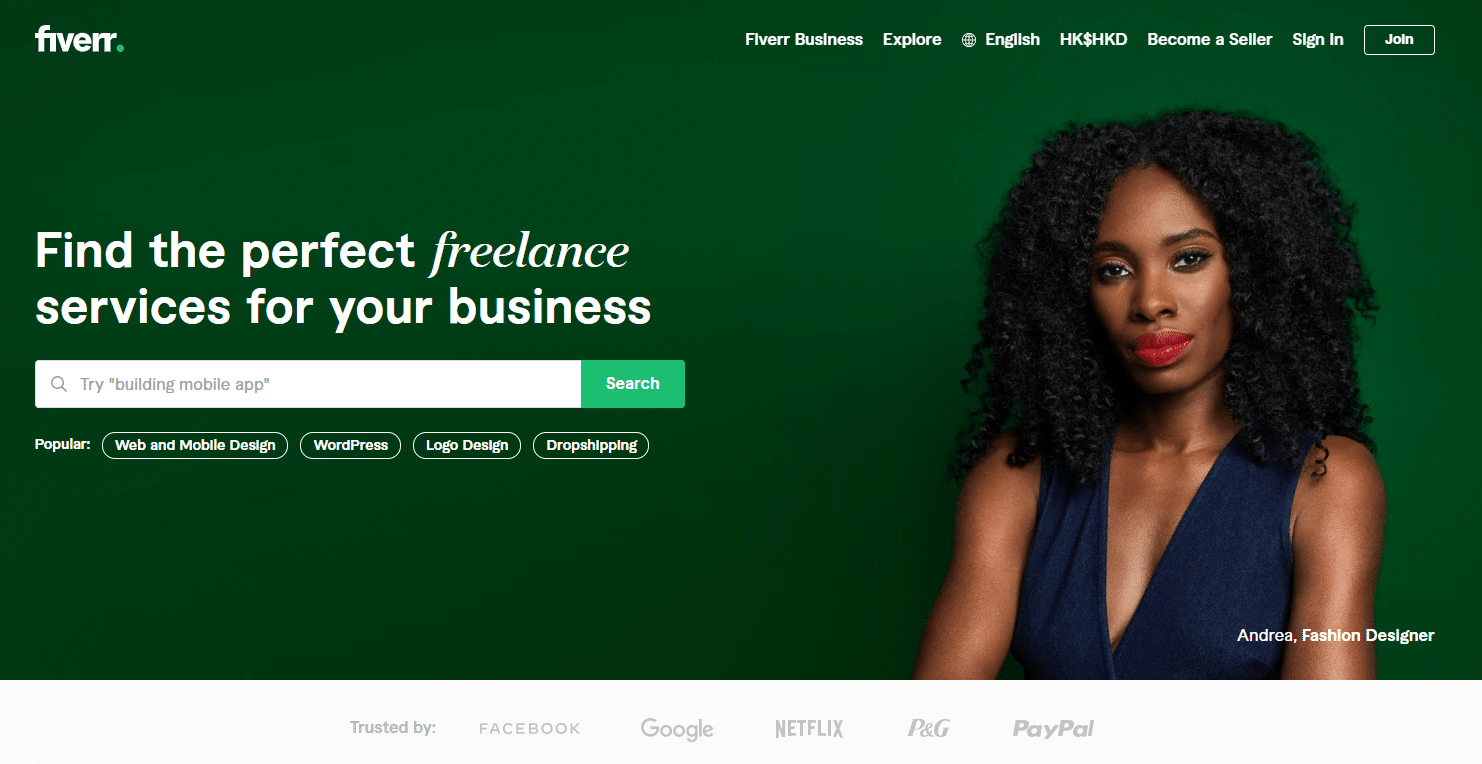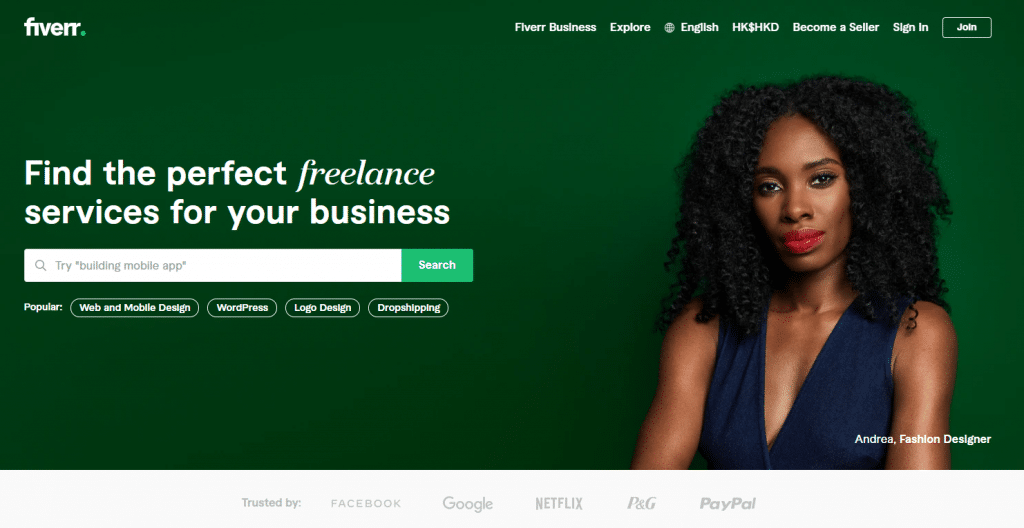 Key Features:
Escrow Funds: The funds get released to the service provider only when you are satisfied with the delivered videos.
Review or Changes, Accept or Reject: Give them a detailed description so they can align it the way you want. It's an easy and secure way to get your projects done. This makes the video reach the expected quality.
Wrapping up
I hope you find this post useful and helps you save your time to find the fitting platform.
For instance, Adobe Animate CC can help you to make advanced whiteboard animation online videos. However, Mango Animate WM provides great animation capabilities and ease of use. Just download it now to have a try!
Make Your Own Doodle Videos