Need an animated character that can walk and talk for your videos or presentations? Here is a selection of character animation software that will help you jazz up your content.
Before we jump into that, let's think about a question: why should you use an animated character? Why is an animated character matters in a video? What can you benefit from animated character? Once you have an answer for these questions, you can find your orientation of your animation video, and make your content stand out.
As we know, videos can be your key partner in your marketing strategy. Animation videos stand out shiningly since they are an extraordinary way to convey your message in a stunning, simple yet easy-to-accept way. But, you must realize the charm of character animation. It is an amazing way to connect with your target audience and build up a firm bound between you. Character animation videos are like the cherry on top and stand out among the most preferred ways of creating animation videos.
No matter if you need an animated character for your videos, website, presentations or something else, this selection of best character animation software will help you identify the best option for your needs.
1. Adobe Character Animator
Adobe Character Animator is one of the best character animation software, which enables to turn static Adobe Photoshop and Adobe Illustrator documents into puppets which have behaviors and able to move. The process is quite simple with this best character animation software. With easy-to-use performance capture technology, you can easily turn your character into an animated 2D virtual reality character by customizing how it looks, walks and talks. Character Animator also gives you the tools to add human motion to your characters such as walking, running and dancing, as well as their reaction.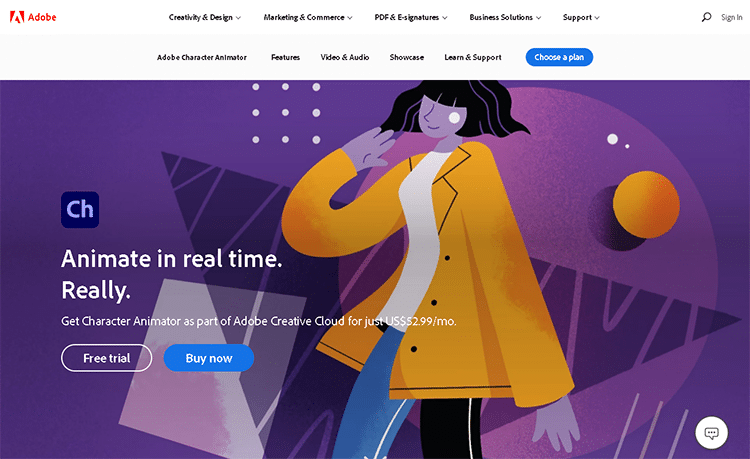 2. Mango Animate Character Animation Maker
Another worthy character animation software is Mango Animate Character Animation Maker. It is a free to use character creation software specially designed for beginners. Simple yet powerful, it is also popular among professional animators since its practicability. Mango Animate Character Animation Maker comes with a wide collection of pre-made action skeleton structures that allows you to convert your PNG & PSD images into realistic 2D animated characters. It also provides a massive library of preset motion templates ready for you to use, so that you can quickly animate the character. Change the outfit of your character into the style you like with the wide options of clothing, skin color and facial expressions.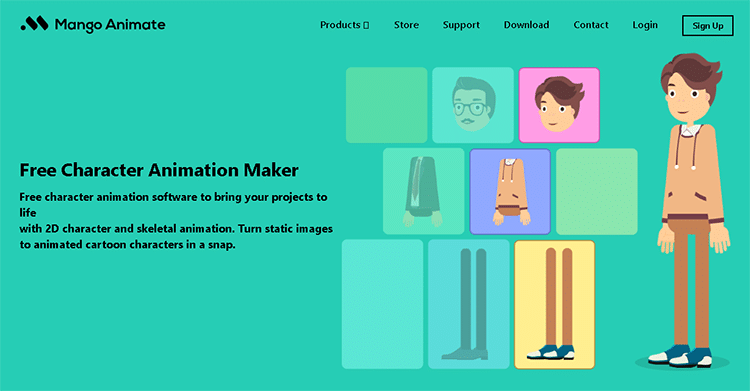 3. Reallusion Cartoon Animator 4
Reallusion Cartoon Animator 4, formerly known as CrazyTalk Animator, is one of the most popular software options for creating animated character. With this amazing character creator, you can so lots of things. You can turn images into animated characters, control characters with expression that you want, produce 2D visual effects and so on. The featured Motion LIVE 2D is a magical way to blend 3D motion capture devices to 2D animation, which is more intuitive and realistic, yet easy and quickly to achieve a stunning animated character.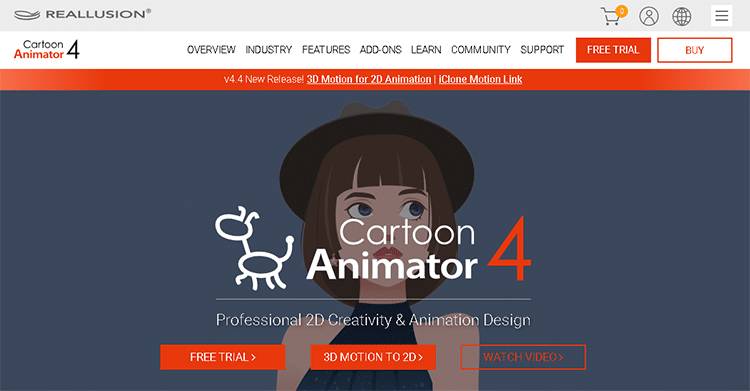 4. Avatar SDK
Avatar SDK is a smart tool that generates 3D characters out of 2D photos. The characters are very realistic virtual 3D human. Avatar SDK is devoted to create 3D animated characters for games, VR technologies and mobile apps. Simply upload your selfie photo, and it can create a 3D character just looks like you.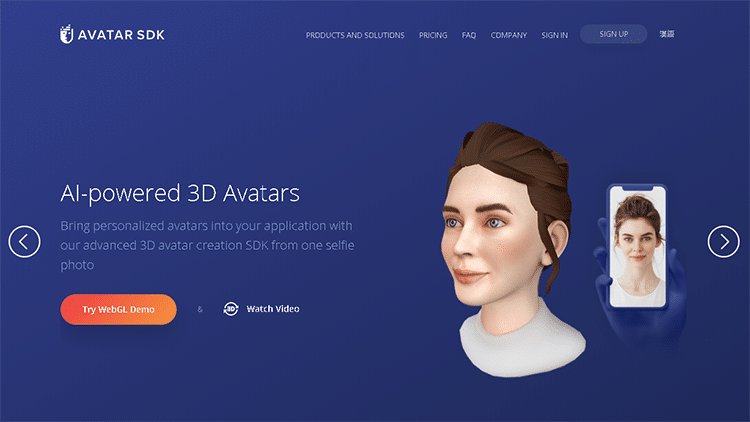 5. SitePal
SitePal is a character animation software for creating speaking character. The created speaking character can be used in your website, emails, mobile apps and even PowerPoint presentation. It comes with over 250 characters available with many customization options. You are free to customize the overall look with backgrounds, hairstyles and other options. Site Pal also allows you to create speaking character from your uploaded photo. When it comes to the voice of your character, you can upload a pre-recorded audio with someone's voice, or use the featured text-to-speech system to transform your text into speech in more than 25 languages.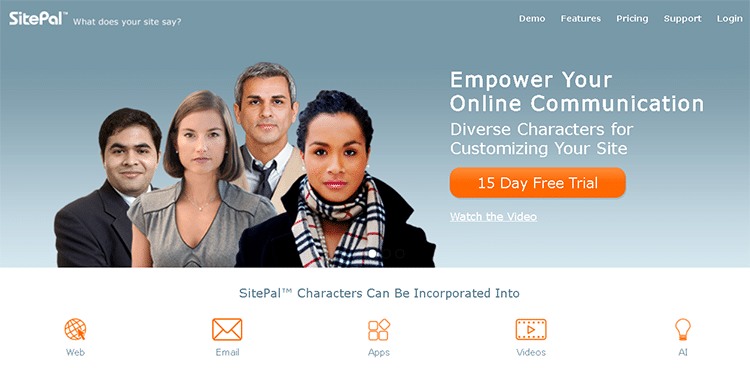 6. DAZ Studio
DAZ Studio is a professional 3D character animation software available for cross-platform OSs. It offers Morph Technology so that you can mix and match your characters with the advanced morph dial. With this powerful tool, you can change individual attributes of your character, such as their eyes, and other facial elements. The built-in library of 3D contents offers you multiple options of your character's appearance. Make your personalized character that is cartoon but still photo-realistic now with the best character animation software.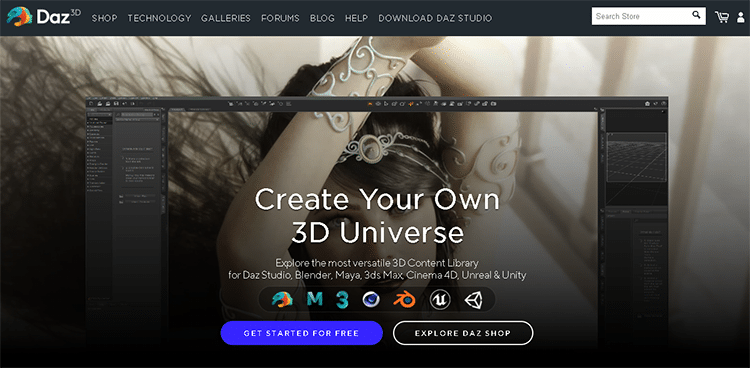 7. DesignDoll
Design Doll is a character animation software that can freely manipulate human models in 3D space. This software especially excels in making 3D models of dolls. It comes with multiple powerful tools, which are very advanced and help to make your character more realistic. The featured Finger Controller is used to move your character's finger minutely with ease to create different vivid finger shape. The interface in very user-friendly since it provides an excellent user experience simple navigation for beginners.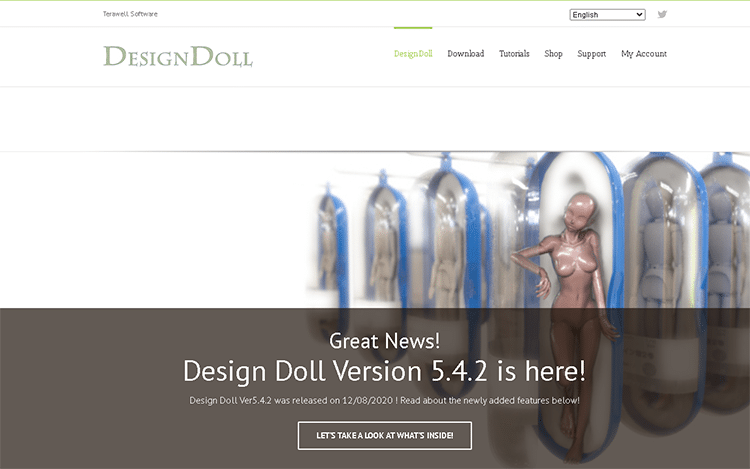 8. iClone
iClone is a smart character animation software which allows you to create different types of animated 3D characters. It comes with many preset 3D characters and animations to help you make a realistic animated character fast. iClone includes advanced motion editor that empowers you to retarget motion capture files, to stitch files together and manually correct them. It also allows you to animate character in real-time. Just use a mouse device to freely puppet your character in seconds.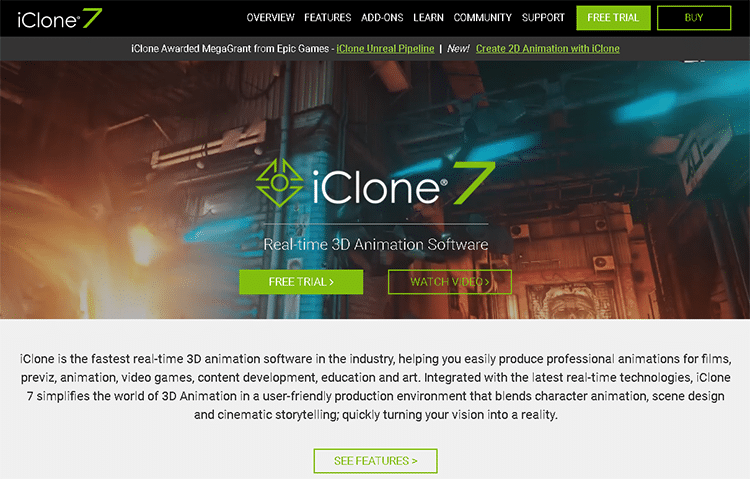 Summary
All of these character animation software can help you create stunning animated character but they definitely have their own unique features. So, you need to select beyond your needs. The truth is, using animated character in marketing strategy is now popular among businesses. Seize the main trend and create your own animated character now!