In general, black letters on a white page is the traditional style to make the resume. But if you want the resume more eye-catching, maybe you can be expressed in the form of a video. A video CV can briefly and vividly introduce yourself, like your experience, qualifications, certifications, capabilities that can make your CV stand out from the crowd.
Therefore, you can use the video resume templates to create your exclusive video CV. However, if you have no idea about how to get started, here're the top 10 wonderful resume templates that can guide you to create a video resume.
1. Video CV Template Example
A useful video CV is a good way to tell a story about yourself briefly. Take a look at this video resume template. The simple design will let the audience focus on your corresponding skills while still catching the eye. Lots of illustrations and text effects only distract the viewer's attention. So keep it simple, let your video CV be clear at a glance. Actually, the color will show personal character, like this template, you can see it use cool colors that can demonstrate a person's personality maybe is steady, predictable, or overly concerned with accuracy. There seemed to be no doubt that can help viewers know more about personal information.
Available Platforms: Renderforest
2. Video CV
There are so many video resume templates that are bland and colorless, one way to make your video CV unique is through the creative use of bright color. Purple represents dignity and is often the favorite color of nobles. Additionally, purple is an excellent stimulating color, it can be striking and fashionable if used well. Therefore, only use one bright color is better than use a lot of different combinations of colors to make your style more distinctive. Besides, it's convenient customized and edited on the Renderforest platforms.
Available Platforms: Renderforest
3. My Portfolio
This template is one of the practical resumes on the video resume templates list. One of the general modern resume styles you will see in this template. Although common, this resume is far from boring, not because it's splendid or bold. With the customizable CV template, you can use the After Effects to construct a simple modular structure of words and graphics that's easy to read and focus on your content. The modern design will highlight your most relevant information.
Available Platforms: After Effects
4. Personal Resume
There's a tutorial included in the video resume template that is convenient to customizable by After Effects. Moreover, try bold or contrasting colors in your video CV than the page layout effects will better than your imagined. This video resume template contains red and black, through the brightness contrast makes the video layout more advanced. Furthermore, like with a mind map, the timeline is a clear statement to showcase your experience background.
Available Platforms: After Effects
5. Resume Presentation
Try to blend live-action footage, like this video resume template to present your personal achievements in this delicate style. This video CV is done in one smooth animated transition, along with motion graphics in a minimalist design. Also, there is a tutorial provided for you to reference.
Available Platforms: After Effects
6. Portfolio CV
Something a little different than other video CV templates. All black and white here that's really clean and stands out. The animations are stunning without being distracting and well-organized. Make a positive impression with this simple and creative video resume template.
Available Platforms: After Effects
7. Minimal Portfolio Display
If you're a model maybe you'd like to stress your characteristic style of works. That is a useful way to blends your examples of work in the video CV like this video resume template. The portfolio is perfect if you prefer the motion graphic style instead of the traditional way to display graphics.
Available Platforms: After Effects
8. Minimal Visual Resume
A minimalist and well-animated slideshow with modern style text animations and stylish transitions is a new selection. Combine personal details for a graceful looking video CV. Giving brilliant color to your story with this practical After Effects video resume template.
Available Platforms: After Effects CS6+
9. Portfolio Presentation V2
That's a great template for an indoor designer. Why? Because of this video resume template around the representative examples of work. When the viewers focus attention on the content of your achievements, your personal technical skills will more clear.
Available Platforms: After Effects CS5-5+
10. Portfolio Presentation | After Effects template
Data are always more convincing than text. A glance at the video resume template, data are occupied overall video about 50%. That will bring your CV resume format is bluntly and to-the-point.
Available Platforms: After Effects
Hope you've found something useful video resume templates here and that will work for you.
Practical Video CV Examples
If you ready to start, here're a few practical video CV examples for you. That's a great choice to search for your design inspiration.
1. Denmar Amer
In fact, the beginning of a video is the highlight of the video resume. So if you want to make the first few seconds count, you can try to use the way from Denmar's video resume template. Put the email in the first second, let the viewers impressive about your contact details. Moreover, Denmar only uses the RGB color and the same font, bright color accents contrast is really stand out. Minimalist looking can make his video overall is clean and lets viewers more focus. If you are a minimalist, when you want to choose the video resume templates for reference, a simple one can be the most practical template for you, sometimes simpler is better.
2. Ashwani Kumar
Ashwani Kumar makes the video resume more professional through the work in progress style. Motion graphics & animation portfolio is a visual enjoyment, Ashwani's video shows many animation effects that can bring life to the video content. And you can know the color coordination from the video resume template, like the cool colors can make you feel calm, relaxed, and refreshed. The perfect color matching can make the video CV more professional and sophisticated.
Create Excellent and Exclusive Resume by Yourself Right Now
The video resume templates mentioned in this article are some of the powerful and available templates on the website. But these might not fit your mind or you'd like to make by yourself. Then here're the useful animation video maker for beginners to make the special video CV at short notice.
1. Mango Animate Animation Maker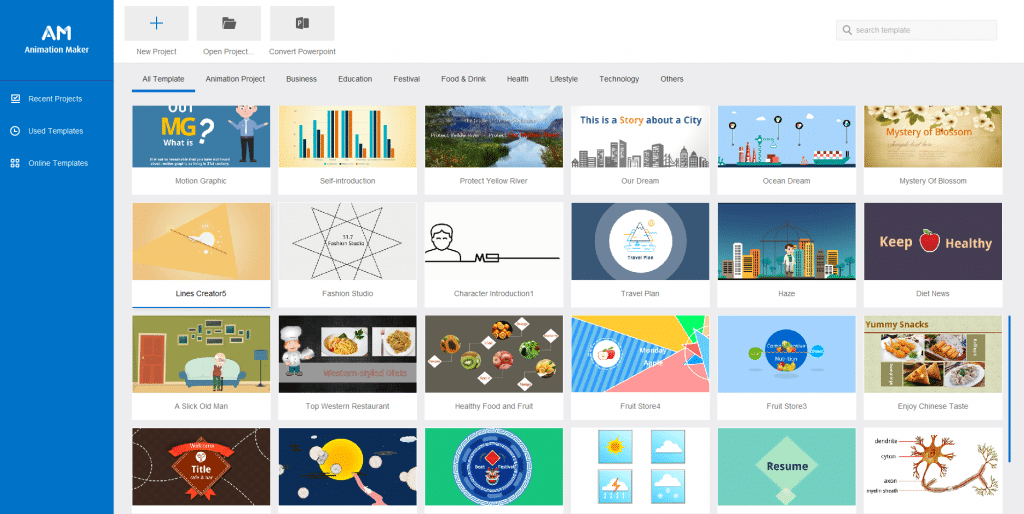 This is a free tool to design an interesting animated video CV through a library of animated video templates. If you'd quite not be on camera, the animation is a brilliant creative choice. Through video resume templates from Mango Animate Animation Maker bring any idea to life with ease, create your animated video CV in seconds.
2. Mango Animate Whiteboard Video Maker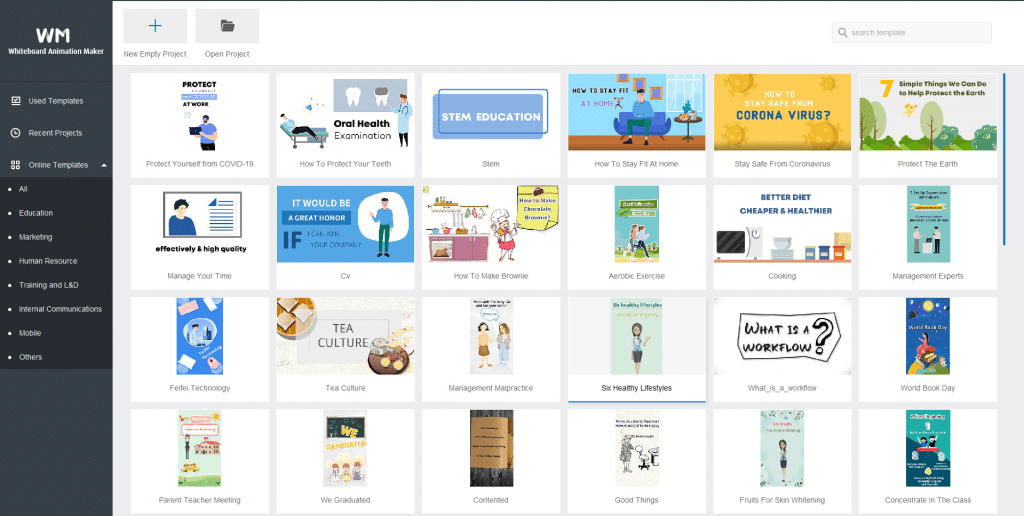 Creating an amazing whiteboard video resume with a convenient drag-and-drop instrument has never been this easy. With Mango Animate Whiteboard Video Maker to choose your favorite hand drawing design and add the interesting personalized touch to your doodle video CV.
If you try to stand out over the crowd, but you are not a design professional or not so good at design, try these professional templates, you're no longer at absolute inferiority. That's pretty simple to make your special video CV through the built-in video resume template. So don't be afraid just have a try.
[v_downbox title="Start Making Impressive Video CV "]Download Now[/v_downbox]