Text animation offers the best of two worlds – valuable information in text form and entertaining animations. Overall, it's a genius way to transmit messages, especially to potentially unwilling audiences. Now, you could hire an animation studio to produce an animated text video for you, but that might take a while. Not to mention the cost. To save you tons of time and headaches, you can quickly create your own animated text video using an online text animation maker.
There are many online text animation makers available. Admittedly, some of them are difficult to master and you may end up spending more time learning to use them than you do creating the animated text video. Below, we tell you about some of the best choices for an online text animation maker. You'll be churning out animated text videos in no time.
Animated text video example
Mango Animate TM
The Mango Animate Text Video Maker (Mango Animate TM) is an excellent tool for creating an animated text video. There are loads of pre-animated text video templates. They come with appealing typography animations and are completely customizable. You can also take advantage of powerful text-to-speech technology, automatically generated subtitles for your voiceovers and imported audio files, and breathtaking animations. Simply import your text into the handy editor and in minutes you'll have a fantastic animated text video.
Highlight features:
50+ Text Animation Styles
150+ Editable Video Templates
Auto Text Split
Speech to Text, Text to Speech
Custom Video Size
AutoSave Projects
Intro & Outro Setting
Publish to Cloud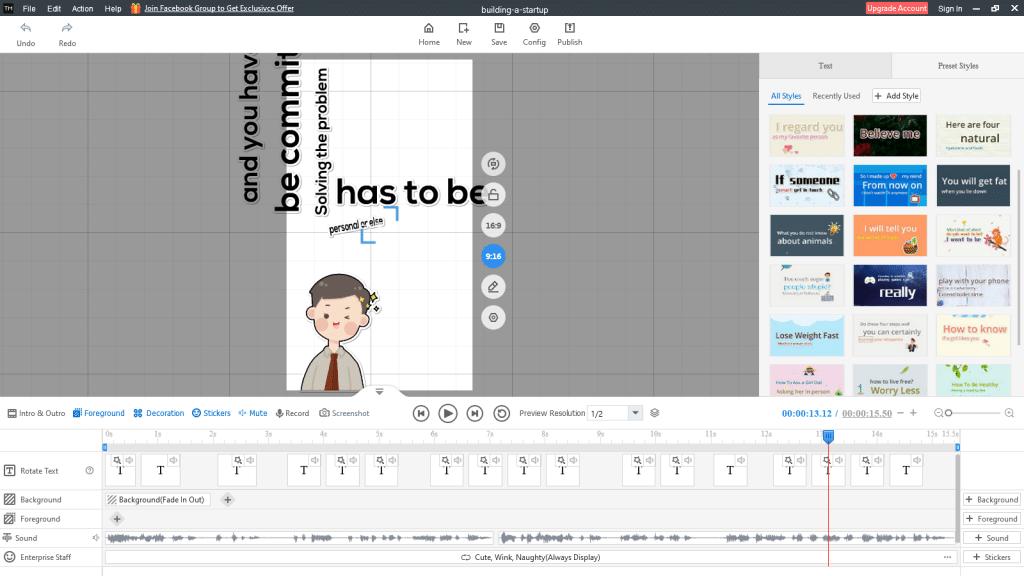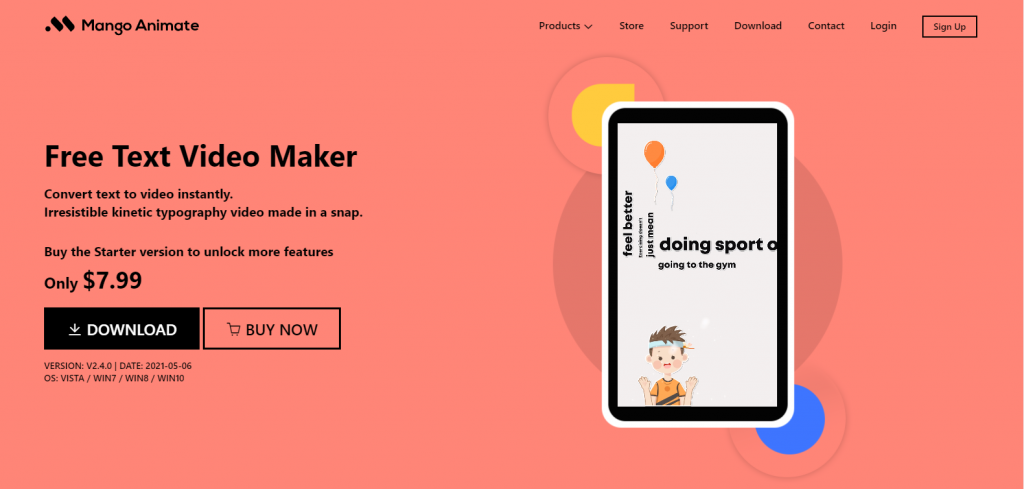 Biteable
Do you need to make a profound impact on your target audience but don't have much time? Use Biteable's online text animation maker to create an animated text video in a flash. Once you've signed up for a free account, you can create a video from scratch or choose a template to modify. Add your text, use the editor to change font styles and colors, then add eye-catching animation effects. If you'd like, you may also add images as an accent or background, and jazz up the animated text video with some music. Then go ahead and wow your viewers.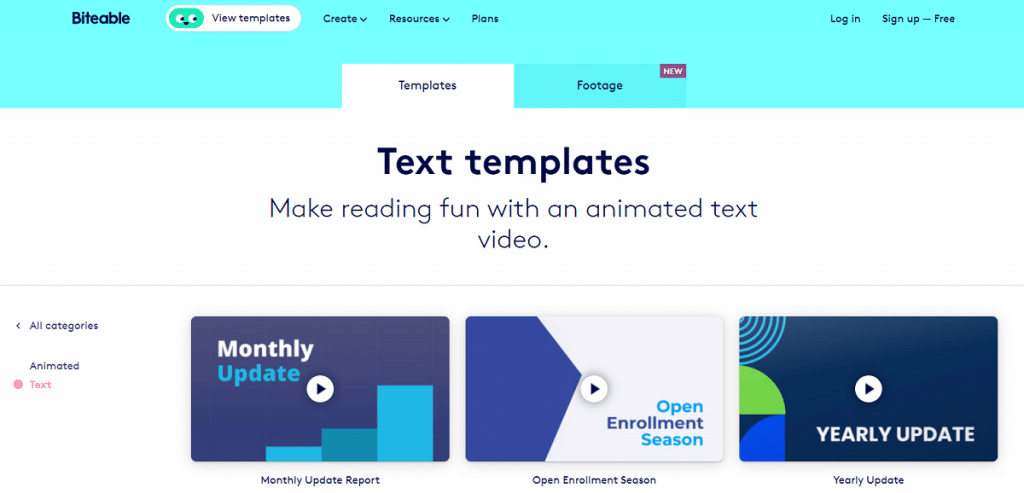 Renderforest
A text animation video should bring your ideas to life. Renderforest is the online text animation maker that will help you achieve that. It takes templates to another level with packs of scenes that you can choose from. Pick a pack in a specific style, choose the scene within the pack that best meets your needs, and customize it to match your brand. Simply add your message, compliment it with images or video, and give it a beat with some music. This online text animation maker also lets you choose the duration of your animated text video.
Motionden
With this online text animation maker, you don't need to spend time trying to figure out complicated software. Whatever purpose you need an animated text video for, you can create it in moments with Motoinden. Just pick one of the many professionally designed templates, add your text and media, customize your text and add animations in the online editor. The possibilities are endless. Then, choose your preferred format for download and you're ready to share your animated text video with the world.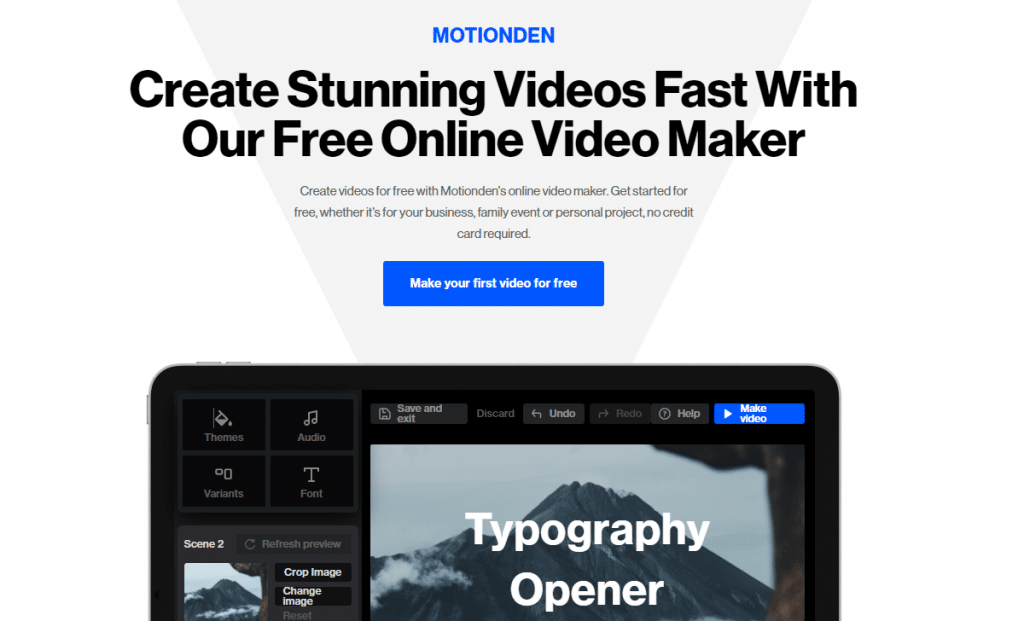 Pixiko
Forget the technical aspects of creating an animated text video. With Pixiko, you choose how you want your text to look, including fonts, colors, placement, and animation. You also decide how your text appears and disappears – apply different animations to different sections of your text and choose the duration of the selected animations. This online text animation maker lets you produce vivid videos that will get and hold your audience's attention.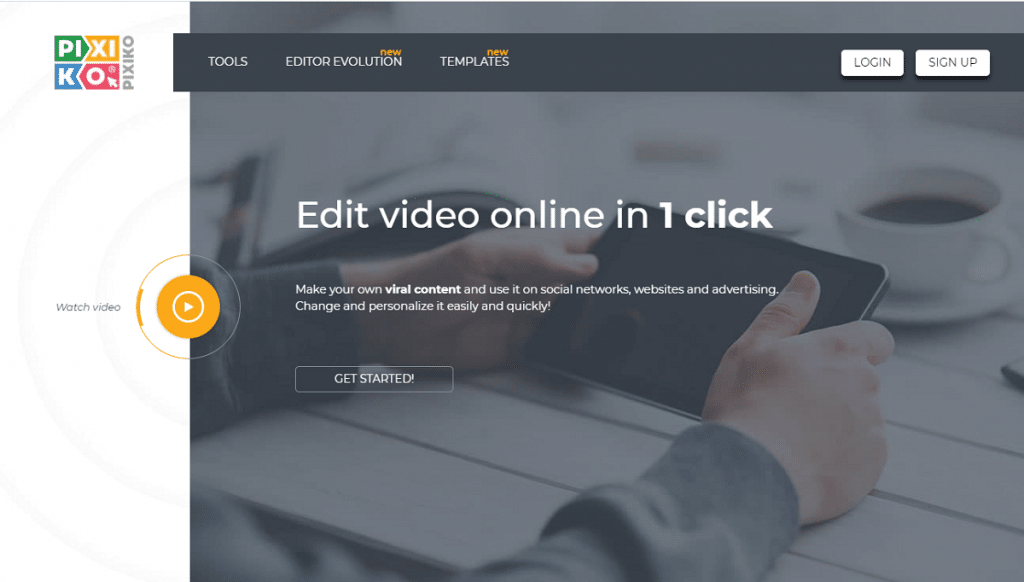 Kapwing
So, you already have a video but you'd like to increase its impact. Don't waste time remaking it. Just add some text, apply some motion graphics, and make it into an animated text video. Kapwing is an online text animation maker that lets you upload videos, images, or GIFs directly or using links from video sites, and add animated text. The process is simple – upload a video, add and edit text, choose an animation option for the text, and your animated text video is ready to be published.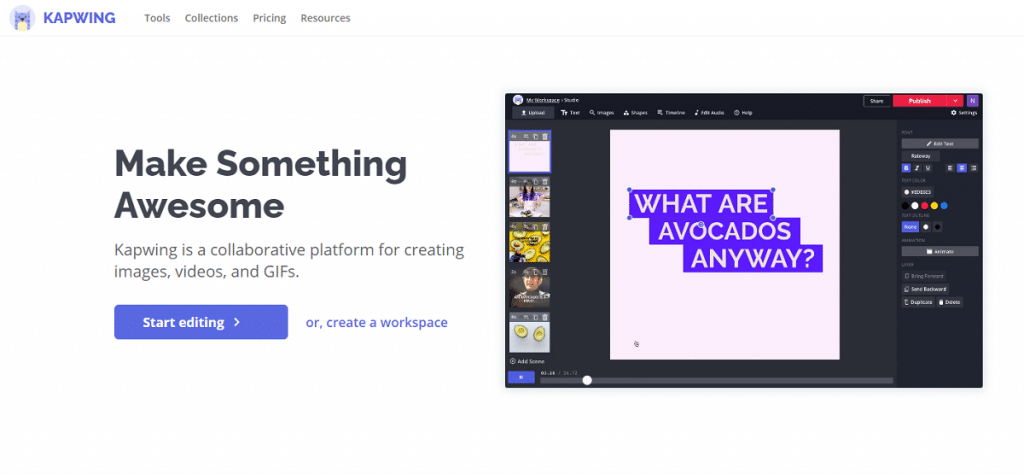 Typito
Typito is an online text animation maker with a spectacular wow effect. It features over 500 free templates, more than 600,000 free images, and over twenty video formats with different aspect ratios. Plus, you can create a brand kit to match your specific brand with personalized colors, fonts, and styles. Captions are automatically and accurately generated and you can get a real-time preview of what your animated text video will look like before you publish it.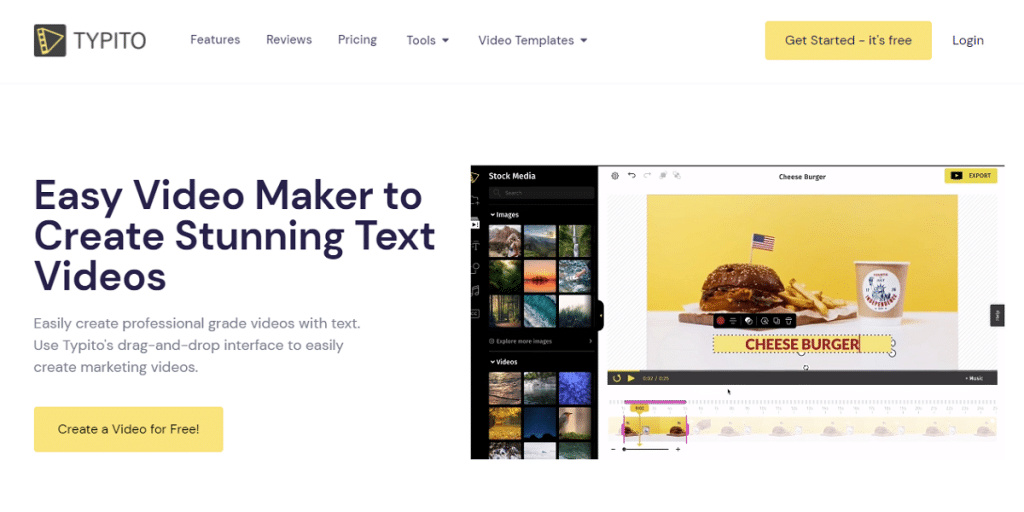 Flexclip
No video editing experience? No problem! Here we have an online text animation maker that lets you create an animated text video in minutes. Flexclip is fully web-based so you can add animated text to your videos right in your browser. They offer numerous fonts and dozens of fabulous text animations, transition effects, and filters to enhance your animated text video. You have two options for creating a video: start from scratch or use a ready-made template.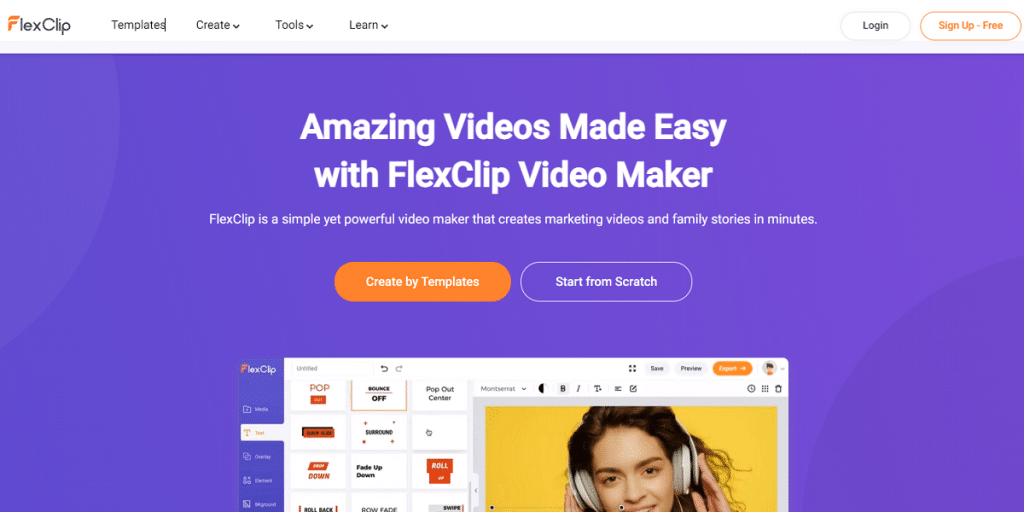 To wrap up
Video is the ultimate medium for conveying messages, and there's no better video than an animated text video. They help people remember what they've read, which makes it easier for them to take the desired actions. We've pointed out the benefits of using an online text animation maker, including saving you the time you'd spend waiting for an animation studio to complete your project. We've also pointed you in the direction of the best selection of online text animation makers. So, get your creative juices flowing, hop onto one of these sites and create your very own animated text video today. I guarantee you won't regret it!